2012 MLB Mock Draft: Injury-Plagued Stars Worth the Risk
May 9, 2012

One of the biggest things that you will hear about as the 2012 Major League Baseball draft approaches is health and medicals. This has been a relatively painless year for the top players, but there are a few notable outliers who face serious questions over the next four weeks. 
High school and college players have to be so careful on the field to make sure they don't have to miss time before the draft. At the same time they need to make sure they are performing at the level expected of them, it can be a taxing process. 
Here are the players who have battled injuries who teams need to take a flier on. 
1. Houston Astros (56-106): Byron Buxton, OF, Appling County High School (GA)
There are no injury concerns with Buxton, just questions about how his game will translate against better pitching. His tools are off the charts, making him the best player available, but the risk is great. 
2. Minnesota Twins (63-99): Mark Appel, RHP, Stanford 
Appel doesn't have an injury problem, per se. He has made all of his starts at Stanford this year, but there was one start in April when he threw a 149 pitch complete game. That immediately threw up some red flags for evaluators. 
Given the package that Appel offers—size, plus fastball, plus breaking ball—and the fact the Twins love taking fast-moving college pitchers, the fit is almost too good to be true. He is not without flaws. Aside from the high pitch count, his results haven't been great because it is easy to see the ball out of his hand. 
3. Seattle Mariners (67-95): Mike Zunino, C, Florida 
Zunino is a solid offensive prospect who projects to hit for average and some power, while playing plus defense behind the plate. He has made it through the vaunted SEC unscathed up to this point. 
4. Baltimore Orioles (69-93): Carlos Correa, SS, Puerto Rico 
Arguably the fastest-rising prospect, Correa's body is going to push him to third base. Not because he is fragile, but rather just the nature of a 17-year-old growing into his body. 
5. Kansas City Royals (71-91): Kevin Gausman, RHP, LSU
The best college pitcher available, Gausman has shown a strong combination of stuff—mid-90s fastball, plus slider, plus changeup—and making every start for LSU.
6. Chicago Cubs (71-91): Albert Almora, OF, Marion Christian Academy (FL)
Like Correa and Buxton, Almora is making a strong case as the best position player available. He is a true center fielder with range and a strong throwing arm, as well as an easy swing that projects for average and power in the future. 
7. San Diego Padres (71-91): Kyle Zimmer, RHP, San Francisco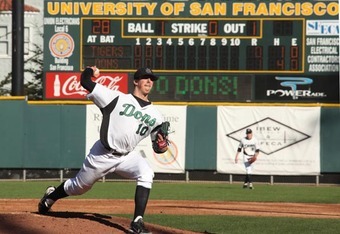 One of the great mysteries in this draft is, what is going on with Zimmer's velocity? He was reportedly sitting in the 88-91 mph range with his fastball in mid-April. If his velocity stays there, he is not a first-round pick. 
A hamstring problem forced him to miss his last start, but he has a few weeks to get back on track. As long as his fastball gets back into the 92-95 range and his curveball has a hard bite to it, he is going to be a top 10 pick. 
8. Pittsburgh Pirates (72-90): Deven Marrero, SS, Arizona State 
Marrero's stock keeps dropping due to poor hitting, but he is playing every game and the defense at shortstop should get back to where it was last year. Then, he can put the struggles of this year behind him. 
9. Miami Marlins (72-90): Max Fried, LHP, Harvard-Westlake HS (CA) 
I might be underselling Fried here, but the Marlins would love to see him get to this spot. Unlike his Harvard-Westlake teammate Lucas Giolito, Fried has been on the mound all year long, showing off a curveball that has everyone drooling, with the upside and projection to be a top 5 pick. 
10. Colorado Rockies (73-89): Lucas Giolito, RHP, Harvard-Westlake (CA)
The greatest wild card in this draft is Giolito. He sprained his ulnar collateral ligament in his right arm back in March and is expected to be out the rest of the season, but he has started throwing again. 
With so much uncertainty surrounding his injury, teams are going to be all over his medicals over the next four weeks. If everything checks out, Giolito is arguably the top player available. He is 6'6", 240 pounds with a fastball that routinely hits 100 and a dominant breaking ball with an easy delivery. 
The package is there for Giolito to be a No. 1 starter. Teams just have to hope that golden arm is in close to pristine condition. 
11. Oakland Athletics (74-88): Stephen Piscotty, 3B, Stanford 
Piscotty doesn't put up great power numbers at Stanford, but that has more to do with the way that program wants its players to hit than any kind of problem with his swing. 
12. New York Mets (77-85): Richie Shaffer, 3B, Clemson
Shaffer's improved power numbers and swing have made him a potential top 10 pick. Plus defense at third base doesn't hurt his case.
13. Chicago White Sox (79-83): Andrew Heaney, LHP, Oklahoma State
The White Sox are always an enigma in the draft. They don't spend money and go after low-risk players early who can make an instant impact in the big leagues. 
Heaney is as safe as any college player in this draft, with no injury history and a strong three-pitch repertoire. 
14. Cincinnati Reds (79-83): Addison Russell, SS, Pace HS (FL)
Russell's body is going to push him off short, even though he may not want that. Given how big and physical he is, he will hit for power and be a good defender at third. 
15. Cleveland Indians (80-82): Zach Elfin, RHP, Hagerty, HS (FL) 
Elfin has been dealing with an arm injury that forced him to miss time this season, but is expected to return soon, according to ESPN's Keith Law. 
When he is right, Elfin is a potential top-of-the-rotation starter with a clean delivery, good fastball, and a breaking ball in his back pocket. Since he is expected to pitch before the draft, his spot could change, assuming all goes well. 
Right now, the Indians need more impact players in their system and would love to see Elfin fall to them at No. 15. A lot is going to happen with his draft stock over the next four weeks. 
16. Washington Nationals (80-81): Gavin Cecchini, SS, Barbe HS (LA) 
Cecchini has been healthy and projects to hit for average while playing plus defense at shortstop. 
17. Toronto Blue Jays (81-81): Matt Smoral, LHP, Solon HS (OH)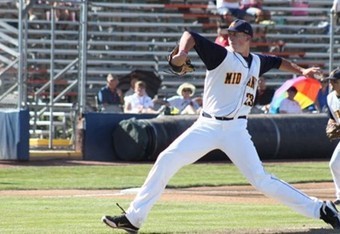 Smoral is a player whose reputation is going to have to carry him in this draft, because he suffered a stress fracture in his foot in early April that will keep him out for the rest of the high school season. 
Given the Blue Jays' preference for high-upside high school players early, Smoral could be the player they covet the most with the No. 17 pick. Before he got hurt, his fastball was up to 94 mph with a plus slider that projects to miss a lot of bats when he develops his command. 
Since the injury is to Smoral's foot and not his arm or shoulder, I think teams will be more forgiving and ready to take a chance on him in the middle part of the first round. 
18. Los Angeles Dodgers (82-79): Courtney Hawkins, RF, Carroll HS (TX) 
Hawkins has a rocket for a right arm and can smash the ball when he connects. He just has to work on making more consistent contact to show off his power. 
19. *St. Louis Cardinals (90-72): Michael Wacha, RHP, Texas A&M 
Wacha could be the first player from this draft to debut in the big leagues. He doesn't have a lot of upside, but his plus changeup will help him play up his average fastball. 
20. San Francisco Giants (86-76): Joey Gallo, 3B/RHP, Bishop Gorman HS (NV) 
There are calls for Gallo to pitch, where his fastball would sit in the mid-90s, but he has tremendous raw power and doesn't want to give up the bat for the mound. As long as he can make enough adjustments to actually hit the ball, his future will be at third base. 
21. Atlanta Braves (89-73): Chris Stratton, RHP, Mississippi State 
Another team that likes to go after low-ceiling college arms early, the Braves feel like the right place for Stratton. He has some upside but needs to get more comfortable throwing fastballs in order to keep hitters honest. 
22. **Toronto Blue Jays (81-81): Hunter Virant, LHP, Camarillo HS (CA)
Virant is a project, not because he's been hurt, but he is almost all projection right now. He doesn't have dominant, overpowering stuff right now, but give his body time to mature and fill out and he could end up being a No. 2 starter. 
23. St. Louis Cardinals (90-72): Nolan Fontana, SS, Florida 
Fontana is about as safe a bet as there is. He is going to move quickly and show the ability to hit for average and play average defense at shortstop. 
24. Boston Red Sox (90-72): Carson Kelly, 3B, Westview HS (OR) 
Assuming the Red Sox can tinker with Kelly's swing to the point where he is able to add loft and hit it out of the park on a more consistent basis, he could be a great value pick at this spot. 
25. Tampa Bay Rays (91-71): Lucas Sims, RHP, Brookwood HS (GA) 
Sims' easy velocity and smooth delivery will make him too valuable for the always-pitching-rich Rays to pass up. 
26. Arizona Diamondbacks (94-68): Walker Weickel, RHP, Olympia HS (FL) 
An enigma who changed his delivery and seems to have hurt his stock, Weickel should have no problems getting back to throwing in the mid-90s on a more regular basis working with a big league pitching coach.
27. ***Milwaukee Brewers (96-66): Lance McCullers, RHP, Jesuit HS (FL)
McCullers' stock has been rapidly rising thanks to an improved delivery that still lets him throw in the mid-90s but now makes him look more like a starter in the big leagues. He could sneak into the top 20 if he finishes the season strong. 
28. Milwaukee Brewers (96-66): Marcus Stroman, RHP, Duke
On talent alone, Stroman is a top 15 pick in this draft. He throws in the low-90s with a good curveball and polish. His small stature—he is listed at 5'8"—is going to scare teams away, but the stuff is there for him to be a starter. 
29. Texas Rangers (96-66): Ty Buttrey, RHP, Providence HS (NC)
Buttrey needs a lot of work on his command, control, and off-speed stuff, but the mid-90s fastball and projection give the Rangers another power arm to add to their impressive stable. 
30. New York Yankees (97-65): Patrick Wisdom, 3B, Saint Mary's 
An underachiever this year, Wisdom has the ability to hit for power in the big leagues and has a strong arm that will play at the hot corner. 
31. ****Boston Red Sox (90-72): Jeff Gelalich, OF, UCLA
The Red Sox took a toolsy outfielder coming off a disappointing season in Jackie Bradley Jr. last year in the supplemental round. Gelalich has never been as productive in his college career as Bradley was, but he has good tools that can play in professional ball. 
*Compensation from Los Angeles Angels for Albert Pujols
**Compensation for failing to sign 2011 First Round pick Tyler Beede
***Compensation from Detroit for Prince Fielder
****Compensation from Philadelphia for Jonathan Papelbon
For more news and analysis on the MLB Draft, prospects, games, and anything else you might want to know, follow me on Twitter.