NBA Draft 2012: Projecting Jeremy Lamb's Skills as an NBA Player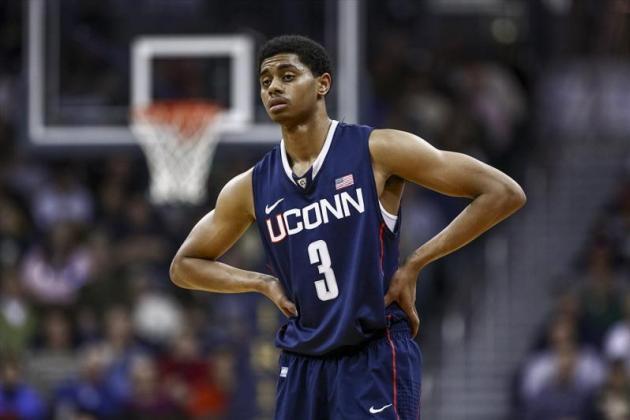 Photo Credit: www.collegesportsmadness.com
During the Connecticut Huskies' improbable run to the 2011 NCAA Championship, then-freshman Jeremy Lamb emerged as a legitimate second option to All-American Kemba Walker. After his breakout postseason performance, NBA scouts and analysts agreed that Lamb had become a future lottery pick.
Lamb's 2011-12 season was as inconsistent as the Huskies. His 18 points and five rebounds per game were solid, but many times Lamb left UConn fans wondering why he didn't assert himself more.
As the NBA draft nears, Lamb is projected to go anywhere from 7th to 17th overall. That broad range is indicative of who Lamb is as a player. At times he looks unstoppable, hitting pull up threes as easily as he dunks over hapless, over-matched Ivy League centers.
Other times though, Lamb drifts through long stretches of games, seemingly disinterested in utilizing his formidable skills.
In projecting Lamb's NBA potential, here are some strengths and weaknesses that stand out:
Begin Slideshow

»
Jim Rogash/Getty Images

Similar to an earlier UConn star, Lamb has mastered the lost art of the mid-range game. He is at his best coming off screens and squaring his feet with a quick catch-and-shoot release.
Lamb shot 48 percent his sophomore year, a very respectable number for a volume shooting 2-guard in a perimeter-oriented offense.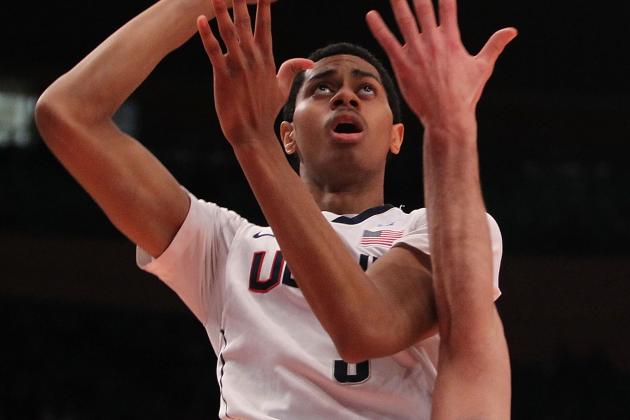 Nick Laham/Getty Images

A wiry 6'5", 180 pound frame isn't exactly the prototypical NBA 2-guard body. It is safe to say Lamb will find himself physically over-matched at times in the NBA.
His lack of strength will make it difficult to fight through screens on defense and finish through contact on offense.
Of course, at 19 years old, Lamb is far from fully developed.
He will never rival the physique of LeBron James or Carmelo Anthony. Lamb will always be slender, more comparable to fellow UConn alums Richard Hamilton and Rudy Gay, neither of which have suffered from their slender build.
Perhaps Lamb's greatest strength is his freakish athleticism. He can elevate with anyone and finish above the rim with ease.
His elite leaping ability also helps him get shots off in traffic and crash the boards from the perimeter.
As he continues to develop, Lamb should be able to utilize his athleticism and length—his wingspan is measured at 7'4" according to SB Nation—into becoming a premier perimeter defender.
Lamb's agility and leaping ability should help him overcome some of his strength issues as he moves to the next level.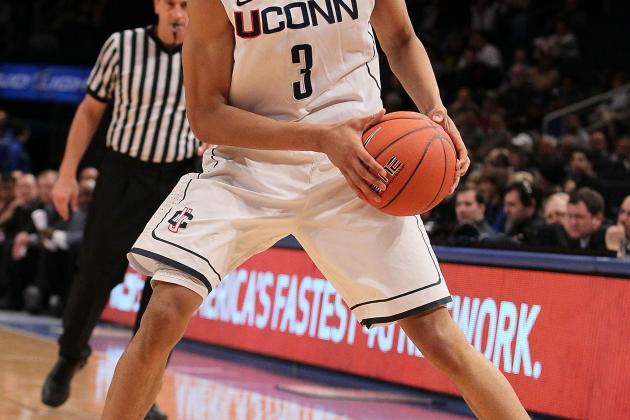 Jim McIsaac/Getty Images

Given his superior abilities, Lamb spent far too much time this past season deferring to teammates and waiting for plays to come to him.
Lamb's hesitancy to assert himself and create plays was a source of frustration all season for UConn fans and coaches. UConn's offense was oftentimes stagnant and ineffective, which should have been the perfect opportunities for Lamb to take over and exert his prodigious offensive talents. Too many times he refused to demand the ball and make a play.
If Lamb is to reach his vast potential, he must learn to be a consistent offensive threat even if it means being selfish for a possession or two.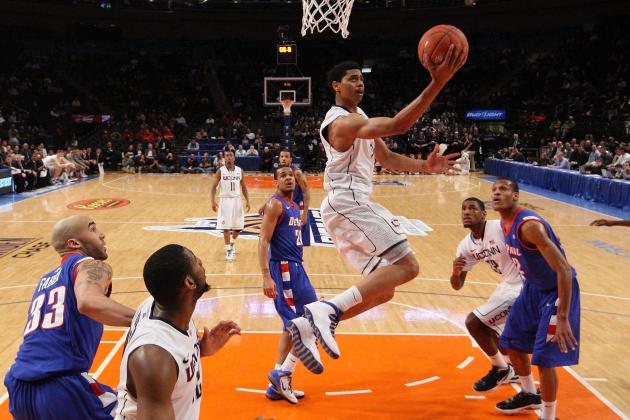 Jim McIsaac/Getty Images

Much like former UConn guard Richard Hamilton, Lamb's offensive game is much more effective when he is able to run off screens and create space from the defender with one or two dribbles as opposed to having to create a shot off a pure isolation set.
His quick release on his jump shot is well suited for coming off screens and will be a valuable skill at the next level.
Lamb is excellent in transition as well. He is able to finish over the top of defenders and shows a soft touch around the rim in traffic.
He has also perfected the mid-range floater, another valuable weapon that will help counter his lack of strength.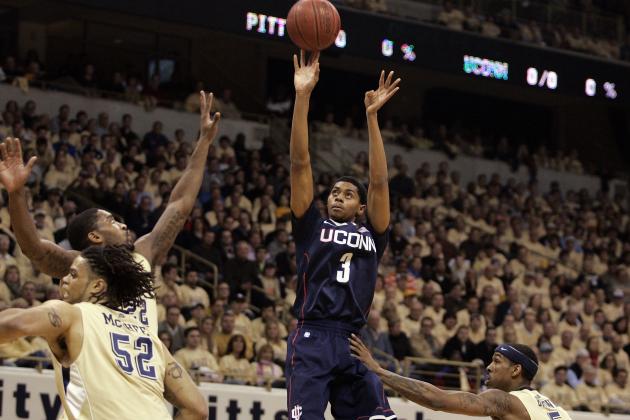 Justin K. Aller/Getty Images

For a player who was the focal point of his team's offense and an 81 percent free throw shooter, 3.5 free throw attempts per game is about half of what he should have been taking this past season.
It could be his slender build, or it could be a lack of experience, but Lamb will often get into the lane and settle for a 15-footer rather than attacking the rim and drawing contact.
A player with Lamb's athleticism and leaping ability should be finishing around the rim regularly. If he learns to consistently apply pressure on defenders and draw contact in the paint, his scoring will increase and defenses will have to adjust.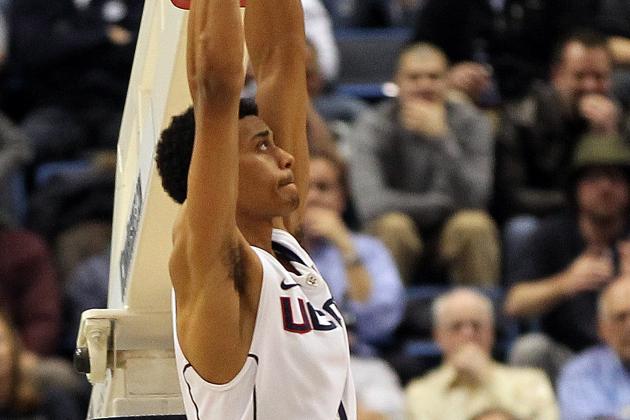 Jim Rogash/Getty Images

With his offensive versatility and elite athleticism, I expect Lamb to be a starting 2-guard on a solid NBA team for several years.
He lacks the quickness and killer instinct to be among the elite guards of the NBA, but he is capable of developing into an All-Star caliber player.
If he is drafted into the right situation, Lamb should be one of the better performing rookies in this year's draft.
As mentioned earlier, Lamb's game resembles that of a more athletic Richard Hamilton. It would not surprise me to see Lamb's career mirror his UConn predecessor's.