Euro 2012: Iker Casillas, Adidas Unveil Final Match Ball
May 9, 2012

It's that time again.
Adidas has unveiled a new ball for use at a major tournament. Now we wait for the players to complain about it.
First, though, let's get to the ball itself. Adidas and Spain goalkeeper Iker Casillas have unveiled the ball that will be used for the Euro 2012 final match.
Click here for a better view of the ball.
The final match is set for July 1 at Olympic Stadium in Kiev, Ukraine.
From an adidas press release:
Based on the classic Tango design used during both the FIFA World Cup and UEFA EURO tournaments during the early 1980s, the adidas Tango 12 Finale features a modern interpretation of the design, including bespoke graphics designed to represent the two host countries and link to the key characteristics of football—unity, rivalry and passion.

The adidas Tango 12 Finale, which has been developed over a two-year period, underwent two rigorous types of testing—qualitative player testing, which was conducted across eight different countries, using players, federations and clubs from both elite and grass roots football, and quantitative lab testing, which concluded that the adidas Tango 12 Finale meets and exceeds all FIFA Approved Standards for an Official Match Ball, making it the most tested ball adidas has ever produced.
Tested or not, the ball is almost certain to receive the usual negative reviews from players. The same thing has been happening for years, and adidas always expresses surprise.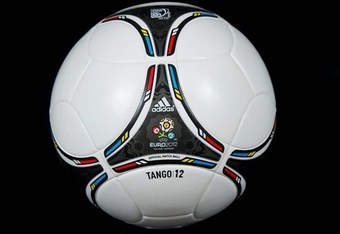 If you ask me, though, this ball looks pretty nifty. No word yet, however, on whether adidas engineered any specific newfangled technology into it.
According to the press release, the ball will be priced at £130. The regular match ball was unveiled last December.
The press release said the final match ball is part of its "Road to the Final" campaign. As part of the campaign, fans will have chances to win Euro 2012 "prizes" via social media (Facebook page here; Twitter handle @adidasfootball).
Euro 2012, which will be hosted by Poland and Ukraine, begins June 8. Spain won the 2008 event, beating Germany in the final.
What do you think, everyone? Like the ball? Hate it?
What about the price tag? And will Iker and Spain reach the final to play with it?
Let me know in the comments.