Bulls vs. Sixers: Game 6 TV Schedule, Live Stream, Spread Info and More
May 9, 2012

Jonathan Daniel/Getty Images
The Chicago Bulls are still alive in the 2012 NBA playoffs, but as they prepare for Game 6 against the Philadelphia 76ers, it will be very difficult to overcome the deficit. 
Currently, the 76ers lead the series 3-2. They had a great chance to end the series and advance to the next round to play the winner of the series between the Boston Celtics and Atlanta Hawks, but the Bulls fought hard to remain in the postseason. 
Ever since Derrick Rose went down, the Bulls have been noticeably struggling. They continue to get hit with the injury bug, but it's a great testament to the character of the team that they are still competing hard. 
This is crunch time, and the Bulls don't want to go home, especially since they're the No. 1 seed. Despite the injuries, they still have the talent to win this series, but beating Philadelphia in the next two games will be tough. 
With that said, let's dig into some specifics for this Game 6 showdown. 
When: Thursday, May 10 at 7 p.m. ET 
Where: Wells Fargo Center, Philadelphia, PA
Watch: NBA TV 
Live Stream: NBA League Pass
Betting Line: 76ers (-3.5) according to Vegas Insider 
Key Injuries 
*According to CBS Sports
Bulls 
PG Derrick Rose (knee): Out 
C Joakim Noah (ankle): Questionable 
76ers 
No injuries reported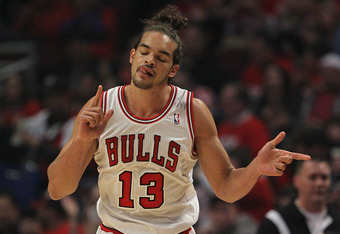 Jonathan Daniel/Getty Images
What's At Stake? 
For the Bulls, this is once again a game they must win or else they'll be sent home. To be ousted in the first round of the playoffs would be a crushing blow to a team that worked so hard to be the top seed. 
For the 76ers, a victory sends them to the second round, but a loss frees Chicago of all the pressure and puts it all on Philadelphia. The 76ers were up 3-1, but should this series reach Game 7, they'll be feeling a ton of heat, which won't bode well for them. 
What They're Saying 
K.C Johnson covers the Bulls for the Chicago Tribune, and he tweeted what Noah had to say about playing in Game 6.
Joakim Noah, who declined interview requests, tells @swirsk054 on team web site he's "feeling better" and he's "hoping" he can play Game 6.

— K.C Johnson (@KCJHoop) May 9, 2012
The Bulls definitely need Noah out on the court, even though they won without him in Game 5. He's a vital member of the team and certainly makes them better overall. 
After the Game 5 loss, Andre Iguodala told Bob Cooney of the Philadelphia Daily News that losing was tough but he'd ready for Game 6. 
It's frustrating that we couldn't make shots. We got some open looks, I got some open looks. They weren't going in. I feel really positive about Thursday. I can't wait to play again.


Iguodala was 4-19 from the field and 1-6 from three-point land, which is something that can't happen again if the 76ers are going to close the series out on Thursday. 
Bulls Key Player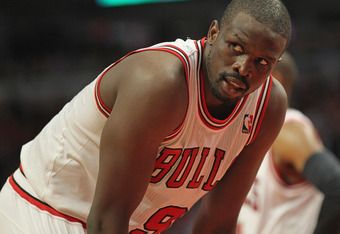 Jonathan Daniel/Getty Images
Luol Deng scored 24 points and grabbed eight rebounds in the Bulls recent win, which was his best performance of the series. 
Chicago desperately needs that type of production again or else they're toast. In each of the Bulls' losses this series, Deng has been a non-factor, shooting as low as 25 percent in Game 2. 
If the Bulls are going to stay alive in the postseason, it's up to Deng to perform at a high level and shut the 76ers down. It won't be easy on the road, but it has to be done. 
76ers Key Player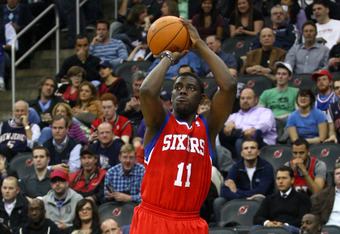 Chris Chambers/Getty Images
Jrue Holiday has been on a tear for the 76ers in this series, averaging 19 points per game. The stud point guard is thriving with Rose out for Chicago. 
Philadelphia needs Holiday to dominate in Game 6, as his success will help the entire team.
They 76ers have to eliminate the Bulls tonight, so keep and eye on Holiday because he's such a crucial player. 
Key Matchup 
As soon as Rose went down, the pressure to win in Chicago was placed on Deng and Carlos Boozer. Deng has had his ups and downs, but in Game 6 he'll have to thrive offensively as well as defensively. 
Deng is the key player and him squaring off against Iguodala is the key matchup. With Iguodala's poor performance in Game 5, expect him to bounce back strong, making Deng work extra hard. 
He won the matchup in Game 5, but there's no guarantee Deng gets the best of Iguodala in Game 6.
In addition to those two going head-to-head, the matchup down low between Boozer and Elton Brand is also extremely important, as the winner of that battle significantly improves his team's chances of winning. 
Prediction 
This should be another close game, and the hope is that both teams put up more points than the horrifying outcome of Game 5. 
Look for both teams to come out strong, but in the end, the Bulls walk away victorious because they will want this win more.
The Bulls know they need it to stay alive, and that will fuel them past Philadelphia to force a Game 7. 
Bulls 82, 76ers 75