The Microscope: Ryan Anderson's Tough Playoff Run and Al Horford's Resurrection
May 9, 2012

Marc Serota/Getty Images
 The Microscope is your recurring look at the NBA's small-scale developments—the rotational curiosities, skill showcases, coaching decisions, notable performances and changes in approach that make the league go 'round.
Ryan Anderson, ever the star
After living up to every bit of his per-minute promise, Ryan Anderson has played a stinker of a playoff series en route to the Orlando Magic's all-too-predictable first-round exit. The Indiana Pacers were fully tuned in to Anderson's presence and movement at all times, and though his shooting percentage isn't quite as bad as it looks due to the number of threes made and attempted, Anderson had a miserable series by almost any standard — and particularly so by his own lofty marks.
Yet before we rush to judgment on what such a performance might say about Anderson's game, I'd urge you to really consider the nature of this Magic roster. It took some ridiculously out-of-character success from Glen Davis, some condensed brilliance from Jameer Nelson and some particularly scrappy execution to even pull Orlando within striking distance of a win in this series.
Anderson thrives off of the shot creation of others, and yet the kind of looks Davis managed to create weren't particularly conducive to the benefit of an extra pass, and Nelson and Hedo Turkoglu didn't consistently draw the kinds of defensive attention that would score Anderson open shots.
Anderson is a star, even if he's not an elite shot creator; that he struggled so much in this series signals that he's understandably dependent on teammates, but only in the same way that all basketball players are. No low-post savant can go to work without effective shooters on the perimeter, no brilliant playmaker can create flow to an offense without good cutters or marksmen, and no solo shot creator can anchor an offense without credible support. All great players are still cogs in a greater system, and Anderson—despite lacking that fundamental quality that far too many view as a key to stardom—is no different.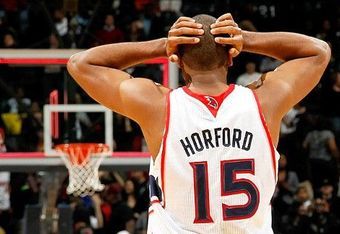 The true return of Al Horford
Al Horford officially made his return to the court on Sunday, but the player donning his jersey was a shell of his pre-injury self. Such can be expected when a player — even one as tremendous as Horford —misses three-and-a-half months of action; some rust was to be expected, and considering how noncommittal Horford was about playing in this year's postseason, the fact that he returned to the lineup at all was a bit of a surprise.
Yet the Horford we saw in the Hawks' win on Tuesday night easily validated the decision that prompted his return. Horford's 19 points and 11 rebounds (in 41 minutes!) were impressive, but more so was the resurrection of the Horford we know and love. Even as he shook off rust, Horford remained committed to the game's nuances. He boasted the kind of all-inclusive impact we've come to expect from him, and though he still seemed tentative and unsure at times, Horford looked more comfortably settled into his own skin as he passed, hedged and boxed the Hawks over the top in a tight game.
Welcome back, Al.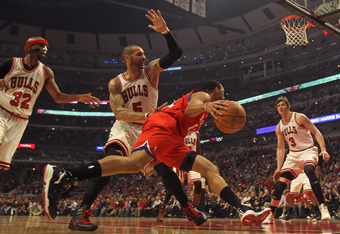 Jonathan Daniel/Getty Images
Finding balance in Philadelphia
Even during their most successful offensive stretches, the Philadelphia 76ers were a team completely committed to and dependent on the notion of creative balance. There is no Chris Paul or Steve Nash to set up teammates consistently, no Dwight Howard or Andrew Bynum to draw double-teams in the post and no LeBron James or Dwyane Wade to draw attention through penetration. There's merely a group of otherwise supplementary offensive players, functioning in fleeting harmony through smart passing, consistent movement and whatever quality attempts they can manufacture.
Yet when Philly's offense is forced to face off with an elite defense in game after game after game (as is certainly the case in the first-round matchup with Chicago), the aforementioned balance becomes even more important. The Sixers' top creators are Jrue Holiday, Lou Williams, Andre Iguodala and Evan Turner, and though being dependent on four players may seem to glean benefit through diversification, the fact that none of this group is truly elite makes things more than a bit difficult. As we saw on Tuesday, if at least two or three of those four players aren't generating shots effectively for either themselves of their teammates, Philadelphia's offense tends to completely crumble.
That doesn't necessarily guarantee a loss given the strength of the Sixers' defense, but it puts an interesting offense on a particularly precious perch.