Fantasy Baseball Rankings 2012: Hot Hitters Who Will Cool off Quickly
May 9, 2012

Jamie Squire/Getty Images
There have been many surprises and great feats accomplished thus far in the 2012 MLB season, including a perfect game by Phil Humber, and last night, a four-home run game by Josh Hamilton.
However, there have also been great starts by young, inexperienced hitters who might have a tough time being consistent over an entire season. A couple of these players are very new to the league, and might even been indiscernible to the average fan.
I have compiled a list of five players who are hitting very well now and are garnering great support in fantasy. Let me know what you think!
1. Bryan LaHair, Chicago Cubs
Not too many people, other than Cubs fans, are aware of first baseman Bryan LaHair—but they might be soon. LaHair is putting together a career year, but only time will tell if he can continue his hot streak.
Currently, he has reached base in 25-straight games, and over his most recent stretch, is 18-for-44 (.409 during that time) with six home runs and eight RBI. On the season, he is batting at a .373 clip, which is good for fourth in the National League and just two points lower than David Wright.
In his 27 games this season, he has smashed eight home runs and driven in 17. Also, he has collected 31 base hits in just 83 at-bats and scored 14 times.
However, his career numbers are a bit lower. He has always hit for a strong average at the major league level (.295 career batting average), but it is unlikely he will be able to sustain hitting .373 for the remainder of the season.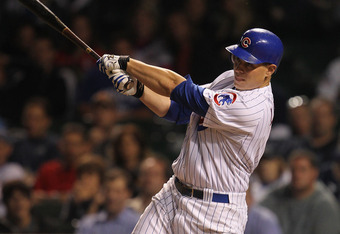 Entering 2012, LaHair had only recorded five home runs at the major league level through 65 games. This season, he already has jacked eight bombs and is on pace for about 25. However, he has never played more than 45 games in a single major league season.
The main question will be whether he can be consistent and post a high average and strong power numbers. I just do not think he will be able to continue hitting about .370, and I am sure he will cool off with the power numbers as we enter the summer months.
2. Jose Altuve, Houston Astros
Another young, no-name player, second baseman Jose Altuve, is putting together a strong start to his season for the lowly Houston Astros. The sophomore hit just .276 over 57 games in his first season with the big league club.
Currently, Altuve is batting .348 with two home runs and 13 RBI; last year, he finished with two home runs and 12 RBI, so he has already surpassed his RBI total from all of last year and he has only played in 29 games this summer.
The 21-year-old has collected 40 base hits in 115 at-bats, compared to just 61 base hits in 221 at-bats last season. The question will be whether he can sustain his hot hitting, which remains a big question mark.
Altuve will continue to improve, but I think he is still too young and inexperienced to be consistent enough to hit for a high average (above .350) and still grow as a player.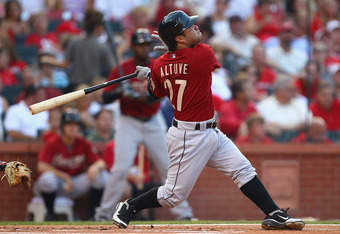 Look for Altuve to put together impressive numbers in the future, but I think he will encounter hardships down the line this season.
3. Carlos Ruiz, Philadelphia Phillies
With the absence of sluggers Ryan Howard and Chase Utley, someone was going to have to take the lead and anchor the Phillies.
I'm sure no one thought it would be catcher Carlos Ruiz.
Ruiz has put up strong numbers for the fighting Phils, as he is batting at a .319 clip with five home runs and 19 RBI. Those are not the most impressive numbers, but they are his best to date in his career.
Entering this season, he had compiled only 36 home runs over his first six seasons at the major league level. He has never hit double-digit home runs in a single season, but he is definitely on pace for more than that, maybe around 20.
Ruiz is a career .268 hitter, however, he finished the 2012 season with a .302 average over 121 games. Last season, he finished with a .283 average.
So, yes, Ruiz will put up career home run and RBI numbers, but I think he will taper off soon and his power production will decline. He just needs to sustain his production until the Phillies get their stars back.
4. David Ortiz, Boston Red Sox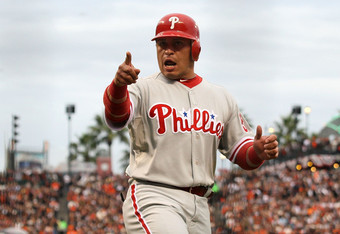 After a strong 2011, which followed a couple of weaker years with the Red Sox, most critics thought David Ortiz was done for and he would not last the entire season.
Yet, the 36-year-old slugging DH is putting together one of his more impressive seasons already. However, I think he will drop off in a couple of weeks. Not to say that he will not finish the year with strong numbers, I just do not think his average will stay above .370 for long.
Ortiz is a career .285 hitter, which is nothing to be ashamed of, but it's not like he is accustomed to batting over .300 consistently. In '07, Ortiz finished with a career-high .332 batting average.
However, Ortiz only batted .234 in '01 with the Minnesota Twins and .238 with the Sox in '09. He has always been able to post power numbers, I just do not think he can be consistent and hit for a high average all season long.
Ortiz will succumb to a slump soon, and although his power might not go away, his average will drop and he will finish batting with an average around .300.
5. Jon Jay, St. Louis Cardinals
St. Louis outfielder Jon Jay has something to prove this season. Colby Rasmus was shipped away to Toronto and Albert Pujols no longer calls Busch Stadium home. Lance Berkman has only played in seven games this year.
Jay has stepped up as one of the Cardinals' go-to men. However, that could change.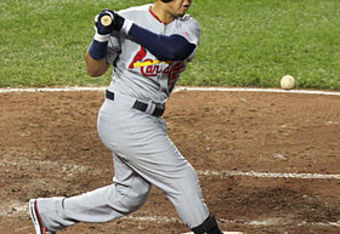 He is accustomed to hitting for a high average, but Jay currently is second in the National League with a .379 batting average. He is a career .296 batter, and he finished last season with a .297 average in 159 games. In his first season with the Cardinals in '09, Jay finished with a .300 average over 105 games.
Jay has already collected 33 base hits in just 23 games, but the real question is whether or not he will able to sustain his consistency. I'm sure he will cool off soon at the dish, but he will still finish with a .300-plus batting average, he just won't stay hovering around .380.  
Follow me on twitter: @Alex_VanRees