Liverpool Transfers: Should Stewart Downing Be Sold This Summer?
May 9, 2012

Clive Brunskill/Getty Images
Liverpool avenged their defeat to Chelsea in the FA Cup final by destroying the Blues at Anfield on Tuesday.
Supporters witnessed a spectacular night of football that ended in a 4-1 victory for the Reds. The night also marked the return of Fernando Torres to Anfield for the first time since January of 2011.
Liverpool's final home game of the season gave fans some respite after a season of poor performances ensured the Reds' non-contention in the 2012-13 season of Champions League.
However, an issue more pressing than that is to look into the performance charts of individual players, especially the players signed during the summer of 2011.
As Will Tidey points out in his article, player failures are as much a reason to blame for Liverpool's poor season as is Kenny Dalglish's questionable team selection policies and tactics.
Andy Carroll was a victim of fan criticism right from the start of the season, but his willingness to improve and contribute has endeared him well to the supporters. That leaves us with the midfield problem.
Players like Charlie Adam, Jordan Henderson and Stewart Downing—all expensive investments—failed to live up to their expectations and as a result contributed indirectly to Liverpool's woes.
Charlie Adam, now famous for his Hail Mary passes, is out with a long-term injury. However, the steadfast rate at which he degraded from being the "Scottish Alonso" to "Scottish Cheyrou" was alarming.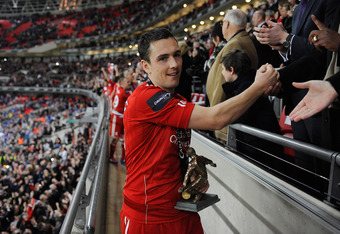 Pool/Getty Images
Jordan Henderson scored a well-hit goal in Tuesday's game. Aside from that, he was still culpable of the act of "floating around."
And then there is Stewart Downing.
When it comes to the goals and assists chart, the England international has managed to draw a blank in both columns in his 35 Premier League appearances (27 starts and eight sub) for Liverpool.
As a matter of fact, it was a B/R writer who had predicted a bad first season for Downing (in his own satirical sense) with respect to his goals and assists count.
In his first full season at the club, Downing has managed just two goals in all competitions with both strikes coming in Liverpool's failed FA Cup conquest.
Downing's last Premier League goal was exactly a year ago when he scored the solitary goal for Aston Villa against Liverpool. And he came agonizingly close to breaking his duck as he stepped up to take the penalty awarded for Ivanovic's foul on Carroll.
And as he hit the bar with his shot, it became ever so clear that Downing's goal woes were all set to continue their dirty, little agonizing run into the next season.
If that wasn't any proof, his dipping shot that bounced off the crossbar of Ross Turnbull took us on a flashback trail of how it all started against Sunderland on the first match day.
Comparatively, Downing's former teammate at Aston Villa and fellow England international, Ashley Young, has fared better at Manchester United scoring and assisting half a dozen times each in a lesser number of appearances.
The encouraging situation for Downing is that he isn't the only one to blame for Liverpool's shortcomings this season, as they were a collective failure.
But with fans demanding a massive improvement to what was a disappointment in terms of return on investment; Downing's place in the squad may be under threat if he fails to improve on his performances during the offseason training period.
His partnership with Jose Enrique on the left flank for Liverpool seemed to be a match made in heaven, but when the Spaniard's form dropped, Downing's confidence went with it.
That said, Liverpool and Dalglish (granted he stays in the job) should look for a pacier and attack-minded winger to link up plays and provide competition for Downing.
It is still a little early to place a judgement call on Downing's future at Liverpool when even the future of his boss remains up for discussion. Downing hasn't failed entirely in his role as a left mid option for Liverpool in that he delivers what is expected of him every game—crosses.
There hasn't been a shortage of effort from Downing's side because the former Middlesbrough man is as industrious as you can find in the modern game.
But if his efforts fail to match the expectations of the supporter, there is no doubt he will be pushing himself right into the firing line, which ultimately may result in his own undoing.
So, the real question that each supporter should debate upon is not to take a call on Downing's transfer status. Rather, the only question that all supporters should ask themselves is do they wait on Downing?