MLB Free Agency: Josh Hamilton and 8 Players Getting More Expensive by the Game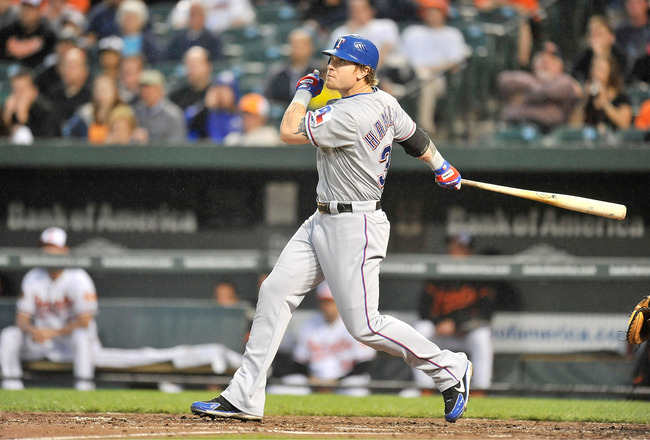 Mitchell Layton/Getty Images
When watching Texas Rangers center fielder Josh Hamilton and his record-tying night on Tuesday evening, one image came to mind—dollar signs.
Hamilton, who became the 16th man in MLB history to hit four home runs in one game, setting a new American League record with 18 total bases in the process, will be a free agent next season. Not coincidentally, ESPN baseball analyst Jim Bowden tweeted this morning that Rangers' GM Jon Daniels confirmed that contract extension talks are ongoing.
Jon Daniels wouldn't give details and didn't reveal any new info but reiterated that Rangers are working to extend Josh Hamilton long term

— JIM BOWDEN (@JimBowdenESPNxm) May 8, 2012
However, with Hamilton's incredible night at the plate and hot start to the 2012 season, how much more will it cost Texas?
Several players across MLB are playing out their contracts, and for the teams hoping to resign them, the dollar signs could continue going up the longer they wait.
Here are eight players who will likely come up on extra money because of their team's inability to sign them earlier.
James Shields: Tampa Bay Rays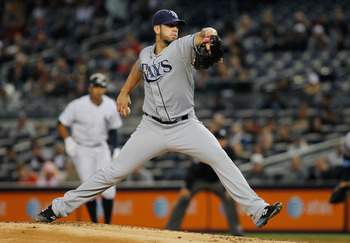 Mike Stobe/Getty Images
Last year, Tampa Bay Rays starting pitcher James Shields battled back from a miserable 2010 campaign, posting 11 complete games en route to a 16-12 record, 2.82 ERA and a third-place finish in the AL Cy Young Award balloting.
Thus far in 2012, Shields is picking up right where he left off, with a 5-1 record and 3.23 ERA in seven starts.
Shields originally signed a four-year, $11.25 contract prior to the 2008 season with three team options, and the Rays picked up the first of those option years last October for $7.5 million.
While Shields has two option years remaining, wouldn't it make sense to lock him up long-term before his asking price goes through the roof?
Rays GM Andrew Friedman has done an outstanding job in building a front-line staff, and Shields is its anchor. He has been a key contributor throughout his stay in Tampa Bay, and based on current performance, will continue to be.
Friedman would do well to extend Shields before it's too late and he's too expensive.
Shane Victorino: Philadelphia Phillies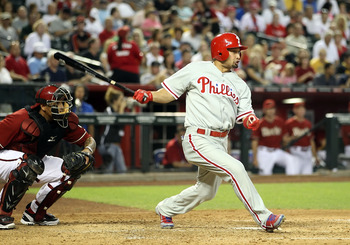 Christian Petersen/Getty Images
The Philadelphia Phillies have been besieged by the injury bug this season, not unlike many other teams. Losing Ryan Howard and Chase Utley, two key bats in the middle of their lineup, has been especially painful.
One of the constants in their lineup since 2006 has been center fielder Shane Victorino. The Flyin' Hawaiian continues producing at a high level, having led the NL in triples last season for the second time in his career. He is also a three-time Gold Glove award-winner and two-time All-Star.
Over the offseason, Ruben Amaro Jr. rewarded long-time shortstop Jimmy Rollins with a three-year, $33 million deal to remain with the only team he's ever played for.
It's time to do the same for Victorino before his asking price skyrockets. Gold Glove award-winners with speed, power and great plate discipline just don't grow on trees.
Mike Napoli: Texas Rangers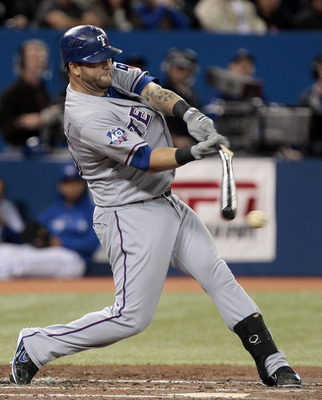 Abelimages/Getty Images
In February, the Texas Rangers avoided arbitration by signing catcher Mike Napoli to a one-year, $9.4 million deal. Napoli put together a career year last season in helping the Rangers reach the World Series for the second consecutive season.
Napoli, who apparently fell out of favor with Los Angeles Angels manager Mike Scioscia because of perceived defensive deficiencies, was a delight to watch all year long.
According to CBSSports.com contributor Jon Heyman, there's nothing new on the extension front in Texas.
no recent napoli/tex or montero/az talks. montero seeks vmart $ (52M/4), napoli eyes vmart-plus. napoli deal more likely

— Jon Heyman (@JonHeymanCBS) May 1, 2012
The longer Texas waits, the more they will need to dish out in order to keep Napoli. With seven HR and 16 RBI already on the young season, Napoli's production will be much desired on the open market.
Michael Bourn: Atlanta Braves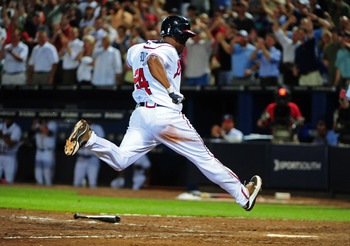 Scott Cunningham/Getty Images
Atlanta Braves center fielder Michael Bourn is off to a terrific start in his first full season in Atlanta, with a league-leading 43 hits, .328 batting average and 11 stolen bases in his first 31 games.
At a salary of $6.85 million, those numbers would represent a steal for Atlanta, which has not engaged in extension talks with their speedy leadoff hitter as of yet.
Bourn continues to establish himself as the perfect table-setter atop the team's lineup, and as long as he continues on his current pace, the Braves will continue to see dollar signs mounting.
Shawn Marcum: Milwaukee Brewers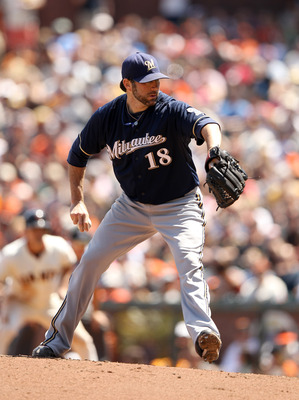 Ezra Shaw/Getty Images
When the Milwaukee Brewers acquired Shawn Marcum prior to last season, they were hopeful that he would give the team another pitcher at the top of their rotation to complement incumbent ace Yovani Gallardo and former Cy Young winner Zack Greinke.
They certainly got that and more, as Marcum posted a 13-7 record and 3.54 ERA in 2011, helping lead Milwaukee to their first division title in 29 years.
The Brewers avoided arbitration by inking Marcum to a one-year, $7.75 million deal in February, and thus far, Marcum is 1-1 with a 3.41 ERA in six starts.
There have been many differing opinions regarding the issue of signing Marcum to a long-term deal. The Brewers seem to be content with letting Marcum pitch for a new contract.
However, despite the many claims that Marcum isn't worth a long-term deal, his efforts on the mound say otherwise. GM Doug Melvin probably doesn't need to offer him Cole Hamels-like money, but the longer he waits, the more Marcum will be coveted by others.
Zack Greinke: Milwaukee Brewers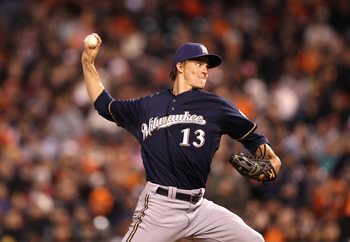 Ezra Shaw/Getty Images
Speaking of unsigned Milwaukee Brewers' pitchers, Zack Greinke is in the final season of a four-year, $38 million deal signed with the Kansas City Royals prior to the 2009 season. The former Cy Young Award-winner also had an excellent first season in Milwaukee, posting a 16-6 record and 3.83 ERA.
Greinke and the Brewers suspended extension talks in April, not coincidentally following the signing of San Francisco Giants pitcher Matt Cain to a six-year, $127.5 million deal.
Cole Hamels: Philadelphia Philles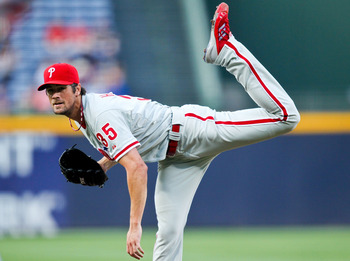 Daniel Shirey/Getty Images
Last year, the Philadelphia Phillies featured three pitchers who finished in the top five in Cy Young Award balloting. Southpaw Cole Hamels was one of them.
After posting a 14-9 record and 2.79 ERA, the Phillies and Hamels avoided arbitration with a one-year, $15 million deal. But with the Phillies' failure to ink him to a long-term deal, Hamels is easily the top pitcher available in the free-agent market.
It's not a stretch at all to assume that he will command a $20 million per year deal.
Already off to a 4-1 start and 2.45 ERA, Hamels continues driving up his price, leaving the Phillies to pay dearly for their indecisiveness.
Josh Hamilton: Texas Rangers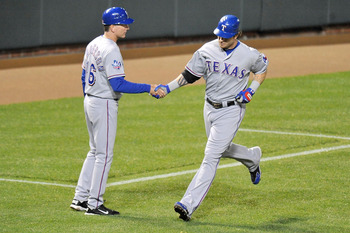 Mitchell Layton/Getty Images
With his epic performance on Tuesday night, Texas Rangers center fielder Josh Hamilton leads the AL in just about every meaningful offensive category.
Let's see—14 HR, 36 RBI, .406 BA, .458 OBP, .840 slugging percentage, 1.298 OPS, 89 total bases—yeah, I would say that Hamilton is off to a fine start.
At $13.75 million this season, how much of a bargain does that represent?
As stated earlier in our introduction, the Rangers and Hamilton are talking extension, but did Texas wait too long? Just how much will it take to keep Hamilton in Arlington?
Doug Mead is a featured columnist with Bleacher Report. His work has been featured on the Seattle Post-Intelligencer, SF Gate, CBS Sports, the Los Angeles Times and the Houston Chronicle. Follow Doug on Twitter, @Sports_A_Holic.
Keep Reading