Madrid Open 2012: Roger Federer and Stars Who Must Shine Before French Open
May 9, 2012

Al Bello/Getty Images
The 2012 Madrid Open features some of the top talent in the tennis world, but there are a few star players who desperately need a strong showing as they prepare for the 2012 French Open. 
Since the next big Grand Slam tournament is at the end of May, the Madrid Open is a perfect opportunity for these tennis players to build up great momentum. 
Whether they've flopped at times this year or just need to raise their confidence, these tennis stars can't afford to perform poorly in this ATP World Tour tournament. 
That being said, here are three tennis players who must shine in the 2012 Madrid Open. 
The No. 3 seed in the tournament, Federer has had a good year so far, but he's also had some gut-wrenching losses, which is exactly why he needs to thrive in Madrid. 
Yes, he's won some tournaments on the year, but since the French Open isn't too far away, now is not the time to get sloppy. 
After losing in four sets to Rafael Nadal at the French Open, he followed that up with a loss to John Isner at the 2012 Davis Cup World Group. He picked up the pieces after that, which is a good sign. 
However, with a major tournament just around the corner, Federer needs to use the Madrid Open as a chance to show that he is still incredibly dominant at tennis, and his competitors still need to fear him a great deal. 
John Isner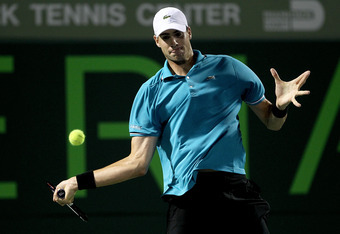 Matthew Stockman/Getty Images
The No. 8 seed is quickly becoming a true threat on the big stage, which is a good thing for American tennis. 
Unfortunately, Isner has been thwarted by the bigger stars in major tournaments. With a superb effort in Madrid, it will give the young star excellent confidence for the upcoming French Open. 
The next Grand Slam is also played on a clay court, albeit a different color, so the Madrid Open is an important event for all of those players competing.
Isner has reached the finals in some tournaments this year, and if he can do it again here, it will work wonders for him moving forward.
As the No. 4 seed, Tsonga has a great opportunity to gain momentum heading into the French Open.
He hasn't had a great deal of success there, but a valiant effort in Madrid will significantly help him in France. 
Tsonga was rather disappointing in the Australian Open, and since then, he hasn't done a whole lot. He's failed to get past the quarterfinals in nearly every event he's played in this year, which is not a good sign. 
However, Tsonga can get back on the right track with a solid performance in Madrid. It's what he needs in order to excel at the French Open later this month.