World Football: 10 Most Sensational Goals in the World So Far This Year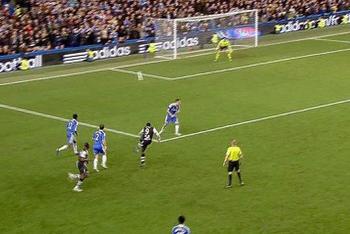 Although it is only May, that does not mean that world football has not seen its fare share of golazos in the first five months of the calendar year.
With the club season winding down, it is time to mine through all the goals scored throughout world football since the beginning of 2012 and give you the best 10 goals so far this year.
These goals do not need much more introduction as they speak for themselves and will leave you in amazement.
Dalibor Veselinovic
Dalibor Veselinovic has spent the entire season out on loan at Kortrijk in the Belgian Pro League and while his time at the club has come to an end, he left a lasting impact on the club with this goal.
This overhead goal came on March 18 in his club's 3-1 loss to Belgian powerhouse Gent.
And while his club may have lost, everyone was left talking about the Serbian's goal after the match was over.
Mark Hudson
Mark Hudson and Cardiff City came close to earning a trophy this season in the Carling Cup but eventually lost to Liverpool.
Hudson's 68-yard goal, longer than most NFL field goals, came towards the end of Cardiff's season on April 16th against Derby.
The Welsh club were unable to earn promotion to the Premier League through the Championship playoffs but they do have a player on the top 10 goals of the year list.
Peter Crouch
Peter Crouch was one of the early nominees for top goal of 2012 when he scored this stunner against Manchester City on March 24th.
This goal was the opening goal in Stoke's 1-1 draw with City, who at this point in the season were struggling to hold on to their title hopes.
Kyle Walker
It is not often when a defender unleashes a spectacular free kick.
Tottenham's Kyle Walker is an exception, the 21-year-old Englishman is no stranger to scoring goals like this and he did again against Blackburn on April 29.
The young defender is a part of a new generation of English talents and could be going to Euro 2012 as part of Roy Hodgson's squad.
Xherdan Shaqiri
Time to step out of the English game and head over to Switzerland and a goal by FC Basel's Xherdan Shaqiri.
Shaqiri was getting a ton of time in papers about a possible January transfer away from the Swiss champions but he decided to leave in the summer and has already agreed to join Bayern Munich.
This goal comes from a mess of a corner that turned into a moment of brilliance once Shaqiri got sight of the ball.
Nicolas Blandi
Jumping across the ocean over to Argentina for this goal as Nicolas Blandi of Boca Juniors scored this golazo just three days ago.
The 22-year-old striker put home this bicycle kick from just a few feet in front of the net, which makes it even more impressive.
The goal equalized Boca Juniors' match against Atletico de Rafaela and get them at the top of the Argentine Clausura for the time being.
Ismael Matar
This goal comes from the international period in February when Asian World Cup Qualifying was going on.
UAE's Ismael Matar unleashed this ridiculous free kick to give his country the lead against Lebanon and they would not turn back as the UAE eventually won 4-2 at home in Abu Dhabi.
However, the UAE have been eliminated from World Cup qualifying as they finished last in Group B in the third round of qualifying.
Luis Suarez
Luis Suarez had quite the night against Norwich on April 28 as he scored a hat trick.
The Uruguay international capped off his hat trick with this amazing midfield shot that looped into the back of the net.
Suarez has scored 11 goals this season in the Premier League and if it was not for his eight-game suspension earlier in the year, he may have scored 20.
Papiss Cisse
Some fans are still wondering how Papiss Cisse curled the ball into the back of the Chelsea net from the left sideline.
Cisse's stunning curling effort gave Newcastle fans yet another reason to love the Senegal international who has 13 Premier League goals in 13 games.
Cisse has definitely been the top signing of the January transfer window in the Premier League and could be the best signing all season.
Cristiano Ronaldo
This goal against Atletico Madrid on April 11 has to be one of Cristiano Ronaldo's best free kicks ever.
Ronaldo is probably the only player who could have scored a goal like this and the ball dies in the air and dips down to the bottom right corner of the net.
While Ronaldo may not be better than Lionel Messi as a total player, he is by far the best free-kick taker out of the two world superstars.
Keep Reading