Euro Cup 2012: Contenders to Watch for in European Championships This Summer
May 9, 2012

Manuel Queimadelos Alonso/Getty Images
A total of 16 teams are set to do battle in the 2012 UEFA Euro tournament, but only a few of them are legitimate contenders. 
Don't get me wrong, the field is strong and each team has earned the right to be in it. However, it's not difficult to see some teams are much better than others. 
This will be the 14th Euro Cup, and every team enters the tournament believing they have what it takes to win. Confidence is definitely needed, but realistically, a few teams don't stand a chance. 
With that said, here are the top contenders to watch for in the 2012 Euro Cup. 
Spain 
According to Setanta, Spain will be without star center back Carles Puyol for the entire tournament.
While this is a setback, it doesn't hinder the Spaniards from being the top team to beat in the European Championships. Sergio Ramos and Javi Martinez can pick up the slack and help the team win in Puyol's absence. 
Spain has deep talent on its roster, so expect them to make a good run and possibly even win the Euros for the second straight time.
This team knows how to win and should have no trouble advancing from Group C against Italy, Ireland and Croatia. 
Germany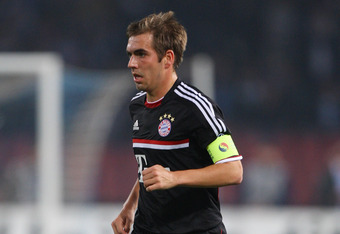 Paolo Bruno/Getty Images
The Germans are also one of the top favorites, and rightfully so. Having lost in the finals in the last Euro Cup, Germany is out for revenge, and there's no question this a team that needs to be feared. 
Germany's squad has very few weaknesses, which makes them a major threat this summer.
It will be tough surviving in Group B with the Netherlands, Denmark and Portugal, but the Germans are talented enough to emerge victorious. 
There a few holes in the Germans' roster, but since they're in a rough group, they'll need to come out hot and make their presence known early on. 
Netherlands 
Watching the Netherlands and Germany go head-to-head in the group staging will be very exciting, but it also puts the Netherlands in a bind. 
Germany is the better team, so if the Netherlands lose like expected in that match, they can't afford to falter against Denmark or Portugal. 
Despite the fact their midfield isn't the greatest around, the Netherlands are still strong contenders for the 2012 Euro Cup.
What they lack in the midfield they make up for with a stout defense and superb offensive depth. The Netherlands will need to be aggressive and show right from they start that they're not a team to mess with.