Required Reading: Links to the Best in AFC North Coverage, 5/9 Edition
May 9, 2012

Jim McIsaac/Getty Images
Today's AFC North required reading includes a Cleveland Browns quarterback controversy of a different sort, a flurry of news from the Baltimore Ravens and what the Bengals might do with their extra-large crew of receivers.
It's been a busy 24 hours for the Baltimore Ravens, signing free-agent wide receiver Jacoby Jones (per ESPN.com) as well as three of their 2012 draft picks (via the Carroll County Times) and extending the contract of safety Bernard Pollard (also per ESPN.com).
Linebacker Terrell Suggs also underwent successful surgery to repair his torn Achilles tendon, according to the Times. But the Ravens are reportedly unlikely to sign free-agent defensive end Andre Carter to take Suggs' spot in 2012.
The Cincinnati Bengals added free-agent guard Jacob Bell in April, but yesterday, he decided it was time to retire, according to Cincinnati.com. He was a Bengal for 32 days.
Bleacher Report's Ryan Nolan notes that the Bengals currently have 12 receivers on their roster, but will likely only have six once the season starts. He breaks down who these players are and their chances to make the 53-man active roster.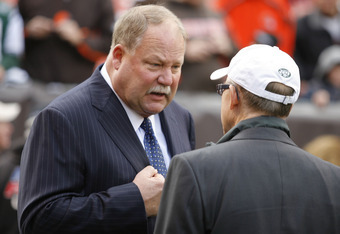 Matt Sullivan/Getty Images
Cleveland Browns team president Mike Holmgren has been doing a lot of talking lately. According to the Cleveland Plain Dealer, he told 92.3 The Fan that while he assumes Brandon Weeden will be the team's starting quarterback this season, he will still need to compete for the job with Colt McCoy and Seneca Wallace.
Holmgren went on to say in the interview that Weeden was not the Browns' first choice with the 22nd overall pick, and that wide receiver Kendall Wright was their real target.
Bleacher Report's Sigmund Bloom and Aaron Nagler don't like this admission at all, with Bloom saying the statement undermines Weeden's standing with the team, while Nagler believes Holmgren needs to step back and stay quiet.
The Pittsburgh Steelers inked deals with two of their draft picks late on Tuesday, signing tackle Mike Adams and wide receiver Toney Clemons for four years each, according to the Pittsburgh Post-Gazette .

Bleacher Report's Chris G. takes a look at a few lesser-known prospects who could become valuable to the Steelers in this and future years.