LSU Football: Les Miles Wrong to Support Spurrier's Division Record Proposal
May 9, 2012

Ronald Martinez/Getty Images
It's that time of the year when coaches and administrators use the media to lobby for the changes that they want in college football.
South Carolina head coach Steve Spurrier made waves last month when he proposed the idea of awarding the division championship to the team that has the best division record. The Head Ball Coach now has a supporter, according to Jon Solomon of The Birmingham News, in LSU head coach Les Miles.
"I'm for the Western Division deciding the Western Division champion and the Eastern Division deciding the Eastern Division champion," said Miles at an event in Birmingham, Ala., for the Changed Lives Christian Center.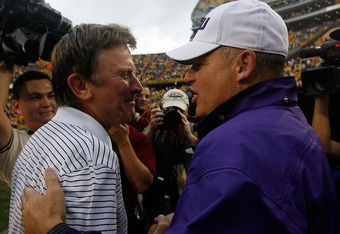 Chris Graythen/Getty Images
The SEC currently awards the division title to the team in each division that has the best overall SEC record, not the best division record. In 2011, South Carolina swept the SEC East but missed out on the division title due to losses to Auburn and Arkansas.
It was a bad idea when Spurrier suggested it, and it didn't get any better now that the Mad Hatter has thrown his support behind it.
The proposal would eliminate the importance of cross-division rivalries such as Alabama/Tennessee and Auburn/Georgia. Those are games that the the foundation of the SEC was built upon, and they must be preserved.
Sure, there could be some provisions built in the proposal to beef up the importance of those games with tiebreakers, but that's not enough. Those games, along with every other game played within the SEC, need to be weighted equally.
If they're not weighted equally, the SEC would essentially be split into two separate conferences like the American and National Leagues were prior to interleague play in Major League Baseball.
That can't happen.
According to the same Birmingham News article, SEC commissioner Mike Slive has already stated that he's not fond of the idea of placing more value on games played within the same conference. Here's to hoping that he sticks to his guns when the SEC's athletic directors and coaches meet later this month in Destin, Fla.