Houston Rockets: 7 Missing Pieces Keeping Them from the Playoffs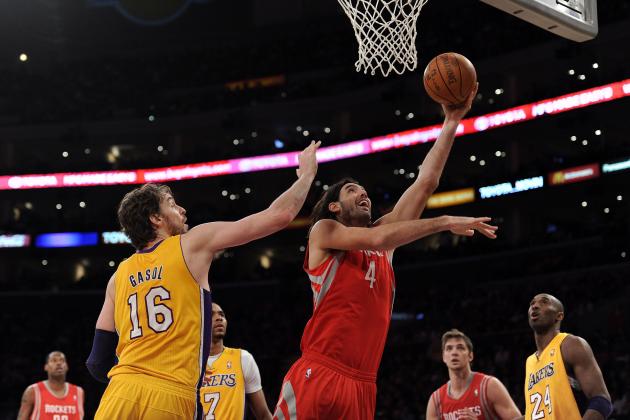 Harry How/Getty Images

The Houston Rockets fell just short of the playoffs this season. They finished 34-32, two games out of the eighth spot in the Western Conference. They slid straight out of the playoff race by losing six straight in mid-April.
However, that six-game losing streak was only the final straw removing them from playoff contention. The Rockets had several other things go wrong this season.
Luis Scola wasn't on his usual game. A few key players missed a significant amount of time due to injury. Houston struggled to win on the road.
While the Rockets seemed so close to the playoffs, it seemed like a myriad of things held them down.
Following is a list of things that are keeping the Rockets out of the playoffs.
Begin Slideshow

»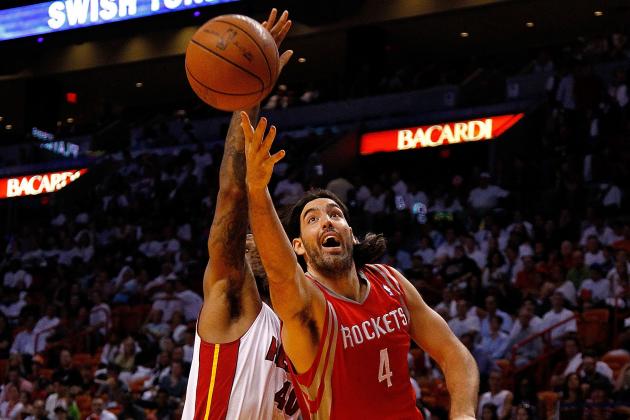 Mike Ehrmann/Getty Images

Luis Scola looked to be on the decline this season. His numbers were down across the board.
The 32-year-old scored only 15.5 points per game on 49 percent from the field. That's 2.8 points per game fewer than the year before. He only had 6.5 rebounds per game, 1.7 less than 2010-11.
He turned the ball over at a disturbing rate for a frontcourt player. He averaged 2.3 turnovers per game (up from two per game in 2010-11) and committed 13.6 turnovers per 100 possessions (up 3.1 from the year before).
He was more of a foul liability than ever before, committing 3.8 fouls per game. Scola fouled out once but committed five fouls 11 times.
He'll likely decline more next season. The Rockets will have to find a way to use him effectively so that they can maximize his abilities.
They can still set up plays to utilize him as an offensive threat. Since he turned it over more this year, they might have to work the ball to him in a way that he doesn't have to put it on the floor.
Those opportunities might not be as plentiful as they used to be, but Houston can work their chances as best they can with Scola.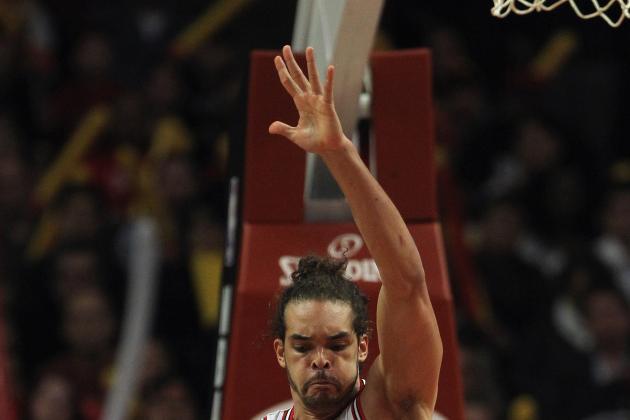 Jonathan Daniel/Getty Images

The Rockets would have had a somewhat better chance of making the playoffs if they had done better on the road.
They finished 12-21 on the road. Houston was almost unable to beat good teams on the road, going 2-14 against winning teams.
Their home/away splits reflected the significant struggle on the road. The Rockets were 10 games better at home (21-11) than they were on the road. Their scoring average was 3.8 points per game higher at home than on the road (100 to 96.2).
Houston allowed 5.3 points per game more on the road than at home (100.5 to 95.2). Opponents shot significantly better against the Rockets at their home court than they did at the Toyota Center (47.4 percent to 43.9 percent).
They also averaged 3.4 more rebounds at home than away (43.9 to 40.5).
The Rockets will have to find some semblance of an ability to win on the road, particularly against good teams. Good teams are able to do that. The top six teams in the West are no more than three games under .500 on the road this season.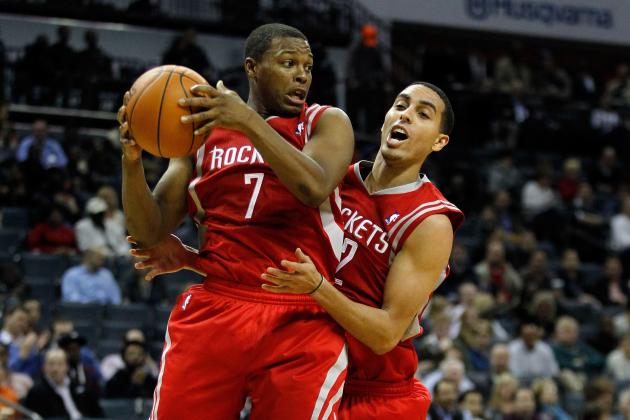 Streeter Lecka/Getty Images

The Rockets lost significant amounts of production in a couple different areas due to injuries to three key players.
Jordan Hill missed a couple weeks in late February and early March due to an MCL sprain, per the Houston Chronicle. That meant the Rockets had to try to make up for about five rebounds per game.
They also lost a great deal of scoring and point guard guidance due to the injuries to Kyle Lowry and Kevin Martin. Martin missed much of the season due to a shoulder injury. He tried to come back late in the season, but, as Jonathan Feigen of the Chronicle tweeted, he couldn't quite make it back.
That meant the Rockets lost a great deal of scoring from a player who averaged 17 points per game in his 40 games this year and 23.4 points per game last season.
The loss of Lowry was also a huge hit. He missed time due to an infection in the latter part of the season, and then was out the last couple games due to a groin injury that would require a sports hernia operation (via the Chronicle). Lowry had stepped up in a big way early on to guide the team at the point, averaging 14.3 points and 6.6 assists per game.
The Rockets struggled after Lowry came back from his infection, going 3-6. Then, after he returned to the injury list, the Rockets lost to the Miami Heat, succumbing to elimination.
To make the playoffs next season, the Rockets will need their key players to stay healthy. They can't afford to lose the amount of scoring that they did from the injuries to Lowry and Martin.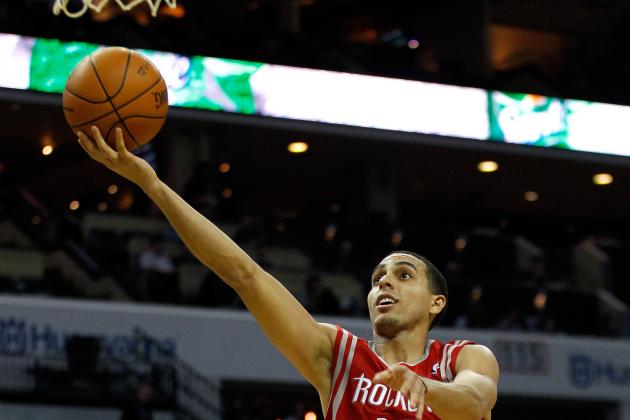 Streeter Lecka/Getty Images

The Rockets need to have a clear go-to scorer next season. They didn't have someone to maintain that role for the entire season.
Kevin Martin had game-highs in scoring seven times in his 40 games. He had the top scoring average by 1.6 points per game.
Besides Martin, they had four players post game-highs at least three times (Kyle Lowry, Luis Scola, Goran Dragic and Chase Budinger). Also, they had four other players average between 11 and 16 points per game (Lowry, Scola, Dragic and Courtney Lee).
That might come if Kevin Martin can maintain good health. Getting your leading scorer to play the whole season goes a long way towards assuring that scoring leadership. If they can't keep Martin healthy, they might have to lean on Luis Scola and Kyle Lowry, who were the next highest scoring players, for that role.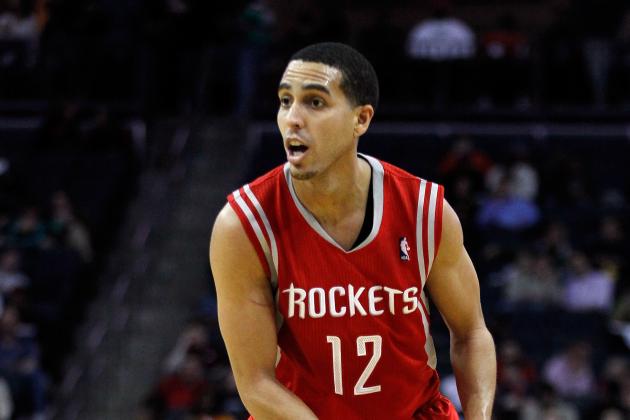 Streeter Lecka/Getty Images

The Rockets will have to figure out what they're to do with Kevin Martin.
Martin was a terrific scorer in 2010-11 when he averaged 23.4 points per game. He had 20 or more points in a game 57 times in 80 games last season, including 20 games with 30 or more points. This season, he had only 16 games with 20 points or more.
He averaged 6.3 points per game fewer in 2011-12 than 2010-11.
As long as Martin is healthy, he should be the go-to scorer for the Rockets. That wasn't quite the case in 2011-12, as he averaged 13.4 shots per game this season, down 2.4 from the year before. His usage rate was 24.7 percent, down 5.2 percent from the year before.
Martin seems to be the most talented scorer for the Rockets, and they should exploit his scoring ability.
Harry How/Getty Images

As in other areas, the Rockets seemed to have pieces of defensive capability, but didn't have it all together.
Samuel Dalembert showed great defensive leadership early in the season. He pulled down 10 rebounds nine times in January. Also, he blocked multiple shots nine times in January. But he faded later on, averaging seven rebounds per game for the season.
Marcus Camby arrived and contributed well down the stretch, averaging 9.3 rebounds and 1.5 blocks per game, but his presence wasn't enough.
Kyle Lowry and Goran Dragic did nicely defensively, averaging 1.6 and 1.3 steals per game, respectively.
Still, Houston was only 17th in defensive rating, allowing 105.2 points per 100 possessions.
The Rockets will need to establish someone as a defensive leader next season. Perhaps they'll exercise the option on Dalembert and have him serve that role. Still, they'll have to see if he can be effective as such a leader, or if they'll need Lowry or someone else to fill the role.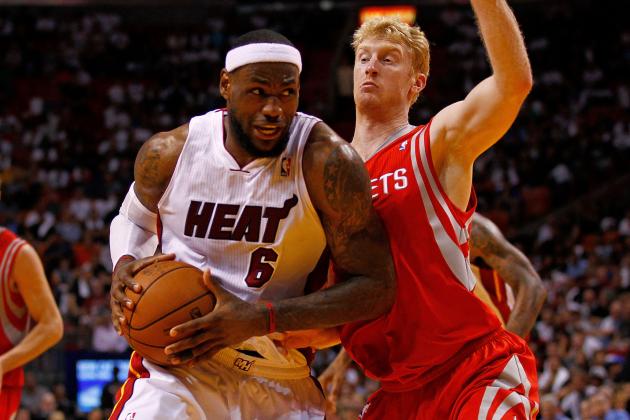 Mike Ehrmann/Getty Images

The Rockets will need strong bench support this season to make a run at the playoffs.
Chase Budinger scored well sometimes, scoring in double figures 29 times, but he'll need to do better than his 44.2 percent shooting mark. Goran Dragic stepped up late in the season, scoring in double figures 39 times, almost all of which came in the second half of the season.
Patrick Patterson scored a decent 7.7 points on 44 percent shooting.
They could still use another bench shooter. Perhaps signing Steve Novak would help.