Josh Hamilton: Greatness of Texas Rangers Superstar Impossible to Measure
May 9, 2012

Ronald Martinez/Getty Images
As he was busy launching four home runs against the Baltimore Orioles on Tuesday night, Josh Hamilton was able to show the world (again) just how dominant he can be when he is on top of his game. 
But watching it, there was another thought that crossed my mind: How great could Josh Hamilton have been?
Hamilton's story and journey to Major League Baseball has been very well-documented. He has not shied away from his deep dark past that was filled with drugs, alcohol and years away from the game. 
Everything that happened in Hamilton's life is far bigger than the game of baseball, and it is a testament to him that he has been able to get his life back on track. Every day is a battle for Hamilton.
One of the most highly-touted prospects in baseball, Hamilton was the No. 1 overall pick to the Tampa Bay Devil Rays in 1999 and signed a $3.96 million contract right out of high school. He was considered a "can't-miss prospect" by anyone who saw him play; it was just a question of when he would get the call to The Show.  
His journey to the big leagues was supposed to be simple, and he was going to be a superstar, the likes of which we hardly ever get to see. 
Things don't always go as planned, and Hamilton's addiction to drugs and alcohol nearly cost him everything. 
In 2001, Hamilton was involved in a car accident that left him unable to play baseball due to a back injury. That was when the drinking and drug use started for him, but it was hardly the darkest hour for this young man. 
Hamilton's descent into darkness started to become more apparent in 2003, when he showed up late to team workouts and then left the team for six weeks "to address some personal issues and problems." But his return didn't last long, and he ended up not playing a game. 
Hamilton was fined and suspended by Major League Baseball in 2004 for violating the league's drug policy. He would not play in an organized baseball game until the end of the 2006 season, with the Rays' Class-A Short Season League. 
In 2005, Hamilton had his "rock bottom" moment when he went on a drug binge and wound up at his grandmother's house. 
No, rock bottom, he says, was the night in the late summer of 2005 when he awoke from a crack binge in a trailer with a half-dozen strangers around him; with nowhere else to go, he appeared like a ghost at his grandmother's door -- his sunken face as white as snow, his 6' 4" frame shrunk from 230 pounds to 180. 
He made significant changes to his life shortly after that with the help of his wife and stepdaughter. Hamilton began going to Alcoholics Anonymous meetings and getting help from his father-in-law. 
After getting the opportunity to play baseball again at the end of the 2006 season, Hamilton was left unprotected by the Rays in the Rule 5 Draft because there was little hope that he would ever set foot on a major league field given all of his problems.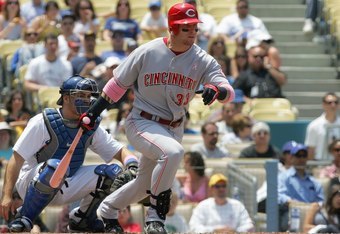 Stephen Dunn/Getty Images
The Chicago Cubs picked him third overall before trading him to the Cincinnati Reds. Hamilton made his big league debut on April 2, 2007.
After a productive but injury-plagued year with the Reds in which Hamilton hit .292/.368/.554 with 19 home runs in 90 games, he was traded to the Rangers before the 2008 season, and his career has exploded in his three-plus seasons in Arlington. 
Hamilton stole the show at the Home Run Derby in Yankee Stadium, won an MVP award in 2010, played in two World Series and is doing his best to show the world why he is one of the most talented individuals we have ever seen play the game. 
It has not been all smooth sailing for Hamilton, who had a very public relapse prior to the start of the 2012 season. He is always going to battle those demons, but he has a much better support system around him to see him through any problems he might have. 
Looking at all of that, Hamilton wound up not playing baseball for three years. He went through hell and back before even getting an opportunity to play this game and has been one of the best and most dominant players since his debut in 2007. 
As great as Hamilton has been with the Rangers, the great "What If" question will always be associated with him. The player he is now isn't quite the five-tool superstar he was going to be when he was first drafted. After another brilliant performance on the diamond Tuesday night, it is safe to say that he is still pretty good.
For more Major League Baseball analysis, be sure to follow me on Twitter.