Miami Dolphins: Reviewing Their 2012 NFL Draft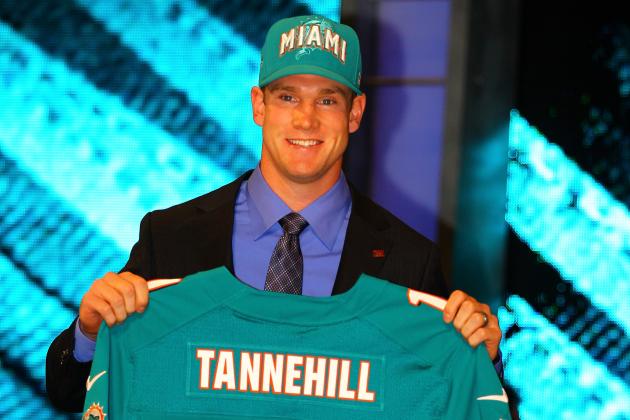 Al Bello/Getty Images

The Miami Dolphins needed to upgrade at the quarterback position, but missed out on trading up for Robert Griffin III, or signing Peyton Manning, Matt Flynn or Alex Smith.
That left Texas A&M's Ryan Tannehill as the Dolphins' best available option to bring in at quarterback.

Tannehill should have been a second-round draft pick, not the No. 8 overall draft selection. The Dolphins' 2012 draft will undoubtedly be deemed a success or a failure based upon Tannehill's performance as an NFL quarterback, but their draft should be evaluated on the whole of their selections.
Read through the following slides for my first evaluation of the Dolphins' entire 2012 draft.
Begin Slideshow

»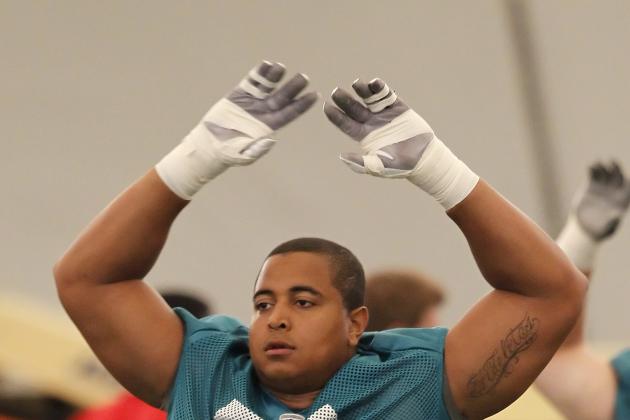 Joel Auerbach/Getty Images
Jonathan Martin
Round 1, Pick 8: Ryan Tannehill, QB, Texas A&M

Overall Prospect Rank: No. 54

Tannehill was drafted to be the long-term starting quarterback in Miami, so he is expected to be a great starter. This was an example of a quarterback being overdrafted because of his position.

He has the potential to be a good starter; he has a good arm, comes from a pro-style offense, is a very good athlete and has great pocket presence. However, he needs work with decision-making. In college, he struggled with accuracy, was inconsistent and inexperienced.

If Tannehill ends up panning out as the Dolphins' long-term starting quarterback, then this will end up being the right pick. However, he is a project whose bust potential is high, and he has too many areas to improve on to be an NFL starting quarterback as a rookie.
Round 2, Pick 42: Jonathan Martin, OT, Stanford

Overall Prospect Rank: No. 11

Martin is a very consistent, well-rounded offensive tackle with the skill set to start on either side on the line. While he played left tackle at Stanford, he should be able to make a good transition to right tackle to start across from Jake Long in the Dolphins offense.

He is not an overpowering blocker, but he makes few mistakes. He is a fluid technician, strong run-blocker and consistent pass protector.
Round 3, Pick 72: Olivier Vernon, DE/OLB, Miami

Overall Prospect Rank: No. 97

Vernon is an athletic edge-rusher with good burst off the line of scrimmage. He is very much a project, coming off of a disappointing junior season in which he only played six games.
He has good upside as a pass-rusher in the Dolphins' defense.
Round 3, Pick 78: Michael Egnew, TE, Missouri

Overall Prospect Rank: No. 79

Egnew is a terrific receiving threat and very good athlete. He was a productive receiver for Missouri. He is not an in-line blocker and does not make defenders miss in space, but can provide a downfield receiving threat in the middle.
Round 4, Pick 103: Lamar Miller, RB, Miami

Overall Prospect Rank: No. 30

Miller is an explosive running back with tremendous speed, but also has the size and power to be effective running between the tackles. He has great burst out of the backfield and very good vision. He struggled with inconsistency at Miami, but could be an impact player.
Round 5, Pick 155: Josh Kaddu, OLB, Oregon

Overall Prospect Rank: No. 207

Kaddu is a versatile playmaker who can line up as an outside linebacker in either a 4-3 or 3-4 defense. He is best suited to play special teams, but should provide solid depth at the linebackers.
Round 6, Pick 183: B.J. Cunningham, WR, Michigan State

Overall Prospect Rank: No. 173

Cunningham is a skilled wide receiver with good hands, solid route-runner and good lateral quickness. Not much stands out about his game, but should be a solid No. 4 receiver and special teams contributor.
Round 7, Pick 215: Kheeston Randall, DT, Texas

Overall Prospect Rank: No. 134

Randall shows potential as a disruptive defensive lineman, but never lived up to his potential at Texas. He is a solid penetrator, but an inconsistent performer. He has upside as a rotational defensive tackle.
Round 7, Pick 227: Rishard Matthews, WR, Nevada

Overall Prospect Rank: No. 106

Matthews is a talented receiver who was productive at Nevada. He is a vertical receiver and skilled route-runner with very good hands. He has subpar speed, but he should be a solid No. 4 wideout in the NFL.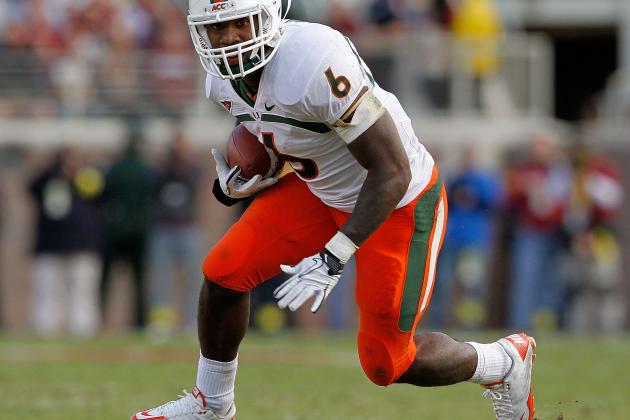 Mike Ehrmann/Getty Images
Lamar Miller
The Dolphins received Round 3, Pick 73 and a 2013 third-round selection from the Chicago Bears for wide receiver Brandon Marshall. The Dolphins later traded Round 3, Pick 73 to the San Diego Chargers for Round 3, Pick 78 and Round 6, Pick 183.

The Dolphins were apparently shopping Marshall heavily, although this trade did not make much sense from a personnel standpoint. It left the Dolphins without a true No. 1 wide receiver. For one of the best deep threat wideouts in the NFL, two third-round picks was not a good value.

Trading down five spots from No. 73 to No. 78 made sense. The Dolphins picked up an extra sixth-round pick, and still got a quality player with their third-round pick in Missouri tight end Michael Egnew.
The Dolphins traded the No. 103 and No. 196 overall selections along with a 2013 sixth-round selection to the San Francisco 49ers for Round 4, Pick 97.

Giving up two sixth-round selections to move up six spots in Round 4 may seem like a big price, but it was well worth it in this situation. By trading up, the Miami Dolphins had the opportunity to select one of the 32 best players in the draft class, Miami running back Lamar Miller.

The Dolphins did not necessarily need a running back—they already have a fast, elusive back in Reggie Bush. That said, Miller's value made him well worth moving up in Round 4, as he adds an explosive playmaker to their offense.
The Dolphins traded Round 5, Pick 145 to the Tennessee Titans for Round 5, Pick 155 and Round 7, Pick 227.

The Dolphins were able to acquire another pick to work with by moving down 10 spots in Round 5, and they used that pick well by selecting Nevada wide receiver Rishard Matthews, so this was a good move.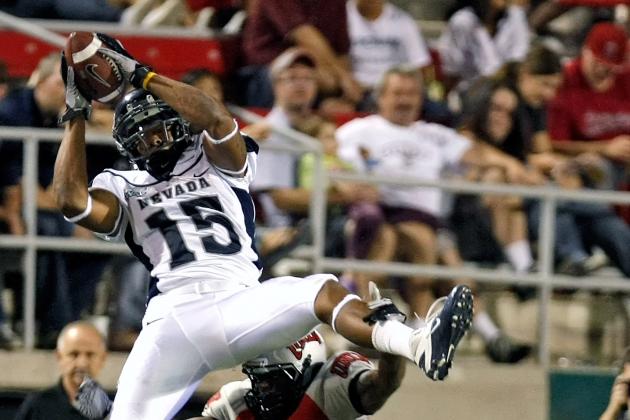 Ethan Miller/Getty Images
Rishard Matthews
It is easy to focus on the poor value that the Dolphins got in Round 1 with the selection of Ryan Tannehill. However, the Dolphins made up for it by getting tremendous value throughout the rest of the draft.

While the Dolphins got a second-round value in Round 1 with Tannehill, they got a first-round value in Round 2 with Martin. The Dolphins also got Lamar Miller, an early second-round talent, in Round 4.

Aside from Tannehill, the Dolphins did not reach significantly on any draft picks, and got great value even late in the draft. Randall and Matthews both would have been legitimate fourth-round selections, but the Dolphins were able to get them in Round 7.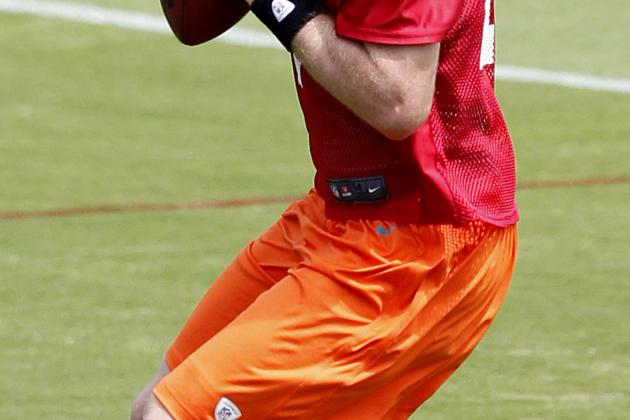 Joel Auerbach/Getty Images
Ryan Tannehill
The Dolphins came into the draft with a big need at the quarterback position. The Dolphins addressed that need right away by selecting Tannehill at No. 8 overall. His value was a reach, but the Dolphins did what they needed to do to fill their need.

They continued to address needs at right tackle, defensive end and tight end throughout Day 2. The Dolphins did not fill their need at wide receiver early, but they did add two quality players at the position late in Cunningham and Matthews. The Dolphins also had a need for another outside linebacker, and brought one in with the selection of Kaddu.

The Dolphins did an effective job of filling nearly all of their needs. They are still weak at linebacker and safety, but did a very good job with the picks they had.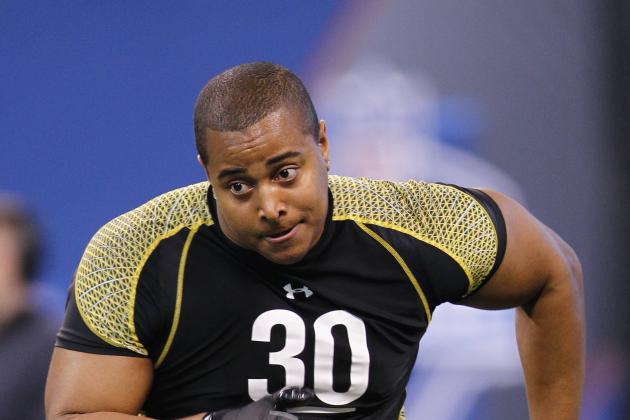 Joe Robbins/Getty Images
Jonathan Martin
Initially, I had a very bad feeling about the Dolphins' draft following their selection of Ryan Tannehill. However, they did a tremendous job on the next two days of the draft, and ended up with a complete draft class.

The Dolphins may have gotten poor value in Round 1, but they addressed their great need at quarterback. After that, the Dolphins drafted quality, round-appropriate talent while continuing to fill needs across their roster.

The Dolphins will field criticism if Ryan Tannehill is a bust, but they should be praised for this draft as a whole. The team should end up with many quality contributors on both sides of the ball from these selections.

Grade: B+
Thanks for reading!

Throughout the month of May, I will be reviewing one team's draft each day, in the order of the original 2012 NFL draft order.

Follow me on Twitter @Dan_Hope.