BCS Playoffs: Why a 4-Team Playoff Is Not Good Enough
May 11, 2012

Andy Lyons/Getty Images
At long last, there will be a playoff in college football starting in 2014. While the details need to be worked out, it looks like four teams will vie for the national championship. If you listen to analysts and experts, college football fans should feel grateful and be thankful for this—and they are all wrong.
Don't get me wrong. I am one of the biggest proponents in the world for a college football playoff and have been for as long as I can remember.
While a four-team playoff might seem like a good start, it is simply not good enough. Ironically, it will over-complicate the process and will be more difficult to implement than an eight-team playoff would be.
Before we get to that though, let's explore a topic that has been over-analyzed for decades: why a college football playoff is needed in the first place.
The Problem with the Bowl System

For pretty much as long as the game has existed, the national champion of college football has not been determined solely on the field.
Since the early 1900s, the bowl system, in one form or another, has determined the national champion. The problems with this type of system were evident very early on.
In 1947, when the Big Ten conference and the Pacific Coast Conference (now the Pac-12) agreed to commit their respective conference champions to the Rose Bowl, the concept of the two best teams not facing each other went from a mere possibility to a certainty—it was just a question of when.
In fact, the two top-ranked teams hardly ever played each other. As if that did not create enough of a problem, with the determination of a champion left in the hands of pollsters, the inability to crown an undisputed No. 1 increased considerably.
From 1950 to 1997, there was a split national champion 10 times. To try and remedy this problem, the Bowl Championship Series was born.
In theory, the BCS was a good idea, designed to guarantee that the top two teams would meet for the championship each year. It replaced, to a great extent, human voters with computer polls and formulas that made college calculus look tame by comparison.
Like many things, however, things did not go as planned. The flaw in the BCS was fully realized in 2004 when the exact thing the BCS was supposed to prevent—a split national champion—occurred anyway.
That was the year that the USA Today/ESPN Coaches Poll selected 13-1 LSU as the national champion, but the Associated Press chose 12-1 USC.
There has not been a split champion since 2004, but there has been plenty of controversy.
In 2007, Boise State capped an undefeated season with a win over Oklahoma in the Fiesta Bowl in what many have called the greatest college football game ever played. Yet they were completely ignored by the voters, who selected the 13-1 Florida Gators as champs.
In 2009, the undefeated Utah Utes clobbered Alabama in the Sugar Bowl, but, again, it was 13-1 Florida that was crowned.
In 2011, TCU finished undefeated, the same as the national champion, Auburn.
This past year, Alabama won the national championship with a 12-1 record, even though their SEC rival LSU beat them once and also finished the season with only one loss. Add to that Oklahoma State finishing with only one loss, and it was more clear than ever that things were not working.
The BCS was also creating issues because the automatic bids granted to six main conferences were resulting in the fracturing of traditional conferences and the creation of new super conferences.
The Big Ten suddenly had 12 teams while the Big 12 was down to 10.
It was the absurdity of this situation that led to a much louder call for a playoff system in the past few months.
Playoffs? Yes...Playoffs
It seems like such a simple concept:a playoff to decide the title-holders.
Pretty much every sport on the face of the planet—with the exception of college football—utilizes some form of a playoff to crown its respective champion.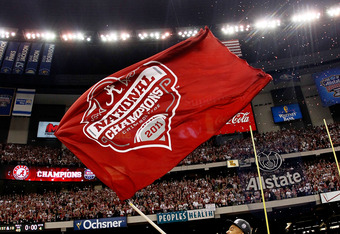 Kevin C. Cox/Getty Images
A 2007 Gallup Poll found that roughly 85 percent of college football fans were in favor of some sort of playoff system.
So, how is it that something that more than three quarters of the fans want, and something that makes so much sense, has repeatedly been shoved to the side for so long?
The arguments against a playoff system are varied, but most don't seem to make a lot of sense any longer.
One such argument is that a playoff would make the regular season last too long. While there is certainly some truth to this, to the extent that a longer regular season could make studying somewhat more difficult for student-athletes, a somewhat longer season would also benefit those athletes who are going to transition to the NFL.
Also, if one looks at the down time for many of the top teams between their last regular-season game and their respective bowl game, a counter argument could be made that having a playoff would actually be a more efficient use of students' time.
Another argument against a playoff is that with a playoff system, teams will not be able to plan travel in advance as easily as they can with a bowl game. This would make it more difficult for families or alumni to make plans to support their children or their teams.
That may be true, but college football fans are some of the most loyal and enthusiastic fans in all of sports. I have no doubt that these same fans will be able to put together travel plans on short notice if necessary.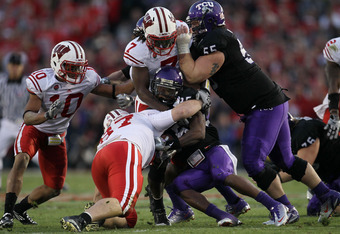 Stephen Dunn/Getty Images
That is what the Internet is for, anyway.
It is also worth noting that the Football Championship Subdivision has a 20-team playoff, and you don't hear much, if anything, about the length of season or how egregious travel plans are.
Another argument is that a playoff would destroy the tradition of the bowl games or compromise the importance of the regular season. That is just absurd. When TCU and Texas appear in the Rose Bowl, I think it is safe to say that the BCS has already ruined the tradition it was supposed to be protecting.
I still am not sure how a playoff system based on conference champions and/or seeding would somehow take away from the regular season.
No, let's be honest here. The real reason there has not been a playoff system to date is because of money.
According to the BCS, in 2010, the total economic impact in the host cities from the five BCS games was estimated at more than $1.2 billion. Further, each conference whose team qualifies automatically for the BCS receives approximately $22 million in net revenue.
The cities hosting the games do not want to lose all that revenue. The conferences with teams playing in those games do not want to lose that revenue.
They don't have to.
Eight Would Be Great
At the outset of this article, I indicated that a four-team playoff was not good enough.
Not only is it not good enough, it is already creating all sorts of problems. All of the various conferences seem to have their own take on how to select the four teams involved.
Are only division or conference champions eligible? How do we go about determining which BCS bowl will get to host the title game?
So many questions, and the solution—or a possible solution—seems relatively obvious.
Why not have an eight-team playoff and simplify things greatly? But the idea of an eight- or 16-team field was already shot down by the powers that be.
While I tend to agree that a 16-team field might be a bit much, I cannot see how an eight-team playoff would diminish the regular season or harm the bowls.
In fact, it makes too much sense.
There are four BCS bowl games. If you use those four games as a template to work off of, then an eight-team field is almost a must.
An eight-team field also creates additional revenue opportunities, not just for the bowls or conferences, but for additional cities and the NCAA in general.
The Eight-Team Playoff Plan
I make no claim that I am the first one to propose this setup. I have not seen it discussed in this exact form before, but I suspect someone else has thought of this. If they did, then I agree with them. But here is how I think an eight-team playoff could work and would work better than a four-team playoff.
Selecting the eight teams could actually be done with the current BCS rankings system. For all its faults in getting the process down to two teams, the BCS would work just fine for seeding the top eight teams in the playoff field. This rewards conference champions and assures that every single regular-season game maintains great significance.
From there, it is a standard playoff format for eight teams with the No. 1 playing the No. 8, No. 2 playing No. 7 and so forth.
These four games would then be played at the BCS bowls, in a manner that would, as best as possible, try to maintain the conference's traditional bowl alliances.
For instance, if an eight-team playoff had been in play this past season, one of the matchups would have been No. 4 seed Stanford taking on No. 5 seed Oregon. That would be a game tailor made for the Rose Bowl.
No. 1 seed LSU could have played the No. 8 seed Kansas State at either the Sugar or Orange Bowl, with No. 2 seed Alabama playing the No. 7 seed Boise State at the other one of the southern BCS bowls.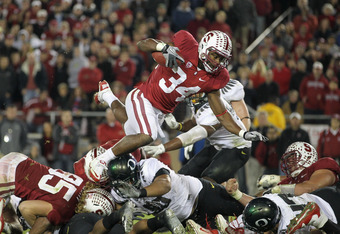 Ezra Shaw/Getty Images
No. 3 seed Oklahoma State could have played No. 6 seed Arkansas at the Fiesta Bowl.
That makes sense, and it fits together nicely. There would not be a ton of travel arrangements involved, and disruption to studies would be minimized. The BCS host cities continue to draw the revenue they have enjoyed, as will the conferences involved.
Where this concept then gets interesting is that it creates the college football equivalent of the Final Four. And the opportunities here are immense for the NCAA.
Assume that the two semifinal games are played on a Saturday, and the national championship game is then played the following Saturday at the same site.
Think of all the cities out there with quality NFL stadiums that could bid to host the college football Final Four. Sure, some of these places already host a bowl game. But look at how some of these cities have handled Super Bowl week in the past and the possibilities for a mega week-long event, with all that goes along with it. Well, staggering is not a word that does it justice.
I am thinking of cities like San Diego, Atlanta, Dallas, Minneapolis, Indianapolis, Tampa Bay or Houston.
If weather is not a factor, this opens up possibilities like Detroit, Seattle, Washington D.C., New York, Philadelphia, Chicago or even some place like Green Bay.
Think about that for a moment. The college football Final Four at Lambeau Field? Wow is a fitting word.
If money is one of the key factors that has been a stumbling block to getting a college football playoff, the idea of a Final Four—in addition to all the BCS games, wrapped around a playoff system—should generate enough revenue for everyone involved that many who opposed this for so long will be kicking themselves for having wasted so much time.
It all fits together very nicely—too nicely actually.
That is why a four-team playoff is not enough—not for the fans, the players or the teams.
The NCAA is dropping the ball badly here. Hopefully they will see what I have seen and realize that an eight-team playoff is not just a better option, it is the best option.