Josh Hamilton Hits 4 Home Runs: Greatest Single-Game Feats in Rangers History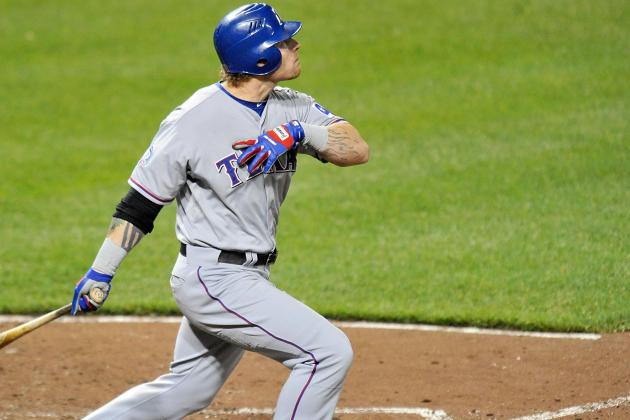 Mitchell Layton/Getty Images

It seems to me that just when you think you've seen the best out of Josh Hamilton, he's going to do something even more astounding.
As if coming into last night's game with 10 home runs, a batting average of .376 and 28 RBI, wasn't quite good enough for the left-handed slugger, Hamilton had to find a way to one-up his own lofty expectations.
Nothing like a 5-5 night to raise your average 30 points. Now, thanks to his outlandish night, it's time for the much ballyhooed (and rightfully so) Matt Kemp to step aside in the "big three" offensive categories, at least for a night.
Josh Hamilton, now batting .406, with 14 home runs and 36 RBI is the head honcho in every Triple Crown category.
Here's hoping the Texas Rangers will back up the big ole money truck and dump it in Hamilton's lap before someone else scoops him up. I want to see more magical Josh Hamilton moments, and I want to see them with him as a member of the Texas Rangers—for life.
But as wonderful as Josh Hamilton is, the Texas Rangers have had some other producers of magical moments over the years, and here's a look at the top 10.
Enjoy.
Begin Slideshow

»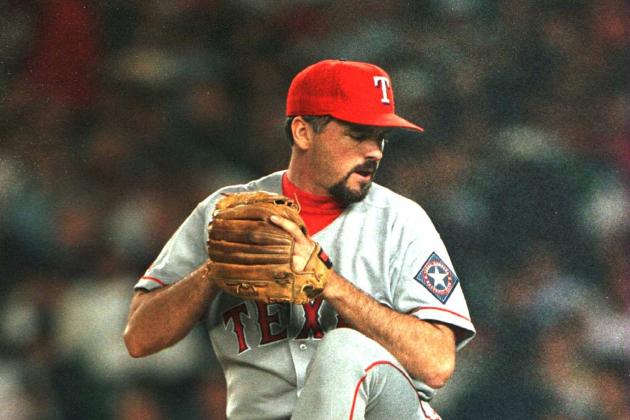 Al Bello/Getty Images

Yeah, this is one fantastic moment in Texas Rangers history that isn't spoken of nearly as much as it should be.
1996 was a great year for the Texas Rangers. It featured their first postseason berth as well as their first playoff win in the 24 years since the Rangers moved from Washington, D.C. to Arlington, TX.
Burkett was a stretch-run pickup by the Texas Rangers in '96, and until 2010, he was the lone Ranger starter to win a postseason game.
In Burkett's start, he pitched a complete game, striking out seven. I remember after this game I thought for sure the Rangers were going to sweep the Yankees.
Boy was I wrong.
The NY Yankees won the next three, and would win 10-straight postseason games against the Rangers until that streak was snapped in Game 2 of the 2010 ALCS.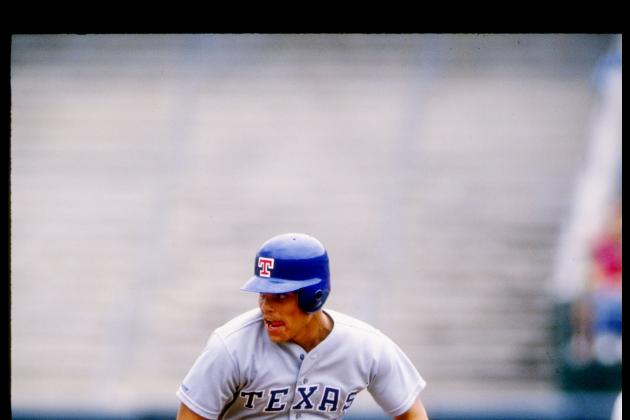 Otto Greule Jr/Getty Images

Recently retired, and universally loved, Ivan "Pudge" Rodriguez wasn't just a flashy defender with a rifle for a right arm.
Dude could hit too.
And Pudge was at his best against the White Sox in the spring of '99 when he collected nine RBI. A Texas Rangers one-game record that is stout enough to withstand the franchise's first four-homer game of a night ago.
Mitchell Layton/Getty Images

It seems like just yesterday that Josh Hamilton single-handedly mashed the Orioles into submission with his four home run, eight RBI night.
Oh wait, that was yesterday! Awesome.
Hamilton went 5-5 with four home runs, one double, and eight RBI. That's good for 18 total bases, an American League record.
Perhaps even more amazing was just how close his double was to being a home run. The freaking guy would have set a major league record with five long balls in one game—he was this close.
Regardless, Hamilton's four home runs in five plate appearances are four-times as many homers as the Los Angeles Angels of Anaheim's Albert Pujols has managed in 121 at-bats.
I'm not bagging on Pujols, I'm just adding some perspective on Hamilton's amazing Tuesday in Baltimore.
And just to prove that I'm not slamming on Pujols, I won't even mention that Hamilton's eight RBI last night are just one fewer than what "King" Albert has accumulated all season long...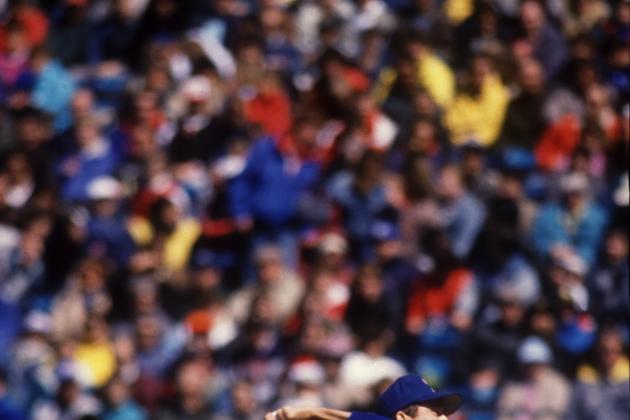 Rick Stewart/Getty Images

Nolan Ryan had a pretty sweet run in terms of fantastic Texas Rangers' moments from 1989-1991. His sixth no-hitter occurred less than a year after his 5,000th strikeout.
In 1990, the Texas Rangers and their fans, needed all the great games they could manage. Nolan's sixth no-no put a smile on our faces and gave us a positive story to talk about as our team would eventually finish 20 games out of first place.
It would take another six seasons before the Rangers would make it to their first postseason.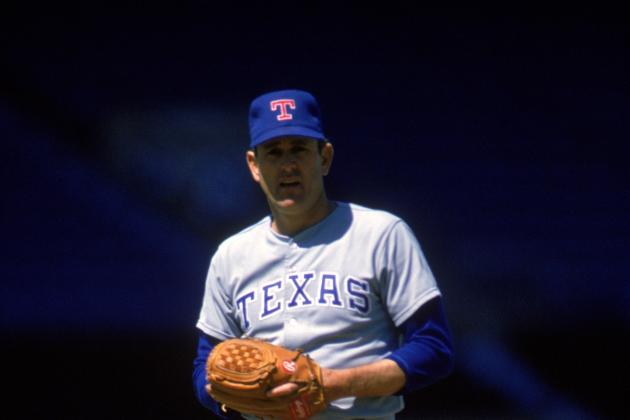 Rick Stewart/Getty Images

Nolan Ryan was 42 years old when he struck out Rickey Henderson for his 5,000th career strikeout. Of all of the records in baseball, this one stands as one of the least likely to ever be broken.
Once again, good ole Nolan gave us Texas Rangers fans a reason to smile during a season that would see the team finish in fourth place, 16 games behind the Oakland Athletics in the old AL West Division.
Getty Images/Getty Images

How do you top throwing a no-hitter—the sixth of Nolan Ryan's illustrious career—at the age of 43?
Easy, you just throw your seventh at the age of 44.
Nolan Ryan's name would have been synonymous with "Texas Legend" even without the no-nos, but throwing seven of those bad boys certainly secures that title without any chance of an argument.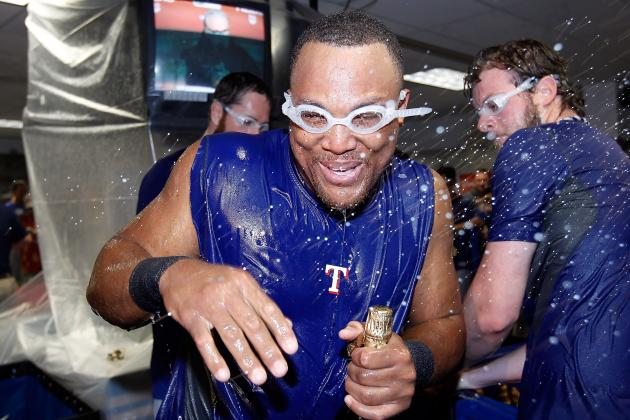 J. Meric/Getty Images

Adrian Beltre went absolutely nuts against the Tampa Bay Rays in Game 4 of the 2011 ALDS. He was, essentially, a one-man wrecking crew as he hit three home runs—all solo shots—to pace the Rangers in their series-clinching, 4-3 victory in Tampa Bay.
Next up for the Rangers, it was yet another sparkling moment, this time in the 2011 ALCS against the Detroit Tigers.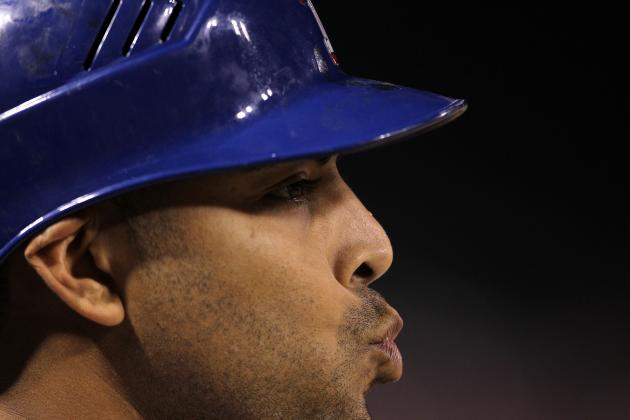 Ezra Shaw/Getty Images

The Detroit Tigers—as well as their fans—will always hate Nelson Cruz. A big part of that is due to his Game 2 exploits in the 2011 ALCS.
Game 2 was supposed to take place the previous day, a Sunday, but that game was rained out, so it was rescheduled for Monday.
And oh what a Monday it was.
Many people forget that Nelson Cruz's seventh inning home run off of Detroit's Max Scherzer actually tied the game up at 3-3.
Had it not been for that initial blast, his extra-innings heroics might not have ever happened.
Alas, they did, and in the bottom of the 11th inning, Nelson Cruz hit the infamous walk-off grand slam to send the Rangers to a 7-3 victory, and a 2-0 advantage in the 2011 ALCS over the Tigers.
I'm certainly pleased to say that I was there, way up in the nose bleeds, jumping my a$$ off when that ball landed in the left-field stands.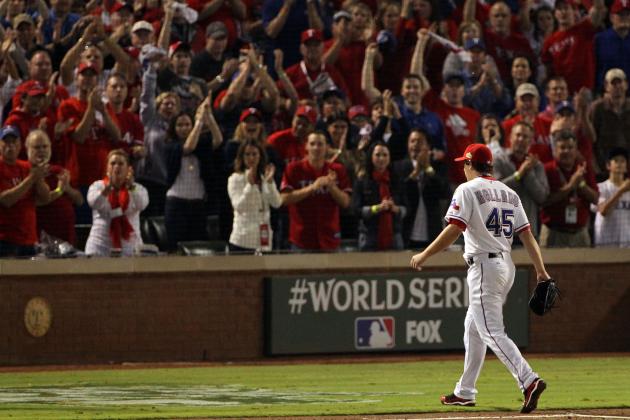 Ezra Shaw/Getty Images

Derek Holland's Game 4 line from last year's World Series is enough to crack the top two on its own merits.
Over 8.1 innings, Holland held the St. Louis Cardinals to just two hits, while fanning seven. He didn't allow a single run.
When you consider that just the night before, Albert Pujols had hit three home runs, and his Cardinals had throttled the Rangers 16-7, to take a 2-1 lead in the World Series, Holland's outing is that much more impressive.
Although this game isn't my pick for biggest moment in Texas Rangers history, it could easily have made the cut. Perhaps Holland's brilliant start—in my mind—is dulled by the eventual outcome of last year's Fall Classic.
That's probably not fair, but I don't want to talk about it—it's still too soon.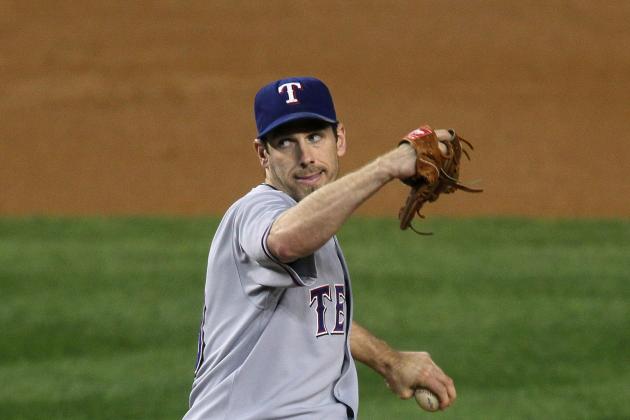 Jim McIsaac/Getty Images

Yeah, I know, it's kind of cheating to have a "1A" and "1B." But since this is my list, I'm going to go with it.
Besides, you couldn't have had the biggest moment in Texas Rangers history without Cliff Lee's brilliant Game 3 performance against the New York Yankees—in NY, nonetheless.
Lee struck out 13 Yankees, surrendered no earned runs, and improved his 2010 postseason record to 3-0.
I'll never forget watching on television as Yankees fans began to leave their seats and head towards the turnstiles around the seventh inning.
The tide was starting to turn for the Texas Rangers, and it was truly special that it was against the team that had knocked the Rangers out of postseason play every other time they'd met.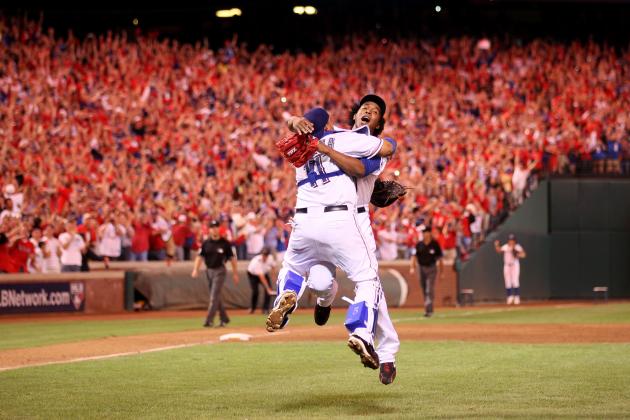 Elsa/Getty Images
I think I'll always get goose bumps when I look at this picture.
Hat tip goes to Colby Lewis' seven strikeout performance in the Game 6 clincher of the 2010 ALCS. Colby Lewis ran his playoff record to 2-0 and his postseason greatness would continue deep into last year's World Series run.
But Neftali Feliz buckled former Ranger's Alex Rodriguez's knees with a nasty curveball, that closed out the game and sent the Texas Rangers to their first-ever World Series.
I'm proud to say I was at this game, as well as the Nellie Cruz walk-off grand slam game. The Cruz game was spectacular, but, until they win their first World Series championship, the Game 6 clincher that put 38 years of pennant-less baseball to bed—as well as demystified the mighty Yankees—will be the Texas Rangers' all-time finest moment.