New York Yankees: Predicting How Andy Pettitte Will Do for the Bombers in 2012
May 9, 2012

Al Bello/Getty Images
While the Yankees won the opening game of their series against the Tampa Bay Rays on Tuesday night, their biggest news came off the field.
It was announced that the team will call up Andy Pettitte to make his first start on Sunday afternoon against the Seattle Mariners.
Pettitte has been pitching for the Yankees' farm system in an extended spring training, bouncing from Class A to Double-A and Triple-A.
In four starts, he threw 17 innings, had a 13:2 strikeout-to-walks ratio and a 3.71 ERA. Considering Pettitte didn't pitch for over a year, he showed that he still has the ability to get people out and give the Yankees innings.
Now to pose the question: How will Pettitte do in 2012 for the Yankees?
He's returning from a year-long absence after he retired from baseball in February 2011, but got the urge to pitch again while serving as a special instructor for the Yankees this spring.
In his last season, Pettitte went 11-3 with a 3.28 ERA in 21 starts for the Yankees.
The last time Pettitte was on the mound for the Yankees was back on Oct. 18, 2010, which was Game 3 of the American League Championship Series against the Texas Rangers.
Pettitte took the loss in the game, but he threw seven innings of two-run baseball and held Texas scoreless after the first inning. If not for Cliff Lee shutting down the Yankees, Pettitte may have won Game 3.
After spending a year away from baseball, the 240-game winner will give it one last go for the Bombers and attempt to win a sixth championship.
He'll be 40 years old on June 15, but it's not uncommon for guys to pitch while they are in their 40s.
Jaime Moyer of the Colorado Rockies is 49 years old, and since he turned 40 back in 2002, he has won 104 total games while pitching for the Mariners, Phillies and Rockies.
Pettitte is 10 years younger and pitching in one of the toughest divisions in the league, but the lefty has never backed down from a challenge in his career.
As he got older and his velocity dipped, Pettitte learned to become a pitcher instead of just a hurler and used his crafty skills to get people out.
Because he's so familiar with pitching in New York and against American League lineups, I think Pettitte will do just fine in 2012.
Although Jorge Posada is not behind home plate anymore, Pettitte has a seasoned vet in Russell Martin as his new catcher. Martin is excellent at calling a game and can work well with Pettitte.
So when it's all said and done, how will Pettitte fare in 2012?
If he stays healthy—which I think he will—I can see him making around 25 starts, and if he's able to last an average of five-to-six innings in each—maybe more—that could translate to 150 innings.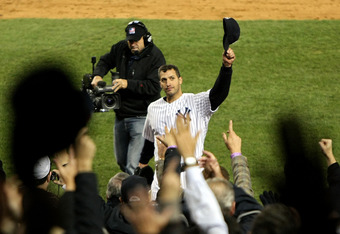 Al Bello/Getty Images
If Pettitte does get into the groove and pitches like we all remember him, I don't see why a 12-5 record with a 3.80 ERA and 100 strikeouts is out of the question here.
If the Yankees want to make any run at the postseason, they will need Pettitte. He was a big part of what was missing a season ago, when the Tigers bounced the Bombers from the ALDS.
After all, he's the all-time leader in wins in the postseason, with 19, seven of which have come in an ALCS and five in a World Series. That just shows how much of a big-game pitcher Pettitte has been and, for the Yankees' sake, will still be.
For the $2.5 million the Yankees invested in getting Pettitte back into pinstripes, if he can come anywhere close to those numbers I projected, then the Yankees will be in solid shape.
Stay tuned, Yankees Universe.