NBA Playoff Predictions 2012: Why the Memphis Grizzlies Will Win Game Five
May 9, 2012

Andy Lyons/Getty Images
The Memphis Grizzlies are staring at a 3-1 hole in their 2012 NBA best-of-seven series against the Los Angeles Clippers.The two teams travel back to FedEx Forum in Memphis, Tennessee for a 9:30 PM ET clash that the home team should win. 
What a series! This matchup has routinely provided close game after close game, and has made for the best first-round entertainment in the NBA. 
Game 5 will not disappoint. 
These two teams are so evenly matched that picking either the Grizzlies or the Clippers is completely justifiable. Whereas the Spurs and the Jazz are two teams on opposite ends of the spectrum, Memphis and Los Angeles are very comparable squads. 
But I have to go with Memphis here. They are on their home court and will not let huge playoff dreams end like this. 
This was a team that beat San Antonio and took Oklahoma City to the brink last year. This season they were a trendy sleeper pick. Zach Randolph and company will not let Lob City end their playoffs hopes at home in Memphis. 
The games in this series have been decided by an average of 3.25 points, and the Grizzlies have lost their three games by a combined six points. If a few more shots had dropped in favor of Memphis this would be an entirely different series. 
That is how close these two teams are. 
The Grizzlies have been unlucky but they do have problems of their own.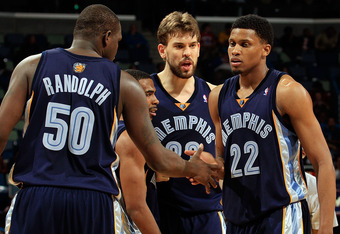 Chris Graythen/Getty Images
Zach Randolph and Rudy Gay are the two biggest stars for Memphis but have very little chemistry. 
Both these players are top-notch scoring athletes, but the team thrives when one of them is on the bench. 
In order for Memphis to live to see another day, Randolph and Gay need to be on the same page. The duo has looked better in the playoffs and if they both continue to do their jobs, a win isn't far away. 
Randolph in particular will have his work cut out for him when he matches up against fan favorite Blake Griffin. In addition, the Grizzlies will need Marc Gasol to put up points, grab rebounds, block shots and limit DeAndre Jordan. 
Mike Conley has been fantastic, as he as averaged a team-high 7.5 assists in this matchup as well as producing 17.5 points per game against the super-clutch Chris Paul. 
But not all the Clippers are as clutch as Paul. 
L.A. needs to work on free throws in order to move on. The Clippers were only 13-of-30 from the charity stripe in Game 3.
You can't consistently win games when you leave that many points on the line. If the Grizzlies can capitalize on these mistakes, a win will be in the cards. 
Only eight NBA teams have rallied to win a series trailing 3-1, but if any team can push that number to nine it's the hungry Memphis Grizzlies. 
I predict that Memphis comes out strong and angry to take an early lead. Blake Griffin and company slowly claw back and the match is even going into the locker rooms. 
The Grizzlies begin to take a lead in the third quarter and Paul almost leads a comeback in the fourth. But it is too little too late. The home crowd rejoices and this series is sent back to LA where the Memphis Grizzlies live to see another day.