Josh Hamilton Hits 4 Home Runs: Why He Is the Best Hitter in Baseball
May 9, 2012

Mitchell Layton/Getty Images
Josh Hamilton and Matt Kemp are both in the running to be MLB's first Triple Crown winner since Carl Yastrzemski in 1967. Hamilton is also in a tight battle the with Los Angeles Dodgers' star to assume the unofficial title of "Best Player in Baseball."
With Tuesday's four-home run masterpiece against the Baltimore Orioles, he might have just taken a commanding lead in both races. 
Hamilton rewrote the record books Tuesday night, becoming just the 16th player in Major League history to slam four home runs in a game. He set an American League record by amassing 18 total bases in a 5-for-5 effort that also included a double, and set a career high with eight runs batted in. 
The performance was amazing in its own right, prompting ESPN baseball analyst Tim Kurkjian to proclaim "I've never seen anything like this in 31 years of covering baseball." 
What's perhaps more amazing is that it's not all that surprising that Hamilton would accomplish this feat.
Since Hamilton revived his baseball career in 2007 with the Cincinnati Reds, he has consistently shown flashes of being the player that Tampa Bay once thought they were getting when they made him the No. 1 overall pick in the 1999 MLB Draft.
Injuries and substance abuse issues derailed his career early, but given a second chance, he's been making up for lost time ever since.
Hamilton's overall numbers have been suppressed by an assortment of injuries that have prevented him from playing more than 133 games in any of the previous three seasons, but that number didn't prevent him from winning the AL MVP in 2010.
His .311 career batting average, along with 162-game averages of 102 runs scored, 194 hits, 38 doubles, 34 home runs and 119 runs batted in are those of an elite, Hall of Fame-caliber talent.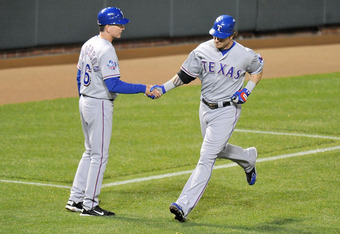 Mitchell Layton/Getty Images
Albert Pujols has long been considered the game's best pure hitter. But following a down 2011 (for him) and an awful start to the 2012 season, that is no longer a foregone conclusion.
Along with Pujols—pardon me if I fail to completely write him off after a mere 31 games in 2012—we must now throw names like Kemp, Hamilton, Milwaukee's Ryan Braun and Detroit's Miguel Cabrera into the discussion.
So why is Hamilton most suited to be the immediate heir to the throne? In short, no other candidate combines Hamilton's raw power and superior bat speed with an uncanny eye for the ball.
Kemp may approach Hamilton's level by the end of 2012. Although Kemp is a career .297 hitter, it's hard to imagine him approaching Hamilton's 2010 career-high .359 average in any season, especially with his prodigious strikeout rate (152 per 162 games to Hamilton's 126).
Cabrera has a strong case as well, as many have long considered him to be Pujols' peer as a pure hitter. It's hard to argue with his consistency, or his superior .316 career batting average.
Cabrera also has a superior contact rate to Hamilton, but despite having hit 30 or more home runs in seven of his eight full seasons, he does not have the same raw power that Hamilton possesses. 
The most stark comparison to Hamilton, however, and perhaps his stiffest competition in this discussion, is the reigning NL MVP, Braun.
In addition to both arriving in the Majors in 2007, the players' 162-game averages are almost identical, with Braun holding slight edges in most categories. He's averaged more runs (112), hits (199), doubles (41), home runs (36), and RBI (118) than Hamilton. But his career batting average (.311), OBP (.370), and strikeouts (126) are exactly identical.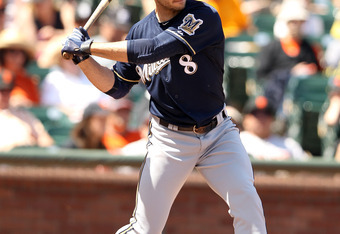 Ezra Shaw/Getty Images
So how, you may ask, with that much statistical evidence in Braun's favor, can I possibly side with Hamilton? The answer is a lot more subjective, but no less logical.
Hamilton (31 on May 21st) is not only two and a half years older than Braun (28), but his body has endured an incredible amount of punishment over the last 13 years, both mentally and physically, primarily due to his well-documented substance abuse issues.
Braun, aside from his disputed offseason positive test for performance enhancing drugs, has no such history.
You often hear stories, from those who battle substance abuse issues or addiction of any kind, about how hard it is just to make it through life, day to day, without succumbing to their vice of choice.
It's hard to imagine handling that responsibility while simultaneously trying to make a living hitting a baseball against the best competition in the world. It's impossible not to factor in the considerable obstacles that Hamilton must overcome every second of his life while establishing himself as one of the game's best players.
It must be easy for him to put the game in perspective given his life experiences, but that doesn't make his accomplishments at the plate any less impressive.
Congratulations, Josh Hamilton. It took you 13 years to reach this point, but you've finally reached the pinnacle of the sport that most thought you'd conquer years ago. I hereby anoint you the best hitter in Major League Baseball.