Nuggets vs. Lakers: Game 5 Highlights, Twitter Reaction and Analysis
May 9, 2012

Jeff Gross/Getty Images
Not even a spectacular effort from Kobe Bryant could help the Los Angeles Lakers overcome a largely lethargic Game 5 effort, and a balanced one by the Denver Nuggets, in a 102-99 result at the Staples Center Tuesday night.
George Karl's club built up and maintained a double-digit lead for much of the second half behind spectacular efforts from reserve aces Andre Miller and JaVale McGee, who combined to score 45 points off the bench.
The Black Mamba exploded for 43 points, including 14 during a hot streak down the stretch, to narrow the gap to a single possession. But he whiffed on two equalizers in the final minute—a mid-range jumper off glass and a contested three—as the Lakers finally awoke from their game-long slumber.
All told, the Nuggets limited the Lakers to 38.9 percent shooting from the field and were able to hold on for their first road-playoff win since 2009, which also came in L.A. 
So much for close-out games being easy.
Tweets of the Night
Who has two thumbs, plays for the Lakers and likes to go Faith Hilling? THIS GUY!
RT if you think this guy is ready to close out the Nuggets: instagr.am/p/KX7FybrO7B/

— Los Angeles Lakers (@Lakers) May 8, 2012
Like many people who were bored by the proceedings at the Staples Center, ESPN's J.A. Adande busied himself with a bit of star gazing:
Larry David, ready to trip another Lakers center twitter.com/jadande/status…

— J.A. Adande (@jadande) May 9, 2012
In Got 'Em Coach's opinion, Andrew Bynum was doing the same thing:
Bynum is the Lakers' future? You can't get the guy to care for a full game...in the Playoffs.

— Got 'Em Coach (@GotEm_Coach) May 9, 2012
At least JaVale McGee was entertaining to watch, right The Bill Walton Experience? 
From a basketball quality standpoint, Javale McGee is tough to watch. From a comedy standpoint, I hope the Nuggets never get eliminated.

— Not Bill Walton (@NotBillWalton) May 9, 2012
Must-See Highlight
Kobe's threes in the fourth quarter were rather insane, but not quite as freakishly jaw-dropping as this half-court alley-oop between Denver's two substitute saviors:
Grades for Key Nuggets Players
Danilo Gallinari: B
Gallo put together a solid, if unspectacular, effort in L.A. The Nuggets' Italian stallion chipped in 14 points on 4-of-13 shooting while playing surprisingly stout defense on Kobe Bryant.
And without the aid of major floppage this time, too.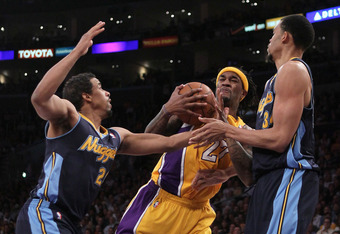 Jeff Gross/Getty Images
Andre Miller: A
Andre Miller had himself a classic Andre Miller game—understated, crafty and efficient. Miller mustered up a team-high 24 points on 8-of-11 shooting, along with eight assists, in 28 minutes off the Nuggets bench.
Not bad for an old guy.
JaVale McGee: A-
I know, I can't believe I'm listing JaVale McGee as a key Nuggets player either. The goofy big man accounted for three goaltending calls in the first half, but finished the game with 21 points, 14 rebounds and a handful of jaw-dropping dunks, alley-oops and otherwise (see above).
Grades for Key Lakers Players
Kobe Bryant: A+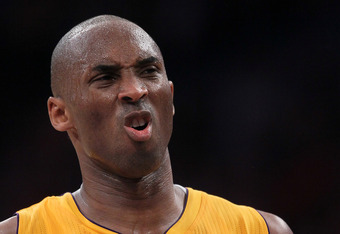 Jeff Gross/Getty Images
The Lakers are lucky at least one guy (Kobe) showed up. Otherwise, this would've been a blowout.
As it stands, Bryant erupted for 43 points in 43 minutes to keep the Purple and Gold in the game while the rest of the team was busy sleepwalking through a close-out game. 
Andrew Bynum: C
Speaking of sleepwalking through series closers, Andrew Bynum seemed to think it would be easy to send Denver out of the playoffs with a gentleman's sweep.
And so, not surprisingly, he played with the level of effort to match his imagination. That "effort" yielded a 16-point, 11-rebound night for Bynum, who didn't play so much as a lick of defense on McGee and was his usual, lackadaisical self as a help man up front. 
Pau Gasol: C
Let's put it this way: Pau Gasol looked more like a wacky, waving, inflatable, arm-flailing tube man than a four-time All-Star while operating against such defensive juggernauts as JaVale McGee, Kenneth Faried, Timofey Mozgov and Al Harrington.
The result? A solid-but-less-than-satisfactory nine points, 10 rebounds and three blocks.
Deciding Factor: Scoring, Inside and Off the Bench
Effort played a huge role in Denver's win, though the game was ultimately decided in the paint, where the Nuggets outscored the Lakers 58-44, and off the bench, where they owned a staggering 50-19 advantage.
Game MVP: Andre Miller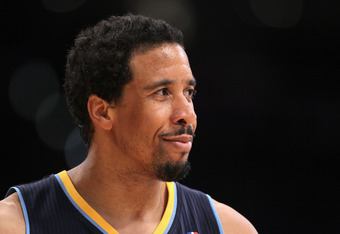 Jeff Gross/Getty Images
This honor would obviously belong to Kobe if the Lakers had won, and nearly did even in defeat. Still, the game ball belongs to 36-year-old guard Andre Miller for beautifully orchestrating an effort that allowed Denver to build up a comfortable lead and fend off the hard-charging Kobe-ettes in crunch time.
What's Next?
These two teams will pack up and head back to Denver for Game 6 at the Pepsi Center on Thursday.