Jeff Hougland Talks Never Surrendering, Journey to UFC, and More
May 9, 2012
Garrett Derr: Let's talk about the beginning stages of your career. You began with four straight losses following just one win. How hard was this to overcome? Did you have second thoughts about calling it quits?
Jeff Hougland: "Definitely. After the third or fourth loss, I thought maybe this sport wasn't for me after all. But I liked it. I liked fighting and I liked to train. What I did was I switched gyms and got with a different coach. I had a big hole in my jiu-jitsu game and I knew that I needed to make a change in that area. I began to climb out of that hole."
GD: It wasn't too long after that you rallied off nine straight wins. What was the difference maker or game changer in your game that allowed you to witness success other than the coaching change?
JH: "I started taking things more serious. In the beginning of my career I was working 8-10 hour days and I only trained when I could fit it in. Training is all I do now. One of the biggest differences is having a lot more time to train."
"Now all I do is train, eat, sleep, and train some more. I put a lot of time into my recovery and learning new things. Being able to do this full-time now is great."
GD: You come from a long line of the best BJJ players in the world. Your instructor is a Ralph Gracie black belt. Have you met Ralph? Everyone who has seems to have a Ralph story. What's yours?
JH: "I have met Ralph. I haven't trained with that guy in years. I have a new jiu-jitsu coach now but I spent a lot of time there. It's actually where I got my blue belt and that took me years to get. I can say that he is definitely an intense guy [laughing]. He's a great guy and an excellent trainer."
GD: You have a very aggressive and attacking style of jiu-jitsu. Will you be able to keep that same style in the Octagon against better and better fighters?
JH: "I hope so, but we'll find out for sure on Tuesday. I think I do all right. I try to keep my emotions from getting the best of me and keeping them in place. I train with some tough guys and I've been around some high-level guys over the years."
"We're all human and anyone can lose on any given day. I'm just focused on me and getting myself as ready as I can for this fight. I just got to go in there and perform."
GD: You fought Gilbert Melendez earlier in your career, but that was 20 pounds and two weight classes ago. How does being at 135 pounds change things? You must have felt awfully undersized against a guy like Melendez when you were a 155-pounder in a 135-pound body?
JH: "I always felt overpowered against everyone I fought. I relied a lot on my technique which actually helped me in certain ways. I had to refine my technique to compete with those guys. Gilbert just stomped my a--. He was bigger, better, and just beat me up. Once you get to a higher level, those extra pounds definitely matter."
"I wish I would have started my career at this weight. But, I don't remember anyone fighting at 135 or even 145 pounds when I first started out in the sport. You had to go to 155 pounds or 170 or 185. I did what I had to do though. I ate a lot of chicken nuggets to compete [laughing]."
GD: What was it like to fight in the UFC after toiling on the independent scene for quite some time? What were your feelings after capturing your first UFC win?
JH: "It was probably one of the best things that ever happened to me. We all strive to be the best. Everybody wants to fight and get to the UFC. For the longest time, I never thought I would get there. I wanted to be like everyone else, but I didn't think I could actually make it."
"Being able to fight for the UFC now is fantastic. It was an unbelievable experience being able to get my first win. I wish I would have finished the fight though. It took me days to come down from that high and really realize what had happened. I look back and I'm glad I never gave up or quit."
GD: The main event the night of your debut featured the two best bantamweights in the world at the time in Dominick Cruz and Urijah Faber. What will it take to get to that level?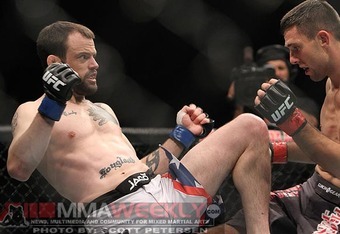 JH: "I need to keep winning fights. I have to beat everyone the UFC puts in front of me. I need to keep evolving as a fighter and keep getting better. I need to improve my striking, conditioning and keep refining my skills. I need to improve each time out."
"I think it takes a little bit of luck, too. You need to get the right fights at the right time sometimes. The only way to the top is to put wins together, and that's what I need to do."
GD: You had a number of opponent changes before settling in on Yves Jabouin. How did each change affect what you were doing in camp?
JH: "It didn't, to be honest. I signed to fight Renan Barao at UFC 148 in July. That was the fight the UFC asked me to fight and I wasn't going to turn it down. I thought it was a strange fight but I agreed to take it. They were giving me the No. 3 guy in the world who had already beaten two top 10 guys.
"Of course, they weren't bringing me into win, but that's the game of chance. For me to fight him, there's more pressure on him because, who am I? If I beat him, my name is right up there."
"A week after agreeing to take the fight, they called my manager and said Mike Easton got hurt and they needed me on the FUEL card. It wasn't as much publicity as being on a card with Silva or Sonnen, but this was a main card spot.
"The bottom line is, I'm trying to earn my place. If they asked me to fight anyone, I would have taken it. That's really how this fight came to be. Barao would have been a higher profile fight, but Jabouin is just as dangerous and I have to be ready for him."
GD: Talk me through your upcoming matchup with Jabouin. What can we expect to see?
JH: "We both know that he's a better kickboxer. He's a talented striker, a great athlete, and he's very explosive. So, if I would fight him in a kickboxing bout, he would probably smoke me. If it was a jiu-jitsu match, I would beat him."
"This isn't either, it's an MMA fight. The key is to mix things up and make him feel uncomfortable. I need to keep him guessing. I don't think I'll be outclassed on my feet at all. I put a lot of time into all areas, so we'll see how it goes."
GD: When all is said and done, what do you want to have accomplished?
JH: "When it's all said and done, I want to be able to sit back and know that I fought the best guys in the world and that I always gave everything I had. If I won, it was because I deserved it. If I lost, it was because the other guy was better. I'm OK with that. Some guys are just better."
"I want to take it as far as I possibly can. If that means to a title, then great. If I fall short, then that's fine too. I'm aiming higher and wherever I land, I land.
For additional information, follow Garrett Derr on Twitter.