Alabama Football: 4-Team Playoff Won't Stop SEC's Dominance
May 9, 2012

Ronald Martinez/Getty Images
As college football gets set for a four-team playoff down the line, it's widely being seen as a response to the SEC's dominance throughout the years.
But a four-team playoff won't necessarily stop Alabama and the SEC in their tracks. In reality, this may actually help what many consider to be the best conference in college football.
If there is no requirement that the four teams be conference champions, that means more than one team from the SEC could potentially be included in this playoff system nearly every year. Like, say, Alabama and LSU.
Think about it: Alabama and LSU were ranked in the top two this past season. Why wouldn't they be allowed to play for the championship? But let's say they were ranked No. 3 and No. 4. They would have still had a shot at the national championship game under the proposed four-team playoff.
So, if the four playoff teams don't have to be conference champions (which is still an item of debate), then it doesn't really hurt the SEC.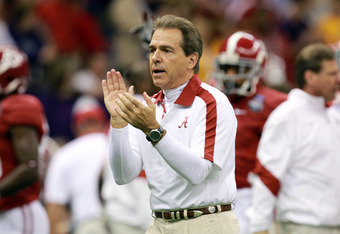 Ronald Martinez/Getty Images
Under the proposed four-team playoff, there would have only been three years—2000, 2001 and 2005—in which the SEC wasn't included since BCS rankings were first used in 1998, as Mark Inabinett of the Press-Register notes.
The fact of the matter is, unless the four teams must be conference champions, the proposed playoff system doesn't change anything. The SEC will still be in a position to dominate, and the Crimson Tide and Tigers would still be in position to make a run at the title next season.
For all the talk of how the Crimson Tide and the SEC are "favored," the BCS isn't exactly doing everything in its power to make it easier for other conferences to step into the limelight. 
Follow me on Twitter. We can talk about college football together.