Brock Lesnar Quits WWE: Return of Paul Heyman Will Save Flailing Star
May 8, 2012

The Brock Lesnar saga took a big turn on Monday Night Raw for the better.
Paul Heyman went in front of the Greensboro, NC crowd on Monday to an absolutely shocked audience. On the one hand, they were confused when somebody besides Lesnar came out to his entrance music. Then the majority of the crowd wasn't familiar with Heyman, who has been absent from a WWE ring since 2006.
Then they heard him speak.
They heard that annoying high-pitched voice and instantly memories of the ole' days of Lesnar's former agent and "legal advisor" returned. He claimed Lesnar has officially "quit" the WWE and he doesn't respect anything about the wrestlers or suits at the company. The crowd cheered wildly.
Heyman, the former ECW surpremo, is back and is going to be the mic man for Lesnar going forward. I'd guess Lesnar will be back as soon as Over the Limit is over. There is no quit in Lesnar.
Lesnar's return to the WWE was rushed and the overall product suffered. Lesnar is not a skilled mic worker and his stumbling at the signing for Extreme Rules two weeks ago was a joke. John Cena ran circles around him in front of the microphone during their feud.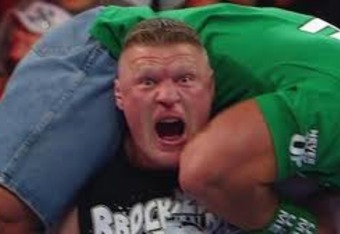 Lesnar can't do it alone and getting his old partner back is a brilliant move. Heyman was already able to rile up the confused crowd once after an extended absence, and can do the heavy-lifting for the next few weeks as Lesnar gets back into wrestling shape.
Maybe Lesnar was supposed to bloody Cena twice at Extreme Rules, but it looked to me that Lesnar was unable to completely shake off his UFC mentality. He put Cena in danger and needs more preparation. Let Lesnar secretly train behind-the-scenes as his hype man Heyman keeps him relevant.
The return of the former World Champion is a great idea, but the WWE needed to step back and make sure the super-star is prepared.
Clearly, they don't feel he's ready yet.