Golden State Warriors: Breaking Down the Biggest Needs This Offseason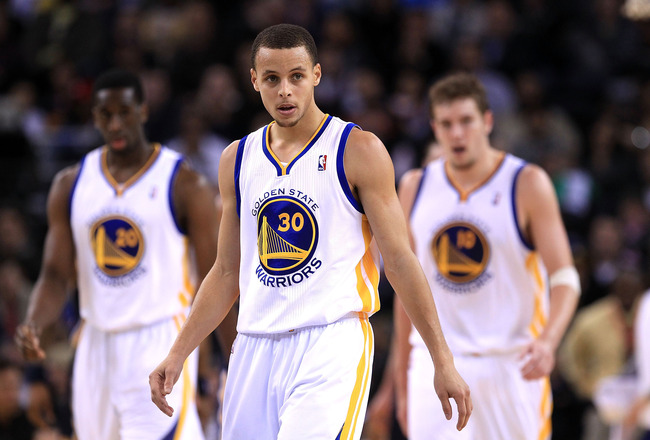 Ezra Shaw/Getty Images
The Golden State Warriors addressed their biggest need over the last 40 years when they acquired center Andrew Bogut at the NBA trade deadline.
Gone are the never-ending summers of "The Warriors need a center" conversations. Now we can start with the "They need to stay healthy" discourse.
The Warriors made their big moves in the middle of last season, so they are pretty much set with their core players heading into the 2012-13 season. They are, however, by no means perfect and need these five things to happen to ensure that they will make a run at the playoffs next season.
1. A Full and Healthy Offseason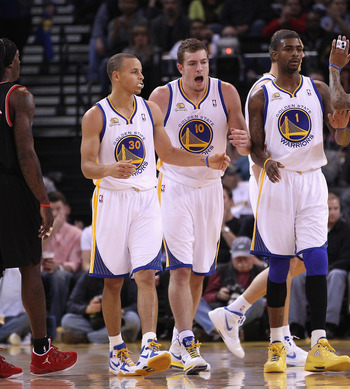 Ezra Shaw/Getty Images
"The Warriors need to stay healthy" is a phrase you will hear all offseason and for most of the regular season until we actually see Bogut and Stephen Curry get through a good chunk of the regular season.
Right now, David Lee, Bogut and Curry are all recovering from surgeries and getting them back completely healthy is the most important part of the Warriors offseason.
Due to the previous lockout-shortened season, then new head coach Mark Jackson had very little time to get adjusted. Combine that with having to install his defensive philosophy on a team that could not play defense, and hardly any practice time, he had next to no chance of succeeding this past year.
Now he will have the players and the time he needs to make a go of it as an NBA coach, or really as a head coach period. The more time he gets with a full and healthy team, the better.
2. Re-Sign Brandon Rush
Ezra Shaw/Getty Images
Well, add Rush and Dominic McGuire in here to.
The Warriors will not have a lot of money available to add pieces in free agency so re-signing their own free agents is a high priority.
Rush was a major factor for the Warriors and fits in well with this team, especially coming off the bench. As a restricted free agent the Warriors can match any offer that Rush signs and would be smart to do so. Actually, it would be even smarter to lock him in before he gets an outrageous offer from someone else.
Retaining Dominic McGuire as well would be wise—to say the least.
3. Add a Big Man to the Bench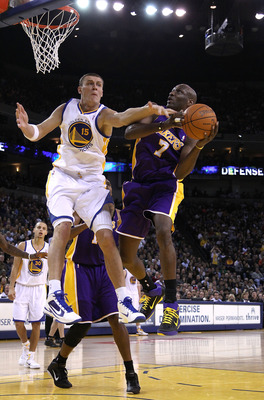 Ezra Shaw/Getty Images
Ideally, between Andris Biedrins and Jeremy Tyler, one of them could be the guy. The Warriors need someone they can count on to come in a get some rebounds when either Lee or Bogut is out.
The Warriors ranked 30th in rebound differential and 23rd in points in the paint last season. Having Bogut will definitely help, but he is not going to be playing the entire game so they need someone to back him up.
Having that tough big man—the one that most playoff teams seem to have (well the ones that are winning anyway)—is essential to have on their second unit if the Warriors want to contend.
4. Lock Down a Starter at Small Forward
Ezra Shaw/Getty Images
The Warriors are entrenched with Klay Thompson, Curry, Lee and Bogut as starters for next season. The small forward spot however, is up for grabs.
After a stellar first season with the Warriors, Dorell Wright proved this season why not too many teams were after him when he was available. The best scenario for the Warriors concerning Wright would be to bring him off the bench, and if he is on that night, let him fire away. If he's off, sit him right next to the cheerleaders.
Right now however, he is their best option at small forward.
That can change; however, depending on what happens on draft night and over the summer, but they will need to decide on someone who best fits with the other four starters among Wright, Brandon Rush (who would be more valuable off the bench), Dominic McGuire (assuming both re-sign) and—sigh—Richard Jefferson.
Adding a defender here would be nice, but they will need to choose their small forward through the draft, trade, mid-level exception or to decide that he is already on their team.
5. Conduct a Strong Draft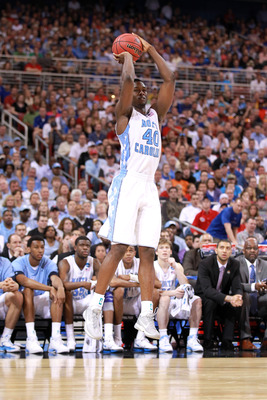 Andy Lyons/Getty Images
Despite their best efforts (it was close) the Warriors are likely to have a lottery selection as long as no team leap frogs them for a top-three pick. Barring that scenario, they would end up having four picks in the 2012 NBA draft.
Their lottery pick is almost as if they are playing with house money since it really looked like they were going to be without a first-round pick and is why Richard Jefferson is on the team.
Outside Curry and more recently Thompson, the Warriors haven't had a whole lot of luck in the lottery, to put it mildly. With all the other changes going on with this franchise, now they have the chance to turn their poor draft history around by capitalizing on this draft.
They have a lot of options to do so to.
Some of the early round targets include Harrison Barnes, Perry Jones III and Jared Sullinger to name a few, but who knows what will transpire over the course of the next seven weeks.
Another option would be to dive into the trade market. Having three rookies from last year on the team and in the rotation or drafting four more to come in, doesn't make a whole lot of sense. They could package the picks to move up in the draft, acquire a veteran or try to attach a player like Biedrins with their lottery pick to acquire a veteran to come right in and contribute—preferably a small forward.
The Warriors will have their hands full leading up to the draft night as a strong night should help them reach their goal next year of reaching the playoffs.
The Warriors could get lucky too; last year's No. 1 pick was awarded to the team with the eighth worst record last year (again it was close), even the Warriors couldn't screw that pick up should they get it.
Keep Reading

Golden State Warriors: Like this team?