4 Ways Paul Heyman Makes WWE Better
Courtesy of WWE
In case you don't know, Paul Heyman is back in WWE.
Last night, he arrived on Monday Night RAW to speak on behalf of Brock Lesnar and to announce that Lesnar has quit the WWE.
It was typical Heyman, which isn't typical of managers or mouthpieces today. Just moments of his presence made me wonder why he's been away so long.
It also made me think there is much he can offer simply by being back in the WWE in 2012.
Much of that can be gained by being around him.
Paul Heyman Will Change the Tone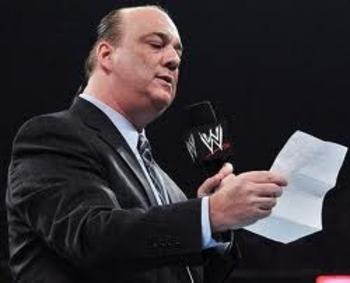 Paul Heyman on RAW. Courtesy of WWE
I asked a question on Twitter last night and I still don't fully know the answer. I asked: How is it that Paul Heyman sounds so different than anyone else who speaks in promos? I also asked if God may have rationed the promo abilities of men and women since the days of Paul E.
Did you hear the chants of ECW last night? In North Carolina, in 2012, there were still ECW chants.
It made me realize something: Heyman embodies ECW. The brashness, the danger and the abandonment that was ECW lives still in Heyman.
We never really know what he might say, do we?
If you were like me, you watched and listened a little closer while he was on than other parts of the show. It's because his words carry weight.
Heyman doesn't have to lift a man over his head to hit him with F5-level impact.
He will speak in a tone that other men in WWE do not use.
Do you think John Laurinaitis can command a promo like Heyman?
Certainly not.
The interesting part is Laurinaitis will have to face down Heyman because he is in WWE only to serve the purposes of Brock Lesnar.
At any cost and by any measure.
Paul Heyman Will Be Brock Lesnar's Other Half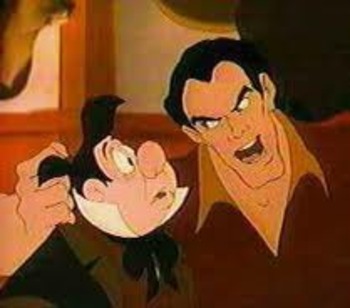 Courtesy of Disney
I couldn't be happier with the job Brock Lesnar has done since coming back to WWE, nor could I be happier with the way WWE has used him. He has been cold and detached—sitting down in promos, talking so vulgar, one would think that even Lesnar wouldn't like himself if he sat down and watched.
Having him—unlike The Rock or John Cena—not want to please anyone is just what was needed in the WWE.
Remember how I said Paul Heyman brings a feeling of danger in his promos? Lesnar brings the exact same thing in his wrestling matches.
Between his build as a UFC fighter, the brutality of his match with Cena and the ungodly fall he took in the match at Extreme Rules, it is not an overstatement to say anything could happen when Lesnar is on your TV.
But what about when he isn't?
That's when Heyman becomes essential.
Who else to keep the fire burning in the absence of Lesnar but Heyman? Who else to raise the flames of hell so high that Lesnar need only fan them when he reappears?
To find two men better matched than Lesnar and Heyman, you'd have to know your Disney movies.
I can only think of one twosome better matched: Gaston and LeFou.
(You won't get this comparison from any other writer, I'm confident of that.)
Not since LeFou literally sang the praises of Gaston can I think of a better suited representative.
Not only that, but what will make it most interesting is that Heyman serves Lesnar, not WWE. He can harass Triple H and Cena, but he can also harass John Laurinaitis.
This further makes Lesnar an outsider and renders the tired face-heel scenarios useless. This always makes for better TV.
Paul Heyman Will Bring Self-Awareness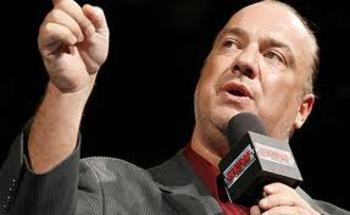 Courtesy of WWE
What struck me most about the promo last night is that Paul Heyman knows exactly who he is. Much like his buddy Jim Ross, what you see is what you get.
Isn't that refreshing?
How much time is lost in the careers of wrestling entertainers (wrestlers, managers, commentators, etc.) as they try desperately to figure out who they are or who they might try to be?
You can go back to the 1980s and Ross was throwing in football talk with his NWA wrestling. He didn't need a cowboy hat for you to know he was a bit of a redneck.
And Heyman?
He might be as annoying as any man you will ever see. Some might call him repulsive. He fits the bill of a legal representative—you just know he's out to screw somebody.
And he doesn't walk to the ring—he swaggers. He bops his head like he has the soundtrack of his life always on play.
He is arrogant, obnoxious, loud-mouthed and opinionated.
And he will always deliver because he has being Heyman down to a science.
Don't you wish that younger talent could learn this? Don't you wish WWE would understand this?
Perhaps they will now that Heyman will be amongst the 2012 WWE locker room.
Paul Heyman Will Influence the Youth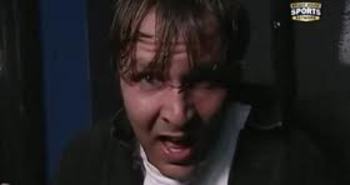 Courtesy of WWE
I realize Paul Heyman is back for Brock Lesnar. I also understand he has a life and endeavors of his own. I am not, however, so cynical to believe there are no young guys who can and will be influenced by seeing and hearing his promos and, hopefully, by being around him.
Heyman is a legend and innovator—that is no stretch. There is a long list of men from the Dangerous Alliance to ECW who benefited from being around the energy he created.
Just last night, Seth Rollins tweeted about Heyman. He said it was like a time warp and asked if it was 2002.
No, it's 2012, but don't let that stop you from benefiting from the presence of Heyman.
I would love for a guy like Dean Ambrose to be influenced in any way by Heyman. I would like for Dolph Ziggler to say, "Wait, there are other ways to show off other than saying outright that I am a show off."
I would love for WWE and future managers and stables to take notes. It takes more than proper booking to make these things work. It takes knowing yourself, being yourself and projecting yourself at a volume that either frustrates or illuminates.
It takes what Heyman has done for 20 years.
And all of WWE could learn from that.
If you are a fan of wrestling past or present or you just appreciate the Disney comparison, become a fan here on Bleacher Report and/or follow me on Twitter.
Keep Reading