NBA 2012 Playoffs: Players Primed to Explode After Strong Postseason
May 8, 2012

The NBA Playoffs are usually reserved for the superstars around the league, but from time to time a few players have used the big stage to break out and make a name for themselves.
This year is no exception as a handful of younger players have used a strong showing this postseason as a possible catapult into what could be a big 2012-13 season.
Everyone knew these guys had the talent coming out of college, but now they could be ready to unleash that talent on the entire NBA. Here's a look at a few potential stars that could have big 2013 seasons after putting together a strong postseason.
Derrick Favors, Utah Jazz
Favors was the No. 3 overall pick in the 2010 draft and had a very nice showing in the 2012 playoffs and despite getting swept by the San Antonio Spurs, favors made a good impression averaging 11.8 points and 9.8 rebounds.
Favors is still blocked by Paul Millsap at the moment, but could certainly see his minutes increase next season from the 21.3 per game he got this year.
Evan Turner, Philadelphia 76ers
Turner has been great in the postseason for the Sixers, aside from a poor shooting performance in Game 4. He was pick a spot ahead of Favors in 2010 and you can see why.
This postseason Turner has averaged 14.0 points, 6.3 rebounds and 3.8 assists while playing very good perimeter defense. Head coach Doug Collins is showing the confidence in the third-year pro and I look for 2013 to be a big year for the former Ohio State Buckeye.
Nick Young, Los Angeles Clippers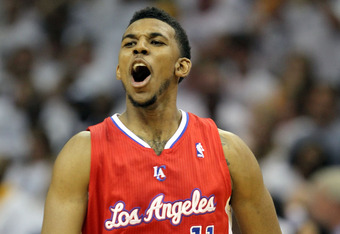 Andy Lyons/Getty Images
Young is an unrestricted free agent following the season, but seems things have clicked for him much better in Los Angeles then they did in Washington.
A team in need of shooting could pursue Young aggressively and he looks like a guy that's ready to deliver, shooting 56 percent from the floor and 61.5 percent from behind the arc. Young has the looks of a guy who's starting to figure out how to play the game of basketball.
George Hill, Indiana Pacers
Hill is a restricted free agent and one the Pacers would be wise to keep in Indiana for a few more seasons. 
He's been getting starts for Indiana coach Frank Vogel and has been rewarding him with a solid 14.0 points per game. His assist numbers (2.8 APG) aren't great but consider the fact that he's taking very good care of the basketball, turning it over only 1.5 times per game in 32.5 minutes of action per night.
Hill may never be an elite NBA point guard, but he certainly has the skills to take his game to the next level.
Kenneth Faried, Denver Nuggets
Faried was barely used for most of the season, but he's come on in a big way, especially in the postseason where he's put up solid numbers (10.5 PPG, 10.0 RPG).
He's explosive and attacks the basket. Next year if he gets a full season of action, Faried could do some big things. If he can develop a decent mid-range game, Faried could become a dangerous NBA power forward.