Oregon Ducks: Predicting the Score of Every Game in 2012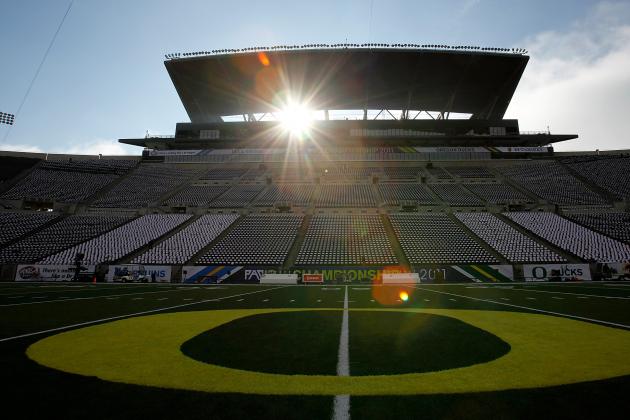 Jonathan Ferrey/Getty Images

It was such a beautiful day in western Oregon yesterday, I found myself wishing I could go to Autzen Stadium, have a cold one with my friends in the parking lot, take my seat inside the stadium and prepare to yell my fool head off for the Ducks.
But, alas, opening day is still roughly 120 days away. So, instead, I took to my favorite deck chair and penciled out what I think will happen in each game. Hey, it's better than pulling weeds in the garden.
See if you agree with me or think I'm delusional.
Begin Slideshow

»
Kevin C. Cox/Getty Images

The opening game on Sept. 1 with Arkansas State has me worried for one reason: new head coach Gus Malzahn, formerly the offensive coordinator at Auburn.
I was initially worried about this game for two reasons, the other being transfer (from Auburn) running back and Oregon nemesis Michael Dyer. But Dyer has to sit out 2012 because of NCAA transfer rules, and is not listed on the Arkansas State roster.
Dyer has other issues, which you can read about in this Yahoo blog if you're interested, but he's not a concern for the Ducks.
Ark State was 10-3 last year and they aren't a horrible team. I have enough respect for Malzahn's ability to think his team will compete.
But it won't be enough for an amped-up Oregon team with a lot to prove and ready to rock 'n roll at home.
OREGON—52
ARKANSAS STATE—10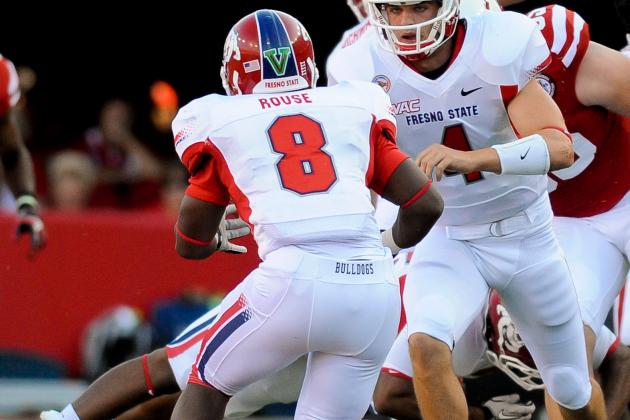 Eric Francis/Getty Images

The Fresno State Bulldogs were 4-9 in 2011. While they lost respectably to Cal (36-21) and Nebraska (42-29), both games on the road, they were mutilated by Boise State (57-7).
New head coach Tim DeRuyter is installing a spread offense this season and was happy with his team's performance in their spring game.
The Bulldogs will be led by QB Derek Carr, the younger brother of former Fresno State star QB David Carr.
None of this will be enough. The Ducks have too much for the Bulldogs.
But the Bulldog Foundation has put together a very nice travel package for their fans to come to Eugene for the game. It includes two nights deluxe accommodations at the lovely Valley River Inn, and the official Fresno St. tailgate party.
Y'all should come. It will be fun!
OREGON—56
FRESNO ST.—14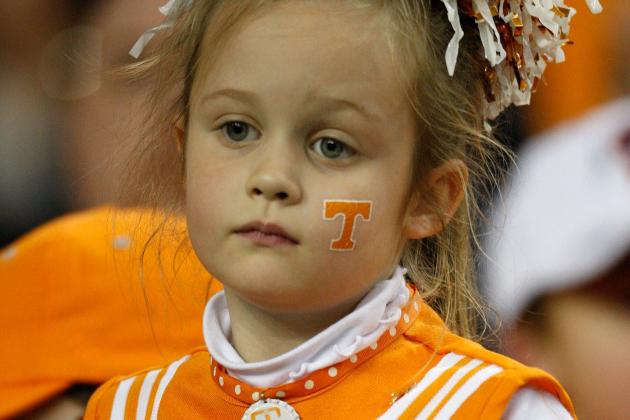 Mike Zarrilli/Getty Images

I'm afraid that this sweet little girl's face says it all—this one could get ugly, folks. And, yes, I know our little fan is supporting Tennessee, not Tennessee Tech but, frankly, it seemed close enough for our purposes.
Tennessee Tech was 7-4 in 2011, so they know how to play the game. However, the talent level in the Ohio Valley Conference is not on par with the Pac-12.
Plus, most of the Golden Eagles' roster is from Tennessee, and I would hazard a guess that many of these kids haven't been out west at all. Do you suppose they might find Autzen a tad intimidating?
The only thing useful about this game is that it will provide Duck fans a chance to start hating the color purple in advance of the Huskies' visit in October.
OREGON—63
TENNESSEE TECH—7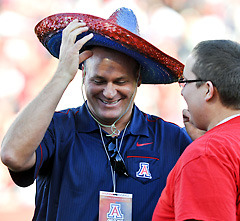 SI.com
OK, so now the Ducks are 3-0, ranked No. 4 in the country, and now it starts to get interesting.
Conference foe Arizona and their sparkling new head coach Rich Rodriguez come to town. Can you imagine what a huge story it would be if Rodriguez gets his first Pac-12 win over the Ducks at Autzen Stadium?
Not gonna happen.
I believe that Rodriguez is a terrific coach and I think the 'Cats have some talent. The players are probably so relieved that Mike Stoops is gone that they will play loose and free this year, which is a good thing. But they aren't ready to compete with the Ducks quite yet.
My only caveat here is if, somehow, Arizona beats Oklahoma State on the second game of the year when they get the Cowboys at home. I believe they will win their other two non-conference games (Toledo and South Carolina State).
If they come into Autzen 3-0 with a full head of steam, it could be a more competitive game. Even in that scenario I still see the Ducks winning.
OREGON—38
ARIZONA—17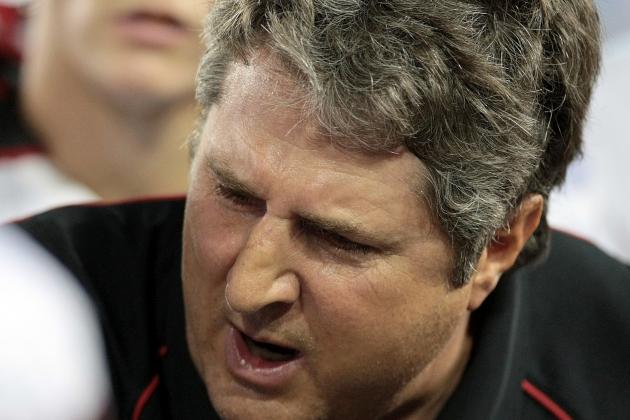 Thomas B. Shea/Getty Images

This game being played in neutral (sorta) Seattle scares the hell out of me.
In two years, when Chip Kelly has moved on to the NFL, Mike Leach will be the dominant coach in the Pac-12. I believe his Cougars will make things uncomfortable for several Pac-12 teams this year. One can only hope that it doesn't start on Sept. 29 in Seattle.
With superstar wide receiver Marquess Wilson back for his junior year, and an energetic quarterback competition between two talented guys in Jeff Tuel and Connor Halliday, Wazzu will make some noise in 2012.
I don't know yet if the Cougars' defense can stop Oregon, but I am fairly certain their offense will score. Duck fans had better get their butts up to Seattle and try to neutralize the support; Oregon is going to need every advantage in this one.
OREGON—42
WAZZU—38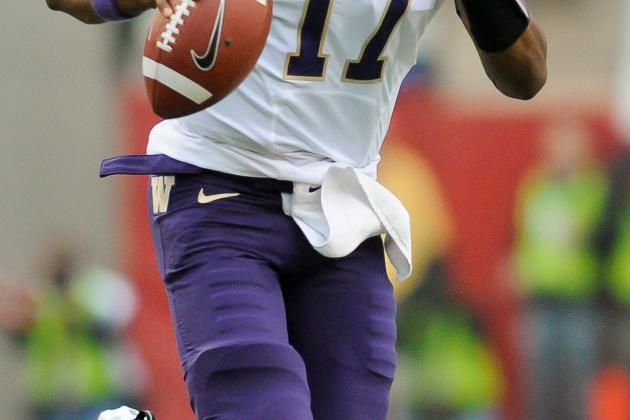 Eric Francis/Getty Images

Ah, back in the friendly confines of Autzen Stadium, and now ranked No. 3 nationally—Alabama lost on Sept. 15 to Arkansas in Fayetteville. Really.
Even though the Huskies will have an extra two days to prepare for Oregon due to their Thursday night game the previous week, I still like the Ducks in this one.
I was high on the Huskies last year because I liked head coach Sarkisian and QB Keith Price. But this year, I'm not so sure.
I still think Sarkisian is a good coach, and he made some smart moves in the off-season, particularly with the hire of Justin Wilcox as defensive coordinator and Peter Sirmon as linebackers coach. Wilcox and Sirmon, both Oregon graduates, know the Ducks well and could cause some grief.
I am not, however, convinced now that Keith Price is the real deal. Yes, he was brilliant in the Alamo Bowl against Baylor, but he looked mediocre in the Huskies' spring game. He seems fragile physically as well.
I wouldn't be surprised in the least if Price gets roughed up a little in the LSU game on the second week. Please don't yell at me, Huskies; I'm not wishing this on you, but I've seen LSU's defense up close and personal.
Without Chris Polk to establish the running game from the get-go, I just don't think the Huskies have the punch this year. I will be surprised if they surpass their seven-game win total from last year.
OREGON—37 (yes, a safety in this game)
WASHINGTON—14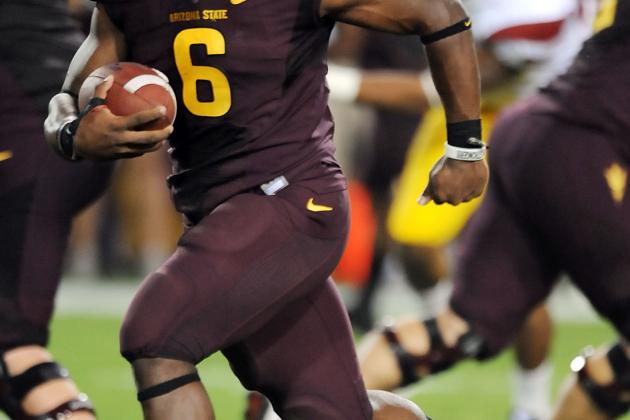 Norm Hall/Getty Images

I would not want Todd Graham's job this year. If he doesn't do better than Dennis Erickson's six-win season—and I don't believe he will—the natives are going to get restless quickly.
It's too bad that Graham is coming into the Pac-12 in a year that is loaded with both coaching and playing talent. He's a good coach and in any other year may have been able to make more of a splash.
But this is 2012, and it's going to be rough going for the Sun Devils, especially in conference play. They will score twice in the Oregon game; once when John Boyett is taking a breather (John Boyett for Heisman), and once when Cameron Marshall bulls his way into the end zone.
OREGON—49
ASU—14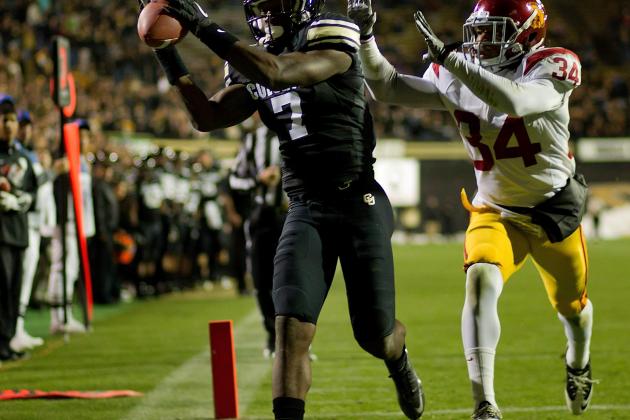 Justin Edmonds/Getty Images

I love Colorado, the state. And Boulder is a terrific city. So please don't get mad at me when I tell you that the Buffaloes weren't a good team last year and they aren't going to be a good team this year.
They will not improve in 2012, and there really isn't anything more to say.
OREGON—49
COLORADO—17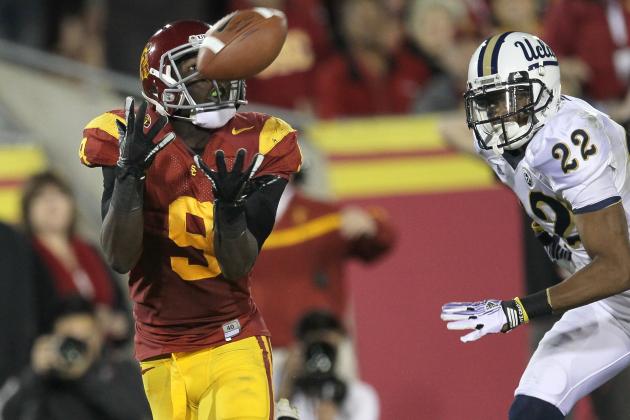 Stephen Dunn/Getty Images

To my USC readers: please stop reading right now. You are not going to like this slide.
Yes, USC is back! Matt Barkley, Robert Woods, Marqise Lee et al are a really great group of college football players. And, yes, USC did beat Oregon last year, at Autzen Stadium no less.
But there is some evidence that USC snuck up on Oregon last year and it is unlikely to happen again. Oregon was just coming off a tremendous high, having leveled a major beat down of previously unbeaten Stanford the week before.
Plus, the Ducks knew that USC was still on probation for breaking NCAA rules and, therefore, couldn't go anywhere important at the end of the regular season.
Matt Barkley had the game of his life last year. He might do it again in front of the USC faithful, but I think the Oregon defense will be ready for him this year.
While the teams, on paper, look evenly balanced, I believe it will come down to defense. And this year, I think Oregon will have the stronger defense.
I also think it's likely there might be a loud contingent of Oregon fans in the Coliseum to help the Ducks feel at home. This game will be hyped to kingdom-come if both teams are still unbeaten (I think they will be). Oregon has had more experience over the past three years handling the big-game hype than this group of Trojans, and it will benefit them.
Finally, Oregon is the three-time Pac-12 champion and holds that crown until someone takes it from them. It's not going to be USC, at least not this year.
OREGON—31
USC—21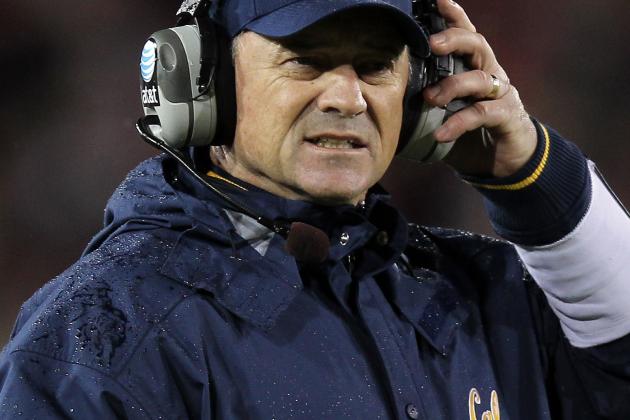 Ezra Shaw/Getty Images

This could be a trap game, with the Ducks coming off the emotional high of beating USC seven days before. But that would presume that Cal is capable of stepping up and taking advantage, and I don't believe they are.
In fact, I'm going to wager a bet that Bears head coach Jeff Tedford will be gone by the time this game is played (Nov. 10). Cal will have lost to Ohio State, USC, Washington State (that will probably be the nail in the coffin), Stanford, Utah and maybe Washington by the time the Ducks come to town.
The Bears will be demoralized and won't put up a fight for more than one quarter. So sad.
OREGON—42
CALIFORNIA—14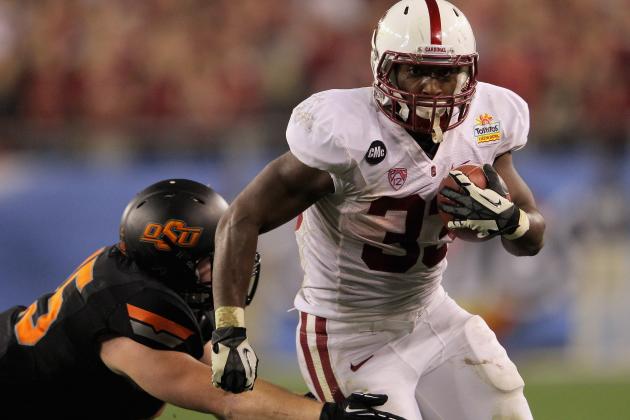 Doug Pensinger/Getty Images

The Ducks get Stanford at home this year on Nov. 17. I know you will find this hard to believe since I am usually nothing if not opinionated, but I have no idea how this game will go.
So much depends on how head coach David Shaw is able to replace Andrew Luck at the QB position. And not just Luck; Stanford has a lot of holes to fill with quality players like DeCastro, Fleener, Martin and several other Cardinal headed to the NFL.
If Stanford's defense is improved—and there is some evidence it will be (the defense won their spring game and Chase Thomas is projected to be one of the top linebackers in the nation)—and Stepfan Taylor has the kind of year he's capable of having, the Cardinal might only need decent production out of the QB position.
Plus, there's that payback factor thingy. How much would Stanford love to come into Autzen and take it away from the Ducks as the Ducks took it away from them last year?
My gut is telling me that this one will be tough. But I think, in the end, that the Ducks have so much experience at this level now that they won't let a big one slip away. Rob Beard better have his foot warmed up.
OREGON—34
STANFORD-28
P.S. It wouldn't totally shock me if Stanford beat USC on Sept. 15, thereby spoiling all the hype.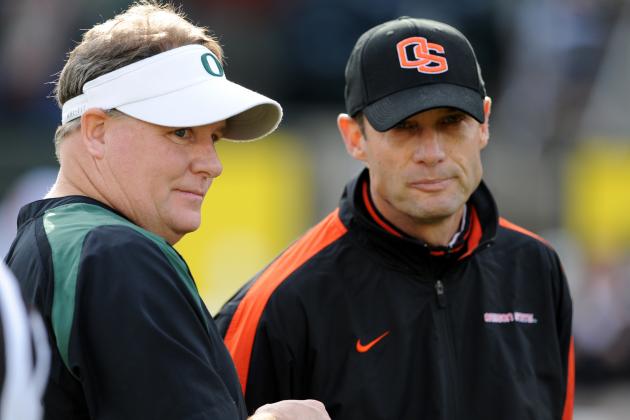 Steve Dykes/Getty Images

And then, there is only Oregon State standing in the way.
The Beavers will be improved this year, possibly even greatly improved. I am picking them here and now to beat Wisconsin in Corvallis on Sept. 8—Go Beavs!
Sean Mannion will have a big day in the Civil War, but Marcus Mariota will have a bigger one.
Markus Wheaton will have a huge day for Beaver Nation, prompting all the Ducks in the stands to ponder yet again how Kenny Wheaton's nephew ended up a Beaver. How did that happen?
But Civil War 2012 will belong to Kenjon Barner. He will run through the Beavers like he's headed to a Ben & Jerry's with a $200 budget.
The Beavers will be competitive and Mike Riley will keep his job with a bowl-eligible season. But do you really think the Beavers can beat the Ducks if the National Championship game is still in the Ducks' sights?
No way, Jose.
OREGON—38
OREGON STATE—24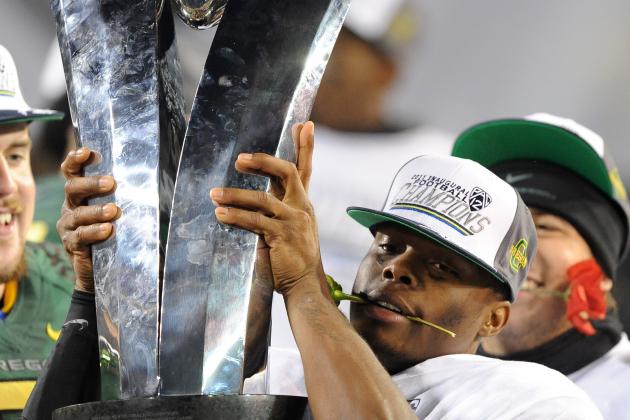 Steve Dykes/Getty Images

OK, now it's your turn: who will the Ducks play in the second Pac-12 championship and what will the score be?
And then, who will the Ducks play in the National Championship game in Miami on Jan. 7, and what will the score be?
Get creative.