Andrew Luck vs. Robert Griffin III Simulation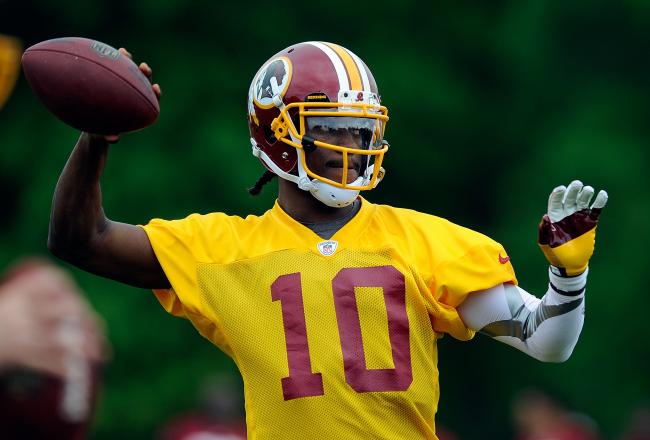 Patrick McDermott/Getty Images
As a kid I loved the Choose Your Own Adventure series of books. In case you are in the dark, the premise was pretty simple. You read a few pages before the book presents two or three options of which direction the story should head next.
Do you want to turn around? Turn to page 46. Do you want to enter the cave? Turn to page 54. Because the reader was ultimately in control of the narrative, each book had several dozen possible endings — much like an athlete's rookie season.
For Andrew Luck and Robert Griffin III, their paths have already been chosen for them by Indianapolis and Washington. Unless Peyton Manning winds up back in Indy and/or Rex Grossman magically transforms into the NFL's version of The Natural, the two rookies will be starters this season.
So, following the NFL Draft, I was presented with two choices:
1) Wait until the third week of the NFL preseason (late August) to watch Luck and RGIII go head-to-head for a couple offensive series before heading to the sidelines.
2) Use the WhatIfSports.com NFL simulation engine to "play" Luck's Colts versus Griffin's Redskins 1,001 times with both teams at full strength for 60 (or more) minutes right now.
I chose No. 2. I chose wisely.
Now for you to completely comprehend how this simulation played out, let me pull the curtain aside for just a minute and explain how we generate the results above.
1) Each NFL player within our simulation engine possesses a variety of offensive ratings that account for average passing, rushing and receiving stats.
Luck and RGIII began as average league quarterbacks within our engine (50) but were awarded a few more positive ratings in areas where they excelled.
2) Each NFL defense (as a whole) possesses a variety of defensive ratings that account for their ability to stop the pass/rush, how often they pick up sacks/interceptions, and how well they perform in the red zone.
3) Each team possesses a simulation offensive playbook. This was set to pass (60/40 play distribution) for the Colts and run (50/50) for the Redskins.
After 1,001 simulations the computers like the Washington Redskins to beat the Indianapolis Colts 58.8 percent of the time by an average score of 24.2 to 21.7.
Luck's and RGIII's Average Game Stats
Player
Avg. CMP %
Avg. Pass Yards
Avg. TD Passes
Griffin III
61.4
235.9
1.56
Luck
61.6
267.6
1.52
Luck's passing numbers are better, in part, because he attempted six more passes on average when compared to Griffin. However, Griffin averaged nine carries a game for 63 yards (7.0 yards per carry) in the 1,001 simulations.
Keep in mind that RGIII could rush for 95 yards in one simulation game and the next he could only muster 34. The stats above are just averages. In both quarterback's cases they averaged better than one touchdown pass per game.
Knowing the way our engine works inside and out, my assumption is that with the average margin of victory roughly a field goal, it was the Redskins' defense that was ultimately the difference in the 1,001 simulations and not so much the quarterback play.
In the end, Griffin and Luck are pretty even in the simulation world. We'll see how that translates in the real world this September to December.
This article is
What is the duplicate article?
Why is this article offensive?
Where is this article plagiarized from?
Why is this article poorly edited?

Washington Redskins: Like this team?