Jordan Hill and More Intriguing 2012 Summer Free Agent Options
May 8, 2012

The lack of franchise-changing free agents available this offseason is troubling, but there are a number of intriguing players still available.
Deron Williams is obviously the biggest fish in the free agent pool, but he's not the only big name that could swim free. Future Hall of Famers Steve Nash, Kevin Garnett and Tim Duncan are all unrestricted free agents who have interesting decisions to make.
The following players are a few intriguing options that teams have to make interesting decisions on.
Jordan Hill, Lakers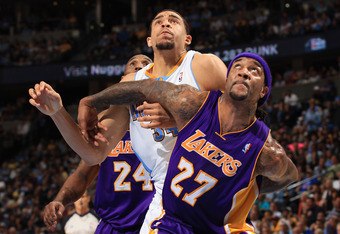 Doug Pensinger/Getty Images
A throw-in player in the Derek Fisher trade, Jordan Hill has come to life in Los Angeles and they couldn't be happier.
The former No. 8 overall pick in 2009, Hill is scoring points and grabbing rebounds on a championship contender.
He's still only 24 years old and has considerable upside. If he continues to play throughout these playoffs, we could see someone make a bigger play for the unrestricted free agent.
Ray Allen, Celtics
The 36-year old has struggled with injuries this season, but he's still considered a great veteran presence who could still continue to play for a number of years.
Jesus Shuttlesworth's future with the Celtics is very much a question mark because it would hardly be shocking to see a contending team pay a extra to land his services.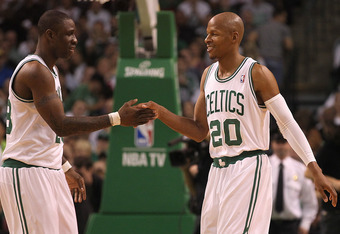 Jim Rogash/Getty Images
He's averaging the second-lowest points total of his career, but contending teams know he's a timely shooter who can make a big difference when healthy.
Jason Terry, Mavericks
There is no way of getting around what Jason Terry can provide: instant offense off the bench. The 34-year old is still averaging 15-plus points per game and can play starter minutes when needed.
Terry's been this way his entire career and it won't change.
The Mavericks basically tanked this season in effort to save money to make a run at Deron Williams and Dwight Howard. They can't get Dwight, but they can still get Deron.
Dallas would love to keep him, but not if it costs too much.
Kris Humphries, Nets
The Net only signed the Humph to a one-year deal this winter so they'll have to re-sign if they want him back. The Nets should want him back after he averaged a double-double for the second straight season, but they also have to focus on keeping Deron and Gerald Wallace (who will likely opt out with his player-option).
If the Nets don't land a top-three pick and lose Wallace, they'll essentially have traded a lottery pick for the star swingman.
So while he is a priority, he's not the priority. So it'll be interesting to see who else gets involved.