Are Danica Patrick and Tony Stewart Getting Special Treatment from NASCAR?
May 8, 2012

Geoff Burke/Getty Images
Since the introduction of "Boys, have at it" racing back in 2010, NASCAR has made it very clear that two things will not be tolerated:
Blatant retaliatory actions and comments that could be detrimental to the sport.
Both offenses have rarely, if ever, come without penalty over the last two seasons. Yet both occurred this past weekend at Talladega and are expected to go unpunished.
In Saturday's Aaron's 312 NASCAR Nationwide Series race, former Indycar stars Danica Patrick and Sam Hornish Jr. made contact while racing to the checkered flag.
Coming to the finish line, Hornish moved up the track after his right-front tire apparently went down, and in doing so forced Patrick into the wall. Hornish finished 12th with Patrick in 13th.
When the cars got to Turn 1 on the cool-down lap, Patrick hooked Hornish, turning his No. 12 car head-on into the fence a la Kyle Busch with Ron Hornaday in the Camping World Truck Series event at Texas last November.
For those of you who don't remember, Busch and Hornaday were racing hard for second early in that race when Hornaday's truck washed up the track, putting Busch in the wall.
The caution came out moments later, and as it did Busch pushed Hornaday's truck into Turn 3 and hooked it head-on into the Turn 4 barrier.
Busch was told to take a seat for Sunday's Sprint Cup race marking the first time since 2007 that a driver was suspended for an on-track incident.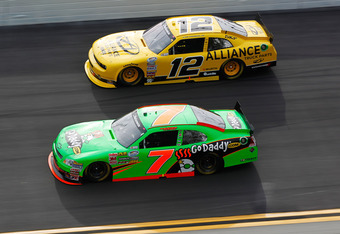 Streeter Lecka/Getty Images
There were a few differences between the two incidents that may have had an impact on the resulting punishments or lack thereof.
Busch was not racing in his primary series. His result in the lower-tier series' race had no effect on him in the standings whatsoever, and he blatantly took out a driver in Hornaday who was contending for the championship.
Moreover, as NASCAR VP of Competition Robin Pemberton plainly states, Patrick and Hornish do not have a history of getting into altercations, making it dissimilar to Busch and Hornaday's incident at Texas.
Still, the spirit of the two incidents is the same. Busch intentionally took out Hornaday because he was angry with him, and Patrick did the same to Hornish.
And in light of Nationwide Series driver Eric McClure's injury in a wreck during Saturday's race, the consequences of each driver's actions could have been just as severe.
On the verbal side of things, back in November, Sunday's winner Brad Keselowski was penalized for comments that NASCAR deemed to be "critical" against its new fuel injection system.
Keselowski accused NASCAR of introducing fuel injection in the cars as "something to promote," claiming it "does nothing for the sport except cost the team owners money".
Keselowski was fined $25,000 for his comments.
Fast-forward to Sunday afternoon when Tony Stewart went off on NASCAR fans who enjoy the pack racing like we saw Sunday at Talladega.
"I'm sorry we couldn't crash more cars today. We didn't fill the quota for today for Talladega and NASCAR," Stewart said sarcastically after the race.
"Honestly, I think if we haven't crashed at least 50 percent of the field by the end of the race, we need to extend the race until we at least crash 50 percent of the cars, because it's not fair to these fans for them to not see any more wrecks than that and more torn-up cars."
Though he doesn't state it outright, Stewart's comments regarding the fans seems to indicate he feels NASCAR fans are sadists for wanting to see the type of racing we saw on Sunday, which included much side-by-side racing and even three-wide at times.
That's racing we haven't seen much of this season, particularly in recent weeks when passing has proven to be difficult and races have more closely resembled corporate parades.
According to Associated Press reporter Jenna Fryer, NASCAR felt the comments were not disparaging. Her Twitter remark read as such:
"In #NASCAR's opinion, these comments were made by a driver who clearly was not pleased with how his day finished. They were not disparaging given the context in which he delivered them nor were they a direct shot at the sport."
For NASCAR to say that Keselowski's concerns about fuel injection were disparaging (especially considering he's already been affected by an EFI failure once this season), Stewart's comments against the fans do not seem inaccurate.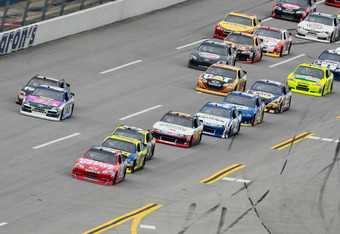 Kevin C. Cox/Getty Images
NASCAR has made many changes over the last couple of seasons to appease fan criticism including the introduction of a new points system and the 2013 return of new "stock" cars.
For Stewart to take such low blows at the fans NASCAR has worked so hard to win over seems counter-productive. His remarks against the fans who buy the tickets to watch he and 42 other drivers race each week are the very definition of "disparaging."
However, it is ultimately NASCAR's choice to determine how they wish to handle these types of situations, and one can only assume they are going to do the best job they can.
Should NASCAR's stance regarding Patrick and Stewart grow to be the new norm, then kudos to them for letting the drivers be themselves and truly letting the boys (and girls) "have at it."
But should similar situations arise in the future and NASCAR decides to drop the proverbial hammer, then shame on them for playing favorites.