SEC Football: Ranking the SEC Defensive Ends
May 8, 2012

Joe Murphy/Getty Images
Every Tuesday, The SEC Blog will rank the top player at each position for each team in the SEC. Today, we rank the best defensive end at every school in the conference. Keep in mind, with some teams running a 4-3 and others running a 3-4, this list is as much system-based as any position on the field.
14. Walker May, Vanderbilt
May was recently named a captain for the Commodores, and the rising junior is expected to step in for Tim Fugger—who was just selected in the NFL draft. May had 30 tackles and 2.5 sacks in 2011, and has the talent to take it to the next level and become a star in the SEC.
13. Chris Smith, Arkansas
Smith had 31 tackles and 3.5 sacks last season, but was largely overshadowed by former Arkansas defensive end Jake Bequette. With Tenarius Wright moving to linebacker this spring, it's Smith's show to start the season. Don't be surprised to see junior college transfer defensive end Austin Flynn emerge as a star for the Razorbacks though.
12. Marlon Walls, Tennessee
Walls saw limited playing time in 2011, but finished the season with 22 tackles and three tackles-for-loss. He exited spring as one of the starters for the Vols. With new defensive coordinator Sal Sunseri implementing the 3-4, former defensive end Jacques Smith has moved to linebacker.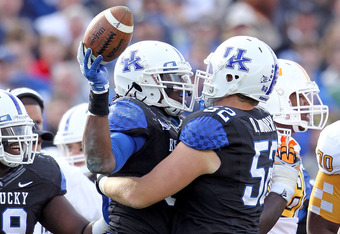 Andy Lyons/Getty Images
11. Collins Ukwu, Kentucky
Ukwu had 28 tackles and 2.5 sacks last season for the Wildcats. He has 35 games under his belt in Lexington, 24 of which were as a starter. The 6'2", 261-pounder sat out this spring after having labrum surgery, but is expected to be back at full strength before the start of the season.
10. Damion Square, Alabama
The stars of Alabama's 3-4 defense typically reside at the linebacker spots, but Square has proven himself to be a solid defensive end in the Nick Saban/Kirby Smart 3-4 scheme. Square had 32 tackles and a sack last season, and routinely takes up blocks to free up blitzing linebackers.
9. Abry Jones, Georgia
Jones flew under the radar last season, but the rising senior is set up to have a big season between the hedges. Jones finished last season with 48 tackles and four sacks. With Cornelius Washington and Ray Drew also vying for playing time, the defensive end spot is crowded in Athens.
8. Denico Autry, Mississippi State
If there's a surprise on this list, it's Autry. The junior college transfer enrolled at Mississippi State this offseason, and has the potential to be a star in the SEC as soon as the 2012 season kicks off. The junior college All-American is being touted as one of the top newcomers in the SEC, and Scott Kennedy of FoxSports.com thinks that Autry could be drafted into the NFL 11 months from now.
7. C.J. Johnson, Ole Miss
Johnson made the move from linebacker to defensive end mid-way through last season, and is poised to be a star in 2011. He was highly recruited out of high school, and delivered with 32 tackles, one sack, five tackles-for-loss, and one forced fumble a year ago. Now that he has a permanent home, expect big things.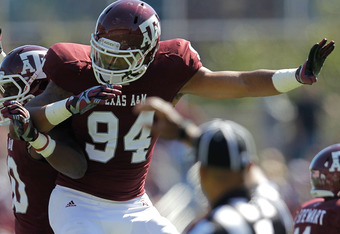 Sarah Glenn/Getty Images
6. Damontre Moore, Texas A&M
Texas A&M is moving from a 3-4 to a 4-3, which means that Moore has made a move and is putting his hand in the ground. He's a relentless pass rusher that finished last season with 72 tackles, 17.5 tackles-for-loss and 8.5 sacks. SEC fans may complain that he's too high on this list considering that he's never been a true defensive end, but his talent suggests that he's probably too low.
5. Brad Madison, Missouri
Madison is a rising senior that has enjoyed a solid career in Columbia. He played with a shoulder injury last season, but still managed to notch 25 tackles, 8.5 tackles-for-loss and 4.5 sacks. In 2010, Madison led the Tigers with 7.5 sacks and earned second-team All-Big 12 honors.
4. Sharrif Floyd, Florida
Injuries to Florida's defensive line have forced head coach Will Muschamp to mix and match who plays where. Floyd started 11 games at defensive end last season where he tallied 46 tackles and 4.5 tackles-for-loss. His potential shines more than his resume, but that should change this season.
3. Jadeveon Clowney, South Carolina
Clowney lived up to the hype in his first season in Columbia, notching eight quarterback sacks and 12 tackles-for-loss. He played in a rotation with Melvin Ingram and Devin Taylor last season, and now that Ingram has gone on to the NFL, Clowney is set up to have a stellar 2012 season.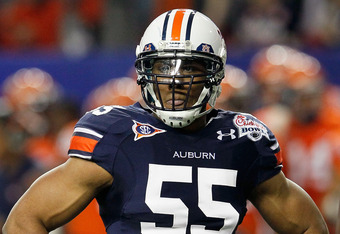 Kevin C. Cox/Getty Images
2. Corey Lemonier, Auburn
Lemonier finished fourth in the SEC with 9.5 sacks as a sophomore last season, and that was in a defense at Auburn that was less-than-stellar. The arrival of new defensive coordinator Brian VanGorder should vault Lemonier into the discussion of top defensive ends in the country—if he's not there already.
1. Sam Montgomery, LSU
Montgomery is the star of the LSU defensive front. As a sophomore in 2011, he tallied nine sacks and 13.5 tackles-for-loss. Montgomery and fellow defensive end Barkevious Mingo are both bona fide stars in the SEC, and will wreak havoc on opposing offenses in 2012.