NHL Playoff Predictions 2012: Projecting Game 5 Stats for Flyers vs. Devils
May 8, 2012

Bruce Bennett/Getty Images
On Tuesday night at 7:30 p.m. ET on NBCSN, the New Jersey Devils will look to close out their conference semifinal series with the Philadelphia Flyers. 
Obviously, the Flyers don't want to have their playoff dreams cease on their home ice, so expect this game to be an intense battle throughout.
They've lost three straight games to the Devils, so they're incredibly hungry for a victory tonight. The star players will shine bright, and it should be a fun and exciting game. 
With that said, here's how I project the Game 5 stat leaders for the Flyers vs. the Devils. 
Leading Scorers 
For the Flyers, look for Danny Briere to step up and carry the load since Claude Giroux is suspended.
A lot of pressure will be on him to rise up and help Philadelphia win, and he will certainly give it his all tonight. Briere will lead the charge for the Flyers, scoring one goal. 
For the Devils, I predict Ilya Kovalchuk will lead the way, scoring two goals. New Jersey has several talented players capable of scoring at will on Philadelphia, and I fully expect them to continue firing a ton of shots on goal.
However, Kovalchuk will be the only New Jersey player that puts the puck in the back of the net more than once. 
Most Points 
Just because a player leads his team in scoring, it doesn't necessarily mean he leads the team with the most points. 
In Tuesday's Game 5 matchup, though, that will be the case, as Kovalchuck will score twice and record an assist. 
He's leading the team in assists for the postseason, while Travis Zajac leads the Devils in goals. Game 5 will be different, though, as Kovalchuck takes control and dominates.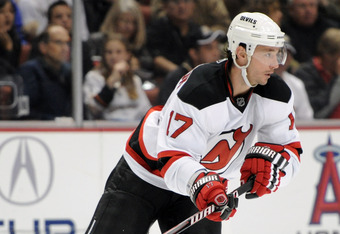 Harry How/Getty Images
Top Goalie 
Ilya Bryzgalov of the Flyers will record the most saves, as the Devils continue to shoot the puck like crazy.
New Jersey has had 133 shots against Bryzgalov this series, which is 27 more shots than the Flyers have taken on the Devils. 
However, Marin Brodeur will give up the fewest goals on the night. New Jersey is ready for this series to be over, so look for Brodeur to continue his success. 
Game Prediction 
If you couldn't tell already, clearly, I have the Devils winning this game and ending the series.
They have the momentum and confidence on their side to take down the Flyers in Philadelphia. My final score prediction is New Jersey 4, Philadelphia 1.