2013 NFL Mock Draft: Uncovering Next Year's Most Dynamic Playmakers
May 8, 2012

Streeter Lecka/Getty Images
In today's NFL, there's a group of young and ultra-talented players who represent the next wave of elite superstars. 
Think Matt Stafford, Calvin Johnson, LeSean McCoy, Cam Newton and Jason Pierre-Paul.
Andrew Luck, Robert Griffin III and Trent Richardson hope to join that group this season. 
In 2013, Matt Barkley, Logan Thomas and Marcus Lattimore will attempt to work their way into the fraternity. 
They've got the skill sets, experience and moxy to be among the league's premier players if they land in the right situation with the right team. 
Where will they, and the rest of the most dynamic playmakers be selected next April?
1. Jacksonville Jaguars: Matt Barkley, QB, USC
Even with steady production from bowling ball runner Maurice Jones-Drew, I see the Jaguars struggling again in 2012.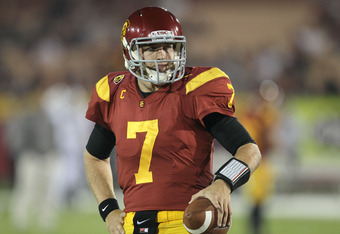 Stephen Dunn/Getty Images
With low ticket sales already a major issue, Jacksonville will look to add a player to rejuvenate team interest and most importantly, give the Jags a better chance to win games.
No one can do that faster than USC signal-caller Matt Barkley.
He's operated out of a pro-style system in SoCal, has exhibited great decision making skills and has a respectable arm. 
2. Indianapolis Colts: Jarvis Jones, OLB, Georgia
Jones was a monster in 2011, recording 13.5 sacks for the Bulldogs. If he has a similar 2012 season in the wildly competitive SEC, he'll garner top-five attention. 
The Colts would love to find an eventual replacement for Dwight Freeney and Jones would fall into a great situation in which he could learn from Freeney and the vastly underrated Robert Mathis. 
3. Miami Dolphins: Robert Woods, WR, USC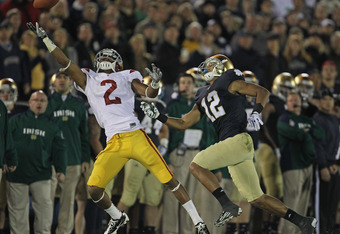 Jonathan Daniel/Getty Images
Woods had 111 catches for nearly 1,300 yards and 15 receiving touchdowns in a breakout 2011 campaign. 
He and Barkley should connect often en route to huge individual seasons. 
The Trojans should be in the national title hunt, which will place Woods in an even bigger spotlight. 
The Dolphins would love to find an electric playmaker for Ryan Tannehill, the guy entrusted to become a franchise quarterback in the near future. 
4. Minnesota Vikings: David Amerson, CB, N.C. State
Amerson wins with athletic ability, size, range and amazing ball skills. At 6'3'', rarely is he physically overmatched by even the biggest receivers. This Wolfpack stud had 13 interceptions last season and returned two for touchdowns. 
The Vikings passed on Morris Claiborne in the 2012 draft, but they get a better prospect at defensive back in 2013 with Amerson.
5. St. Louis Rams: Manti Te'o, MLB, Notre Dame 
If the Saints want to return to relevance, they can look directly at their NFC West rival San Francisco 49ers. 
The 'Niners have a sound defensive line and a superstar linebacker to lead their team. 
After drafting Michael Brockers in the first round of the 2012 draft, they've got their defensive line anchor. 
Next, they'll look for their Patrick Willis. 
While Te'o might not be at Willis' caliber, his size, fluidity in coverage and attacking style of play against the run certainly make me believe he can be a three-down linebacker at the professional ranks. 
He had 128 tackles, 13.5 tackles for a loss, and five sacks last season for the Fighting Irish. 
6. Tennessee Titans: Barkevious Mingo, DE/OLB, LSU
Mingo is an athletic freak. He and Sam Montgomery lead one of the nation's most ferocious defensive fronts and both should have tremendous 2012 seasons.
He gets it done with unadulterated speed and burst off the edge.
With some refinement, he'll be a complete pass rusher, and would be welcomed to a Titans team that only registered 28 quarterback takedowns in 2011.
7. Seattle Seahawks: Keenan Allen, WR, California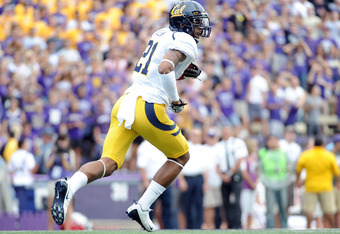 Harry How/Getty Images
Allen was the go-to guy for the Bears in 2011, hauling in 93 passes for over 1,300 yards. He could add some bulk to his 6'3'' frame, but he already plays with good aggression when fighting for the football. 
The Seahawks are a team on the rise that needs a true No. 1 receiver. 
If he has another solid season in 2012, Allen will garner top-10 attention and would be a perfect fit in Seattle. 
8. Tampa Bay Buccaneers: Sam Montgomery, DE, LSU
Although Mingo may have more upside, the 6'5'', 245-pound Montgomery is quite the edge-rushing prospect himself. 
He totaled 49 tackles and nine sacks in 2011. 
With what should be another terrific season in 2012, Montgomery is the ideal addition to a Buccaneers defense that needs pass-rushers playing in the pass-happy NFC South. 
9. Cleveland Browns: Brandon Jenkins, DE, Florida State
The Browns have what they hope will become their productive offensive staples in Brandon Weeden and Trent Richardson. 
While they weren't horrible getting to the passer in 2011, they'd like to add a dynamic speed rusher to the mix. 
That's precisely what Jenkins is. 
He had a respectable eight sacks last year for the Seminoles after exploding with 13.5 in 2010. 
10. St. Louis Rams (from Washington): Marcus Lattimore, RB, South Carolina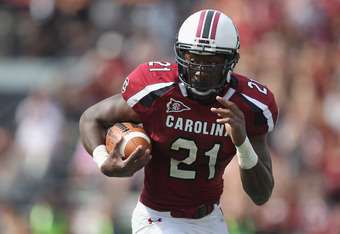 Streeter Lecka/Getty Images
St. Louis is a great landing spot for Marcus Lattimore for many reasons, but the first reason that pops into my mind is that he's a strikingly similar prospect to that of Steven Jackson, the guy he'd likely replace.
At 6'1'' and 230 pounds, Lattimore's biggest strength is his power, but he possesses the lateral agility and footwork to make defenders miss in the open field.
He'll return from injury in 2012 and should have another dominating season in the SEC.
Mathieu was the nation's supreme defensive playmaker in 2011, and with Morris Claiborne, Michael Brockers and Ron Brooks gone from LSU's squad, he'll be in the spotlight once again in 2012. 
He had 76 tackles, two interceptions and a handful of dazzling returns. 
Quentin Jammer is entering the twilight of his career, and with more teams implementing spread sets, it's never been more critical to have quality nickel cornerbacks. 
12. New York Jets: D.J. Fluker, OT, Alabama
Fluker is a wall of a man at 6'6'' and 340 pounds. Under Rex Ryan, the Jets will always employ a power running scheme, so the punishing Alabama prospect would be extremely logical.
Wayne Hunter cannot be relied upon in the future.
He just can't.
Fluker would instantly be plugged in as the team's right tackle.
13. Oakland Raiders: Tyler Wilson, QB, Arkansas
Wilson completed nearly 64 percent of his passes in 2011 and threw 24 touchdown passes with only six interceptions. 
He has good size at 6'3'' and 220 pounds, and plays the quarterback position with a real gun-slinger mentality. 
The Razorbacks' pro-style system will prepare Wilson for the NFL and he'd be a fine addition to a Raiders organization that's looking for a future franchise signal-caller. 
14. Arizona Cardinals: Jake Matthews, OT, Texas A&M
If Levi Brown disappoints in 2012, which is a distinct possibility, the Cardinals will be looking to find his left tackle replacement. 
At this point in the draft, the 6'5'', 305-pound offensive tackle is the best option for Arizona, a team that's allowed a ridiculous 104 sacks over the last two seasons. 
15. Buffalo Bills: Logan Thomas, QB, Virginia Tech  
The Bills have re-signed their core offensive players and added Mario Williams in the offseason. Even if cemented starter Ryan Fitzpatrick has a respectable 2012 season, the team would be smart look ahead toward the future. 
Logan Thomas has a little Cam Newton to him at 6'6'' and 255 pounds, with a fine arm and deceptive athleticism. 
Chan Gailey would love to mold him into the Bills' franchise quarterback.
16. Carolina Panthers: Kawann Short, DT, Purdue 
The Panthers intelligently added a rangy linebacker to their defense when they drafted Luke Kuechly in this year's draft.
The next step is to place a disruptive force on the defensive line. 
Short, who's 6'3'' and weighs 310-pounds had 17.5 tackles for a loss for the Boilermakers in 2011. He uses great leverage and pure power to burst through the interior of offensive lines. 
He'd be a fine addition to Carolina's defense that struggled against the run last year. 
17. Dallas Cowboys: Barrett Jones, OG, Alabama
With many offensive skill position players on the roster, the Cowboys should focus their attention on fortifying their offensive line. 
Jones has experience in the nation's best conference and would create a formidable duo next to Tyron Smith. 
18. New York Giants:  Kevin Reddick, LB, North Carolina
I don't see many holes on the New York Giants roster, so in somewhat of a luxury position, they could add a rangy linebacker to their defense. 
Reddick has good size at 6'3'' and 230 pounds. 
For the Tar Heels in 2011, he accumulated 71 tackles and nine sacks. 
19. Denver Broncos: T.J. McDonald, S, USC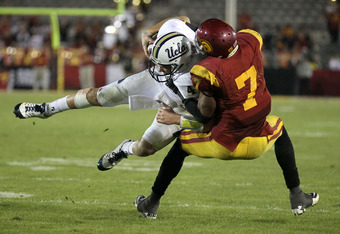 Stephen Dunn/Getty Images
It's never easy replacing an emotional leader like Brian Dawkins, but that's what the Denver Broncos will have to do with the legendary safety retiring this year. 
T.J. McDonald exudes athleticism and is coming off a solid campaign with the Trojans. 
The 6'3'', 205-pound safety recorded 67 tackles with three interceptions in 2011. 
20. New Orleans Saints: Ricky Wagner, OT, Wisconsin
There's no way the Saints don't lock up Drew Brees long-term, right? After they do, protecting him will be the team's top priority. 
Nothing better than drafting a huge offensive lineman from Wisconsin for insurance. 
21. Cincinnati Bengals: Knile Davis, RB, Arkansas
Davis has a striking resemblance to former Razorback star Darren McFadden. He's got good size at 6'0'' and 220 pounds, he runs high but has sneaky speed and agility through the line of scrimmage. 
He averaged a stunning 6.5 yards per carry in 2010, but sat out the 2011 season with an ankle injury. 
If he returns to form, he should be targeted by the Bengals, a team looking for their future franchise runner. 
22. San Francisco 49ers: Tony Jefferson, S, Oklahoma
Will the 49ers be able to strike a long-term deal with current franchise player Dashon Goldson after the 2012 season is complete? 
If not, they draft Jefferson to take his spot. 
This Sooners prospect is a bit undersized at 5'10'' and 200 pounds, but he had four interceptions last season. 
23. Kansas City Chiefs: Landry Jones, QB, Oklahoma
The Chiefs have the players to be a perennial playoff team. However, is Matt Cassel a quarterback they can lean on for the next few seasons to take them beyond the first round? 
Landry Jones has a fine skill set and should put up great numbers in the defensively-challenged Big 12 next season.
24. Atlanta Falcons: Seantrel Henderson, OT, Miami
Henderson is an All-American tackle who's 6'8'' and 340 pounds. The Falcons don't have a glaring need along their offensive line, but after watching the New York Giants terrorize Matt Ryan during the opening round of the 2011 playoffs, they could add more sound trenchmen. 
Henderson represents fantastic value here for Atlanta. 
25. Pittsburgh Steelers: C.J. Mosley, ILB, Alabama
Mosley played in the shadow of Dont'a Hightower in 2011, but he'll be one of the leaders of the defense in 2012. 
He'd fit in the middle of the Steelers' 3-4 next to Lawrence Timmons. 
At 6'3'' and 235 pounds, he has decent size, but makes the majority of his plays with swift sideline-to-sideline movement. 
26. Detroit Lions: Johnny Adams, CB, Michigan State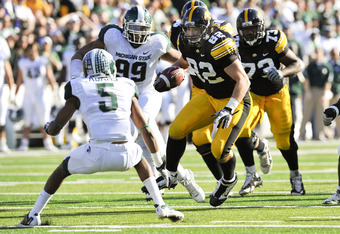 David Purdy/Getty Images
The Lions can score points with anyone, but can they stop their opponents enough to make a deep run in the playoffs?
Adams will help a secondary that was torched in 2011, and he's a hometown kid. 
He had 51 tackles and three interceptions for the Spartans last season. 
Although he's only 5'10'', he'd be a fine nickel cornerback in Detroit. 
27. Philadelphia Eagles: Chris Faulk, OT, LSU 
The Eagles signed Demetress Bell to replace the injured Jason Peters in 2012. While both Bell and Peters are fine left tackles, they have had troubles staying healthy early in their careers. 
Chris Faulk would provide ideal depth to an offensive line that has to protect and block for one of the most electric offenses in football. 
28. New England Patriots: Kwame Geathers, DT, Georgia
Geathers is a mammoth man at 6'6'' and 350 pounds. Vince Wilfork has been a staple on New England's defense since 2004, and Bill Belichick understands the importance of an essentially immovable nose tackle in a 3-4 defense. 
29. Chicago Bears:  Jackson Jeffcoat, DE, Texas
Although Texas' 2011 season did meet yearly expectations, Jeffcoat pieced together a fine season from his defensive end spot. 
He tallied 63 tackles, 17.0 tackles for loss and eight sacks. 
The Bears would be smart to pair him with Julius Peppers on the edge of their defensive line. 
30. Baltimore Ravens: Sean Porter, OLB, Texas A&M
Terrell Suggs suffered a torn Achilles at age 31. I'm not saying he'll never return to form, but the Ravens should invest in some pass-rushing insurance. 
Porter isn't a well-known name, but his game resembles former Aggie superstar Von Miller. 
At 6'2'' and 230 pounds, the smaller but speedy Porter had 83 tackles, 17 tackles for loss and 9.5 quarterback takedowns last season. 
If he can repeat that type of production, he'll be a target for the Ravens. 
31. Houston Texans: Tavon Austin, WR, West Virginia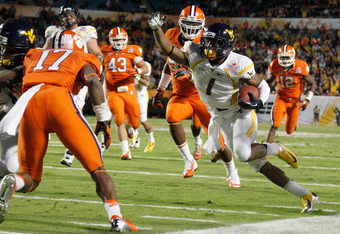 Mike Ehrmann/Getty Images
Austin, at 5'9'' and 175 pounds, had 101 receptions for nearly 1,200 yards and eight touchdowns for the Mountaineers in 2011. 
He's the premier Wes Welker-type prospect in the 2013 class and should flourish in 2012 within West Virginia's offense. 
How perfect would he be in the Texans offense, working underneath while Andre Johnson and DeVier Posey work downfield?
32. Green Bay Packers: Montee Ball, RB, Wisconsin
The Packers have a dynamic passing offense, but you'd have to think they'd like to add a youthful running back to balance out their attack. 
Ball will enter the league with a good amount of wear on his tires, but he's tremendously patient and understands how to set up his blocks with sneaky lateral movement and speed. 
He'd be welcomed to the Packers' offense.