2013 NFL Mock Draft: Offensive Playmakers to Watch for Next Year
May 8, 2012

Gregory Shamus/Getty Images
As the NFL continues to remain a league dominated by offense, teams in this era have no chance to win without fielding explosive playmakers.
This is because defenses are still sound enough to shut down any average offense while those more high-powered offenses simply outscore to win. That being said, lets take a look at the most explosive playmakers in Round 1 of 2013.
Highlighted players in italics
1. Oakland Raiders: Matt Barkley, QB (USC)
The Raiders need a long-term solution under center and Matt Barkley is their best option. With Andrew Luck-type potential, Barkley improves Oakland's passing game so Darren McFadden can keep rolling well on the ground.
2. Minnesota Vikings: David Amerson, CB (North Carolina State)
The Vikings may have added two safeties and a corner from the 2012 draft, but Minnesota still needs playmakers in the secondary. David Amerson got 12 picks in 2011 and in the pass-heavy NFC North, he'll get numerous opportunities to cause turnovers.
3. Miami Dolphins: Robert Woods, WR (USC)
Regardless of whether Matt Moore or Ryan Tannehill ends up under center for Miami in 2012, the Dolphins are still in dire need of a true and promising No. 1 receiver. The AFC East presents excellent pass defenses against Miami, so success this season will be limited.
As for 2013, USC's Robert Woods has a lot of momentum on his side. After compiling 2,084 yards on 176 receptions and 21 touchdowns the past two seasons, 2012 has increased expectations.
Woods has the ability to stretch defenses and get upfield from a quick slant or middle screen. The Dolphins need a receiver that can draw attention from a safety playing over the top, because that will leave tight end Anthony Fasano open over the middle.
And in a league that's dominated by passing offenses, utilizing the tight end against man coverage is a big advantage. Fasano has solid playmaking capabilities and Woods will complement him quite well. In addition, Miami can be rather explosive if Reggie Bush continues his development on the ground.
4. Tennessee Titans: Kawann Short, DT (Purdue)
If the Titans want to contend for the AFC South division, stopping the run is necessary. Well, that's Kawann Short's specialty as the man is a dominant backfield menace that also provides a pass rush.
5. Indianapolis Colts: Jarvis Jones, LB (Georgia)
Indy needs to get a younger stud to provide a pass rush for Chuck Pagano and Jarvis Jones has that potential. With the ability to constantly beat blocks and make plays, Jones also helps against the run.
6. St. Louis Rams: Barrett Jones, OT/OG (Alabama)
The NFC West is gradually becoming a division overtaken by defense. The Rams allowed 55 sacks in 2011 and 2012 will likely see similar results. So, there's no better way to upgrade the offensive line than by getting a versatile player like Barrett Jones to wall off edges and/or control the interior.
7. New York Jets: Ricky Wagner, OT (Wisconsin)
With a playmaking receiver in Stephen Hill, the Jets need to allow him time to get downfield against improved defenses like Buffalo and New England. Well, Ricky Wagner is a complete player that can contribute at right tackle from the start and also help setup play-action off the ground game.
8. Seattle Seahawks: Sam Montgomery, DE (LSU)
Provided that Bruce Irvin develops as an outside linebacker, Seattle still needs a dominant defensive end opposite Chris Clemons in the trenches. Sam Montgomery can defend the run and apply pressure, so he's a safe selection at No. 9 overall.
9. St. Louis Rams (via WAS): Eric Reid, Safety (LSU)
With an improved offense, St. Louis needs a safety to make plays behind a sound cornerback rotation of Cortland Finnegan, Trumaine Johnson and Janoris Jenkins. Eric Reid can sit back in Cover 1 or 3 while also filling the intermediate zone for a blitzing linebacker.
10. Cleveland Browns: Tyrann Mathieu, CB (LSU)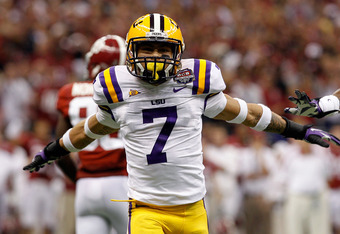 Chris Graythen/Getty Images
The Browns have an improved offense but need a lockdown corner opposite Joe Haden. Tyrann Mathieu may be undersized but his tenacity at causing fumbles, tackling, and blanketing in coverage bodes well for Cleveland's developing front seven.
11. Carolina Panthers: Johnthan Banks, CB (Mississippi State)
It's easy to overlook Johnthan Banks from Mississippi State as the Bulldogs aren't the most dominant team in the SEC, let alone the SEC West. Still, the Panthers need a young and reliable corner in the pass-heavy NFC South and Banks has the proven consistency to get the job done.
12. Tampa Bay Buccaneers: Brandon Jenkins, LB/DE (Florida State)
With the speed of Lavonte David at the second level, Brandon Jenkins will be put in numerous favorable situations to make plays. Include Tampa's improved secondary and Jenkins will have opportunities to shine as a pass rusher and run defender.
13. New Orleans Saints: Johnny Adams, CB (Michigan State)
In 2011 the Saints ranked No. 30 against the pass and No. 24 in total defense. Considering everything that has transpired in New Orleans this offseason, a down 2012 (at least defensively) is bound to occur. So, getting Johnny Adams helps the rebuilding process as he can immediately contribute as a nickel/dime back and then develop into a solid No. 2 corner.
14. Chicago Bears: Robert Lester, Safety (Alabama)
Depending on how well Brandon Hardin develops as a rookie will determine whether the Bears look into the secondary for 2013. Still, regardless of his performance, it's not a bad idea to consider Alabama's Robert Lester who has recorded 10 picks the past two seasons. In the NFC North, you can never have too many solid defensive backs to slow down the explosive passing offenses.
15. Arizona Cardinals: Sean Porter, LB (Texas A&M)
With Patrick Peterson and Jamell Fleming at cornerback, the Cardinals need a sound outside linebacker that can defend the run and provide the occasional pass rush. Sean Porter has the speed to do just that and the potential to develop well in coverage.
16. San Diego Chargers: Manti Te'o, LB (Notre Dame)
San Diego got a big pick with Melvin Ingram in Round 1 of 2012. Manti Te'o is the perfect complement to him as he can dominate the middle of the Chargers' front seven. Helped by an improved pass rush, Te'o is a run-stuffer with excellent instincts who can also help in coverage against the intermediate passing game.
17. Jacksonville Jaguars: Aaron Murray, QB (Georgia)
The Jaguars need a franchise quarterback and Blaine Gabbert and Chad Henne are on thin ice this season. Georgia's Aaron Murray however has proven solid consistency and dependability for the Bulldogs and has great potential to quickly develop.
18. Pittsburgh Steelers: Marcus Lattimore, RB (South Carolina)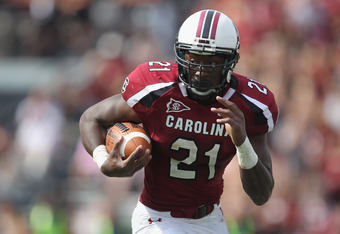 Streeter Lecka/Getty Images
The Steelers need an every down ball-carrier to field a more balanced offense. Baltimore has Ray Rice and Cleveland has Trent Richardson. If Pittsburgh wants to remain AFC title contenders, getting Marcus Lattimore is a big boost especially behind the improved offensive line.
19. New York Giants: Kevin Reddick, LB (North Carolina)
If the Giants don't improve at the linebacker position soon, they'll remain vulnerable to play-action pass, thus limiting the potential of the dominant pass rush. Kevin Reddick is an aware coverage 'backer and will be reliable against the run behind Big Blue's impressive front four.
20. Kansas City Chiefs: Tyler Eifert, TE (Notre Dame)
A receiving tight end is the last piece to Kansas City's offensive puzzle. The Chiefs have a solid receiving corps and array of ball carriers, so snagging Tyler Eifert provides reliability over the middle and in man coverage against defensive backs.
21. Buffalo Bills: Keenan Allen, WR (California)
The Buffalo Bills have a defense with top five potential for 2012 and an above average offense provided they remain healthy.
Nevertheless, the Bills do need a standout receiver to complement Steve Johnson and tight end Scott Chandler in the passing game. Cal's Keenan Allen has Round 1 talent with over 1,800 yards on 144 catches and 11 touchdowns through two college seasons.
Presenting excellent size, Allen can draw double teams over the middle and be a viable threat inside the red zone. His skill set will take attention away from Johnson and also prevent defenses from loading the box to shut down running back Fred Jackson.
Additionally, Jackson and the ground game will allow Allen to get open from double moves off play-action and stretch defenses to be more explosive.
22. Atlanta Falcons: Alex Okafor, DE (Texas)
To help with the rotation at defensive end, Alex Okafor is a good fit in Atlanta. Considering John Abraham's age, Okafor can contribute in specific situations and be a great complement to Jonathan Massaquoi at getting additional quarterback pressure in a pass-happy division.
23. Cincinnati Bengals: Tavon Austin, WR (West Virginia)
Cincinnati's offense is nearly complete after the addition of Mohamed Sanu in the 2012 draft. Quarterback Andy Dalton now has two promising receivers in Sanu and his No. 1 guy A.J. Green as well as tight end Jermaine Gresham.
Include BenJarvus Green-Ellis in the ground game and the slot position is all that remains. Well, Tavon Austin brings a lot to the table for Cincy as he accounted for almost 1,200 yards last season on 101 catches and also ran the rock 16 times for 182 yards.
He adds the horizontal rushing dimension to widen defenses on jet sweeps and open the playbook to a different kind of play-action. Austin is also an excellent return man with over 1,800 total return yards and three scores for the Mountaineers.
Last season Cincy ranked No. 24 in average yards per kickoff return, which also happens to be Austin's better area as a return man. Possessing great speed, acceleration, and ball-carrier vision, Tavon suits the Bengals to a T.
24. Detroit Lions: T.J. McDonald, Safety (USC)
One area that Detroit needs to address is the secondary because a continuous adding of talent and depth only increases odds in slowing down the Packers. T.J. McDonald has an eye for finding the rock and isolating receivers in Cover 1 and 3.
25. Dallas Cowboys: Travis Frederick, OG (Wisconsin)
The NFC East is the best pass rushing division and the best way to counter balance that is with a great offensive line. Travis Frederick will help polish off the running lanes to setup play-action, therefore limiting any pass rush so Dallas can be more efficient.
26. Baltimore Ravens: C.J. Mosley, LB (Alabama)
One of the better coverage linebackers in college football, C.J. Mosley has a knack for breaking up passes. The Ravens will eventually need to replace Ray Lewis in the middle (as he'll be 37 years old before 2012 kicks off), and Mosley's a promising option late in Round 1.
27. Denver Broncos: Desmond Trufant, CB (Washington)
Denver must continue adding youth and talent to the secondary, and Desmond Trufant only helps. With Omar Bolden and Tracy Porter right now, Trufant can immediately contribute as a nickel/dime back in 2013. Not to mention Champ Bailey will be 34 years old before this season, so bringing in a solid talent in Trufant only bodes well for the long-term future.
28. Philadelphia Eagles: Jelani Jenkins, LB (Florida)
DeMeco Ryans has the middle while Trent Cole, Jason Babin, Fletcher Cox and Vinny Curry simply crush along the defensive line. This leaves Jelani Jenkins open for outside linebacker in Philadelphia to help against any perimeter ground game and intermediate passing game.
29. Green Bay Packers: Rod Sweeting, CB (Georgia Tech)
It was hard to watch the Packers' defense in 2011. Although they've improved for 2012, the jump won't be extremely significant. So, selecting Rod Sweeting speeds up that defensive rebuilding process as Green Bay remains the standard of the NFC North.
30. New England Patriots: Montee Ball, RB (Wisconsin)
Even before becoming Wisconsin's feature back in 2012, Montee Ball compiled 1,124 total yards and scored 18 touchdowns in 2010. And that was with James White and John Clay sharing carries in the backfield.
When 2011 happened though, Ball hit another level and collected over 2,200 total yards and scored 39 touchdowns. His contributions helped the Badgers win the Big Ten outright and Ball was also a 2011 Heisman Trophy finalist.
As for 2013, his complete skill set is just what the New England Patriots need to be even more dangerous on offense. Ball has the size and explosiveness to pound the rock between the tackles and the reliability to make plays out of the backfield.
Montee is an every down running back that can also pass-protect and his production will only make Tom Brady more effective off play-action. Against defenses with stout front sevens, Ball will keep opponents honest and the Patriots balanced.
31. Houston Texans: Shayne Skov, LB (Stanford)
A complete linebacker to work between the tackles, Shayne Skov is a great complement to Brian Cushing as the Texans remain stellar on defense. Provided he remains 100 percent through the 2012 season, Skov could be a steal at No. 31.
32. San Francisco 49ers: Lane Taylor, OG (Oklahoma State)
Pass protection is arguably the biggest need for San Francisco. Alex Smith has a bunch of new weapons to target, but none of that matters without safety in the pocket. Lane Taylor is a pass blocking machine as Oklahoma State was a pass-heavy offense, so his reliability will pay off big time in the Bay Area.
John Rozum on Twitter.