Manny Pacquiao: Latest on What Experts Are Saying About Mayweather vs. Pacquiao
May 8, 2012

Stephen Dunn/Getty Images
Floyd Mayweather is done with his much-anticipated battle; now, the world turns its attention to Manny Pacquiao, who will fight Timothy Bradley early next month.
But what the world really wants to know is, will a bout against Mayweather finally follow?
Mayweather made waves when, after defeating Miguel Cotto on Saturday night, he said the megafight between him and Pacquiao would never happen. According to the New York Times, he also said that despite popular perception, it isn't his fault that the fight isn't in the cards, stating, "The fans and the public are being fooled. It's not on me."
Is Mayweather scared to fight Pacquiao? Is Pacquiao scared to fight Mayweather? Is there really no chance that this fight ever happens?
The Times' Greg Bishop believes Mayweather when he says he'll never fight Pacquiao—perhaps because Mayweather's current situation is too good to risk compromising. He's won 43 of 43 fights in his career, he has more money than he'll ever be able to spend, and he's already regarded as the best boxer in the world.
Why risk all that—and his undefeated record—to fight Pacquiao, who is possibly the only boxer out there who stands a chance of beating him?
Well, because it would give the boxing world its "Super Bowl." Bishop writes: 
Mayweather and Miguel Cotto engaged in a bout of the highest quality on Saturday, yet the same question lingered afterward, as it will every time Mayweather or Pacquiao fights anyone not named Mayweather or Pacquiao. Their bouts often seem more like semifinals, an undercard to boxing's Super Bowl, the only true main event. All options seem like fallbacks, for which Mayweather receives an unfair portion of criticism from the public. 
Mayweather has steadfastly insisted that the fight the whole world wants to see will never happen as long as Pacquiao is working with promoter Bob Arum, who has denied playing a role in the failed negotiations between the two boxers. The two camps have failed to come to terms on drug testing procedures and a financial agreement for the fight, which would doubtlessly be one of the biggest draws in history.
According to Boxingscene.com's Ronnie Nathanielsz, Arum had no problem playing into the drama after Mayweather's defeat of Cotto on Saturday. After the fight, Arum told Nathanielsz: 
[Mayweather] looked very, very vulnerable. It was a good fight and I had Cotto winning 5 rounds to 4 after nine rounds and then Cotto faded down the stretch and that Mayweather won the fight but not as wide as the scoring…[He] is great with that shoulder roll that just blocks the right hand but he can't defend against the left hand. You see how Cotto was hitting him with that left hand almost at will, and if he's fighting a southpaw who has a punch like Pacquiao, he'll suffer. He doesn't want to fight Pacquiao. 
And maybe Mayweather truly doesn't want to fight Pacquiao, writes David King at Yahoo! Sports. Think about the position Mayweather is currently in. Outwardly, he looks like he's doing everything he possibly can to make this fight happen. And if it doesn't? Oh well, he tried. What a shame that he'll just have to hold on to that 43-0 record forever.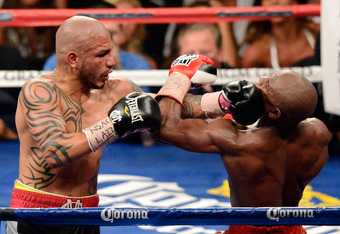 Ethan Miller/Getty Images
King writes, "Given Arum's comments, it's hard to see a Mayweather-Pacquiao fight ever happening. Mayweather isn't bothered by that though, and he's more than happy to walk away from the sport with his current accomplishments."
Perhaps that's best for Pacquiao, too, who may not be at his best when he faces Bradley on June 9. Pacquiao, too, has a lot to lose if he faces Mayweather, and he likely isn't too eager to put his own excellence on the line, either.
Especially now, when—according to King—Pacquiao's "mental state" might be shakier than usual: 
From legal problems to issues with his training staff, Pacquiao is under more stress than he's accustomed to, and I don't think he'll be at his very best when he faces Bradley. 
Mayweather-Pacquiao is doubtlessly the fight fans have long yearned to see, but it doesn't make sense at the moment—for either boxer. They both have too much to lose, and so long as they can keep up the posturing and convince the world that they're both trying to no avail, they can get away with it without looking like cowards. 
Above all, Mayweather and Pacquiao both want to be the best. The only way that can happen is if they never fight.