2012 NBA Playoffs: Philadelphia 76ers Fans Should Secretly Root for the Bulls
May 8, 2012

Drew Hallowell/Getty Images
With the Philadelphia 76ers heading back to Chicago with 3-1 series lead over the Chicago Bulls, optimism is brimming in Sixers-land.
That optimism couldn't be more misguided.
Plain and simple, the faster the Sixers win this series, the worse it is for their long-term prospects.
The Sixers haven't won a playoff series since the heyday of Allen Iverson in 2003. It's understandable for fans to be jazzed about the prospect of becoming the fifth No. 8 seed in NBA history to topple a No. 1 seed in the first round.
But, let's face facts: These Sixers aren't that good.
Had Derrick Rose not torn his ACL in Game 1, does anyone in their right mind believe that the Sixers would currently hold the series lead?
Had Joakim Noah not sprained his ankle in Game 3, would Spencer Hawes be the first Sixers center since Moses Malone to have back-to-back 20-point games in the playoffs?
The truth is, even with both Rose and Noah sidelined, the Bulls more than held their own against the Sixers in Game 4.
Again, a relatively full-strength Sixers team (save for the strained right Achilles tendon of Andre Iguodala) could barely take down a Bulls team without their two best players. In Philly, no less.
Bulls coach Tom Thibodeau can talk about his team's "next man up" mentality until he's blue in the face, but that doesn't change the fact that injuries have crippled his team.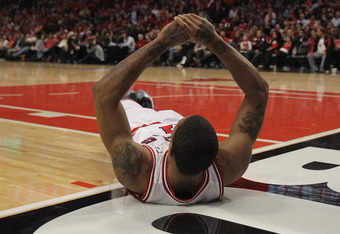 Jonathan Daniel/Getty Images
Losing Rose was a big enough hurdle for this Bulls team. When Noah went down, it became a question of when, not if, the Sixers would finish off Chicago.
That doesn't validate this year's Sixers, though. After trampling out of the gate to a 20-9 start this season, the Sixers nearly played themselves out of playoff contention with their abysmal 15-22 record in their final 37 games.
This Sixers team isn't nearly as good as that 20-9 record might suggest, but they're not nearly as bad as the 15-22 record, either.
Realistically, their final record this year is a true reflection of this team: better than mediocre, but nowhere near championship contention.
Sound familiar? That's where they've been hovering for the past decade. (Shout out to the guys at Liberty Ballers for doing an excellent summary of just how average they've been.)
This much is clear: They've got a solid young core to build around in the backcourt in Jrue Holiday and Evan Turner. With Iguodala hampered by his right Achilles tendon, Holiday and Turner have been more than happy to step up into leadership positions against the Bulls.
This development should be seen as nothing but a positive for the Sixers. In fact, it's the brightest spot of this team's playoff run.
Turner has averaged 14 points, six rebounds, nearly four assists and a steal per game (in 35 minutes!) in the playoffs, while Holiday's averaging nearly 20 points, six rebounds, five assists, a steal and a block per game.
Turner made "the biggest play of the season" late in Game 3, according to coach Doug Collins, and Holiday drained two clutch three-pointers in the final four minutes of Game 4 to stave off the Bulls and open up a 3-1 lead. This, for Holiday, after shaking off a dreadful 1-of-14 shooting start.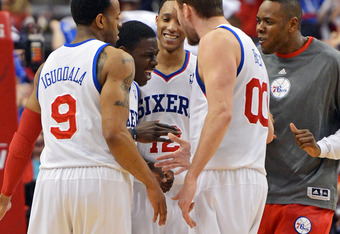 Drew Hallowell/Getty Images
"Well, you've got some young guys who are, I shouldn't say too dumb, but they're kind of too dumb to know [any better]," Iguodala said in the locker room after Game 4.
The development and maturation of these young guys, the supposed franchise cornerstones of the future, bodes well for this team moving forward.
But besides that, there's plenty of impending uncertainty with this franchise.
Will Elton Brand be amnestied this summer if the Sixers can't trade his $18 million expiring contract away?
Will Lou Williams opt out of his contract to become an unrestricted free agent? Will the Sixers offer him anything more than the mid-level exception? Should they?
Will this be the summer that the oft-rumored Iguodala trade comes to fruition?
These questions will determine whether the Sixers will be able to evolve into a legitimate Eastern Conference contender over the next few years.
A playoff series win over a crippled Bulls team, on the other hand, won't.
As a Sixers fan, I'm enjoying seeing the team experience postseason success for the first time in a decade, don't get me wrong.
But if this series win convinces the Sixers management to go back on their promise of significant changes this summer, it'll be a perpetuation of the cycle the team's been stuck in for the last decade.
This Sixers team is still tragically flawed, and beating a beaten-down Bulls team changes absolutely none of that.
With the Boston Celtics likely looming in the next round, the odds of making it to the Eastern Conference finals (where a surefire knockout from the Miami Heat awaits) are slim to none.
So, here's to another round of mediocrity for this Sixers franchise.
When does Eagles training camp start again?