NBA MVP 2012: LeBron James and More Locks for Top-5 Finish in Race
May 8, 2012

Mike Ehrmann/Getty Images
LeBron James and Kevin Durant aren't the only locks for a top-five finish in the NBA MVP race.  Chris Paul, Kobe Bryant and Tony Parker are all certain to finish among the top five.  All of these men turned in a superior statistical season, while also leading their teams to the playoffs.  
LeBron James
LeBron is the clear cut favorite to win his third MVP award.  James had a dominant season, finishing with averages of 27.1 points per game, 7.9 rebounds per game and 6.2 assists per game along with 1.9 steals per game and 0.8 blocks per game.  
LeBron is the best two-way player in the NBA today, and he clearly demonstrated that throughout the season, ripping through opponents and flirting with averaging a triple-double over the course of the season.  A lock for the all-defensive team and the all-NBA first team, LeBron is leaving the 2012 season with another MVP trophy.
Kevin Durant
A tremendous offensive player who is incredibly efficient, Durant simply isn't good enough to knock King James off his thrown.  Durant's regular season stats are sensational: 28 ppg, 8 rpg, 3.5 apg, 1.3 steals and 1.2 blocks, but they aren't as impressive as LeBron's.  
Durant lacks the defensive chops of LeBron, and since his team is the second seed in the West, the argument for the best player on the best team falls out the window.  He's an incredible player, but unfortunately LeBron's season is better.   
Chris Paul
Chris Paul came to the Clippers and turned a historically moribund team into the fifth seed in the West, and he did it playing with a bunch of role players and spare parts.  Outside of Blake Griffin, none of the other starters on the Clippers are-above average players, and yet they still made the playoffs.  
Paul's stats aren't overwhelming: 19.8 ppg, 9.1 apg, 3.6 rpg and 2.5 steals, but his player efficiency rating of 27.09 is good enough for second in the NBA.  The best point guard in the NBA, Paul has earned his spot on this list.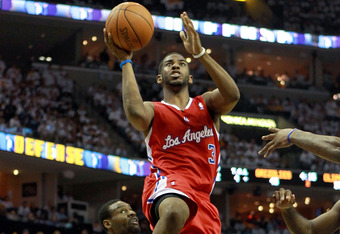 Andy Lyons/Getty Images
Kobe Bryant
How does Kobe Bryant keep doing it?  At 33 years old Kobe just missed leading the league in scoring with 27.9 points per game.  He also finished 11th in the league in total minutes, even though he missed six games.  
An absolute warrior, Kobe brought it all season, leading the Lakers to the third seed in the West.  Throw in 4.6 assists, 5.4 rebounds and over a steal a game, and Kobe earned his spot on this list.  
Tony Parker
The best player on the best team deserves a spot on this list, right?  You do if you're Tony Parker and you just turned in a very impressive season.  
Parker averaged 18.3 ppg and 2.9 rpg and posted a career high in assists per game with 7.7.  With Tim Duncan winding down and Manu Ginobli missing a significant amount of time due to injury, Parker became the heart and soul of the Spurs, leading them to a 50-16 record and the No. 1 overall seed in the West.