NBA Playoffs 2012: Fans Should Hope for Chris Paul vs. Tony Parker in Round 2
May 8, 2012

Jason Merritt/Getty Images
The 2012 NBA playoffs are beginning to shape up, especially in the Western Conference, where Tony Parker and the San Antonio Spurs put the finishing touches on the Utah Jazz Monday night to advance to the second round.
This sets up a potential basketball fan's dream in the second round against the Los Angeles Clippers.
After the Clippers' overtime victory against the Memphis Grizzlies that put them up 3-1 in the series, fans should hope the Clippers finish off Memphis quickly.
If they do, that sets up a fantastic second-round point-guard matchup between two of the premier point guards in the NBA, with Parker taking on Chris Paul.
It won't get any better than a pair of All-Star point guards going head-to-head, with both playing at the level that each has performed all season long.
If it weren't for the excellent season of Miami Heat superstar LeBron James, both Parker and Paul would be serious MVP candidates after the regular season each player turned in. What is bad for the rest of the NBA, though, is that both guys have been even better in the postseason.
Parker has posted a solid 21.0 PPG and 6.5 APG in the first round as the Spurs swept the Jazz. Paul may be even more impressive so far, averaging 23.5 PPG and 8.8 APG through four postseason games. Both guys have a 2.5 assist-to-turnover ratio as well.
During the regular season, Parker got the edge on Paul as the Spurs took two out of three regular season meetings, despite the Clippers' point guard scoring 22.3 points, dishing out 8.7 assists and accumulating an assist-to-turnover ratio of 5.2.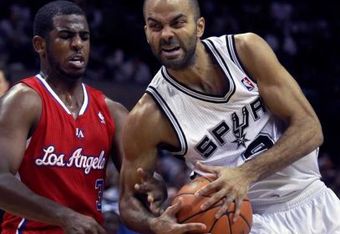 Head-to-head, Parker was even better against Paul, scoring 22.0 points, dishing 9.5 assists and had an assist-to-turnover ratio of 6.3.
Paul is looking for his first ring while Parker already has three.
There are many more similarities between the two guys as both have a high basketball IQ and excellent decision-making skills. Both not only are two of the best playmakers in the NBA, but also do way more than keep defenses honest with their scoring.
Late in games, it's likely they will call their own numbers, like Paul did Monday night when he scored eight of his 27 points in a dynamic overtime period to carry the Clippers to a win.
Both are a rare breed of guard in the way that they are leaders and will do anything it takes to lead their respective teams to victory.
Great guard play usually leads to postseason success. Fortunately, NBA fans are one Clippers victory away from getting to see a playoff point guard matchup for the ages.