Can the New York Jets' 2011 Rookie Class Make a Second-Year Leap?
May 8, 2012

Doug Pensinger/Getty Images
The New York Jets didn't have many draft picks in 2011, but that small group of draft picks could have a big impact in 2012.
The question is, will they?
While some of the Jets' draft selections made the most of their opportunities in 2011, others have a long way to go. How far will they go in 2012?
DT Muhammad Wilkerson
Wilkerson was the only Jets' draft choice to play in every game in 2011, and he even started all 16 games, logging 38 tackles and three sacks and forcing a fumble and a safety.
He should continue to see the field for a majority of the team's defensive snaps (57.7 percent in 2011 according to Pro Football Focus). Even with a committee of 5-technique defensive ends in New York, Wilkerson's role could remain one of the biggest on the defensive line. 
Still, the Jets didn't have a single linemen play over 60 percent of the defensive snaps in 2011, and with such a deep core in place for the 2012 season, look for that trend to continue.
DL Kenrick Ellis
The only thing standing between Kenrick Ellis and a breakout second season is the law. His trial has been postponed several times, but was recently pushed back to mid-May.
Ellis played just five games in 2011 and registered seven tackles. Defensive line play is always at a premium for the Jets, but with a logjam of talent at the position—Wilkerson, Quinton Coples and Mike Devito come to mind—the troubled Hampton product may not get the opportunities he seeks.
Still, Ellis is a run-stuffer and could find a role in certain defensive packages. With so much talent on the line, though, it would surprise me if Ellis was called on to contribute in a big way.
RB Bilal Powell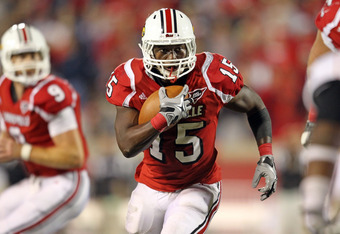 Andy Lyons/Getty Images
If the Jets are truly committed to returning to the ground-an- pound style of offense in 2012, Powell could see a big uptick in his playing time. Powell played just 27 snaps in his rookie year, but the Jets also had fewer rushing attempts in 2011 (443) than any other season under Rex Ryan (607 in '09, 534 in '10).
Shonn Greene handled a large majority of the team's carries, but Tony Sparano likes a bit more balance in the running game, spreading the carries out more evenly over two backs. Powell is the most qualified "true" running back on the roster other than Greene, so he should be getting a long look for a boost in carries. 
He was incredibly productive in his senior season for the Louisville Cardinals, averaging 6.1 yards per carry and totaling 14 touchdowns rushing and receiving. He'll have to rediscover the burst that made him a standout as a senior if he wants to avoid the labeling of a college one-year wonder.
WR Jeremy Kerley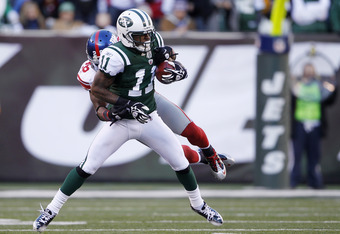 Rich Schultz/Getty Images
Kerley contributed on offense and special teams in 2011. He wasn't much of a factor as a receiver, but he flashed potential and built quick chemistry with Mark Sanchez. That he was able to do so in a lockout-shortened offseason bodes well for his ability to immerse himself in the offense with a full offseason workout program in 2012.
With Stephen Hill and Santonio Holmes, the Jets aren't short on top-end talent, but with a skill set similar to Davone Bess, Kerley could make strides in Sparano's system even as a slot receiver and a third option in the passing game.
QB Greg McElroy
McElroy was the third-string quarterback for the Jets last season and will be battling for his job with Matt Simms in 2012. His comments about the dysfunction in the Jets locker room after the 2011 season certainly didn't endear him to the Jets' coaching staff and front office, so his roster status will bear watching during training camp.
WR Scotty McKnight
McKnight was on the practice squad in 2011, but that was apparently all the Jets needed to see to award him a contract extension. Oddly, the signing came just five months after reconstructive knee surgery and just days after the acquisition of Tim Tebow (McKnight is a good friend of Sanchez's).
With his status on the practice squad and his health in mind, expectations should be very low for McKnight in 2012.