2013 NFL Mock Draft: Top Defensive Playmakers in Round 1
May 8, 2012

Chris Graythen/Getty Images
The nation's most exciting defensive player from the 2011 college football season wasn't eligible to enter the 2012 NFL draft.
Tyrann Mathieu, also known as the Honey Badger, will be starring again for the LSU Tigers and is a potential first-round pick in the 2013 draft. He leads a group of defensive playmakers that is heavy on SEC talent yet again.
Here's a look at that group of players and others eligible for next year's draft. 
1. Jacksonville Jaguars: Matt Barkley, QB, USC (Sr.—6'2", 220 pounds)
Barkley doesn't play defense, but he does scare opposing defenses with his ever-improving skill set. He's the likely No. 1 pick and early leader for the Heisman Trophy.
2. Indianapolis Colts: D.J. Fluker, OT, Alabama (r-Jr.—6'6", 335 pounds)
Fluker spends his time trying to stop defensive playmakers from getting after his quarterback. He has a great combination of size and skill and could easily become a top-five pick next year.
3. Cleveland Browns: Robert Woods, WR, USC (Jr.—6'1", 185 pounds)
Barkley's top weapon, Woods is a nightmare for defenses and is a ridiculously talented receiver with enormous potential. The Browns would be foolish to pass on him if they got a shot.
4. Minnesota Vikings: Keenan Allen, WR, California (Jr.—6'3", 205 pounds)
Allen is bigger than Woods and a more natural fit as a No. 1 receiver. He's flashed big-play ability and also has tremendous upside. He's a great fit in Minnesota opposite Percy Harvin.
5. Miami Dolphins: Sam Montgomery, DE/OLB, LSU (r-Jr.—6'4", 245 pounds)
The first defensive player to go in this draft, Montgomery would have been a first-round pick in 2012 had he decided to enter as a redshirt sophomore—like former teammate Michael Brockers.
He led the Tigers in sacks a year ago with nine and also recorded 13.5 tackles for loss and forced a fumble.
Montgomery could stand to bulk up a bit, but he's an impressive edge rusher with his best football still ahead of him.
The Dolphins have a desperate need for pass-rush help opposite newly re-signed Cameron Wake.
6. Arizona Cardinals: Tyler Wilson, QB, Arkansas (r-Sr.—6'3", 220 pounds)
A super talent with incredible upside, Wilson will have his work cut out for him this season after seeing his top three receivers graduate.
When he puts up stats under a new coach with new receivers, expect the NFL to take notice. 
7. St. Louis Rams: Jake Matthews, OT, Texas A&M (Jr.—6'5", 305 pounds)
The first of the two Aggies linemen to come off the board in this first round, Matthews has great NFL bloodlines and gives the Rams someone to protect Sam Bradford for the future. 
8. Oakland Raiders: Tyler Bray, QB, Tennessee (Jr.—6'5", 210 pounds)
Things haven't been great at Tennessee in the last few years, bu Bray has flashed brilliance time and again, and this season has some serious weapons to play with. Expect him to put up big numbers this year.
9. St. Louis Rams (via WASH): Marquess Wilson, WR, Washington State (Jr.—6'2", 190 pounds)
The third Pac-12 receiver on this list, Wilson is a physical freak with huge upside. He'll make a huge name for himself this season.
10. Seattle Seahawks: Jarvis Jones, DE/OLB, Georgia (r-Jr.—6'2", 242 pounds)
Like Montgomery at pick No. 5, Jones would have been a first-round pick in 2012 had he entered the draft. 
The Georgia star was the most fearsome pass-rusher in the SEC a year ago and will force opposing offensive coordinators to double-team him on the edge.
He's not as tall as Montgomery and won't fill out as much, but he's a compact and physical force who can turn the corner and drive linemen back, if they get a hand on him at all.
11. Tampa Bay Buccaneers: David Amerson, CB, N.C. State (Jr.—6'2", 193 pounds)
The nation's leader in interceptions a year ago, it remains to be seen if Amerson can turn out that type of production again, but he's got the attention of the NFL.
His combination of size, speed and ball skills are far from common.
ACC quarterbacks are going to try and avoid him as much as possible this year, so don't mistake a lower interception total for a down year.
12. Buffalo Bills: Jelani Jenkins, OLB, Florida (r-Jr.—6'0", 230 pounds)
A tackling machine for the Gators, Jenkins is a bit undersized, but he has great upside.
Only a redshirt junior this year, he could still grow and fill out some more, meaning his best football is still to come.
Another year in the SEC will do wonders in terms of experience, and he's expected to be one of the leaders of an improving Gators defense this year.
13. Tennessee Titans: Tyrann Mathieu, CB, LSU (Jr.—5'9", 180 pounds)
The poster boy for playmakers in college football this year, Mathieu makes plays on defense and special teams and is a nightmare for opposing offensive coordinators.
He was second on the Tigers in tackles a year ago and recorded 7.5 tackles for loss, as well as 1.5 sacks, two interceptions, six forced fumbles and five recovered fumbles.
The Honey Badger returned two of those fumble recoveries for touchdowns and scored twice more on punt returns.
Although undersized, there is no denying Mathieu is a player and a game-changer.
14. Carolina Panthers: Johnathan Hankins, DT, Ohio State (Jr.—6'3", 335 pounds)
A potentially dominant interior force, Hankins still has a lot to prove but possesses brilliant upside. His combination of size and athleticism will be coveted by a number of NFL teams.
15. Denver Broncos: Marcus Lattimore, RB, South Carolina (Jr.—6'0", 230 pounds)
A potential superstar at running back, Lattimore has to prove he can stay healthy in SEC play this year. 
16. Kansas City Chiefs: Manti Te'o, ILB, Notre Dame (Sr.—6'2", 255 pounds)
There is a lot to love about Te'o, and you know exactly what you're going to get with him.
He's started in South Bend since his freshman season and is a first-round lock. He may not be blessed with the the tremendous upside of others in this class, but he won't disappoint. 
17. Chicago Bears: DeMarcus Milliner, CB, Alabama (Jr.—6'1", 197 pounds)
The next in line of talented Alabama cornerbacks, Milliner will get a chance to shine this year after the departure of three starters.
He's still got plenty to prove, but he has the size and skills to shine in the league—and it doesn't hurt to have Nick Saban coaching him.
18. Cincinnati Bengals: Barkevious Mingo, DE/OLB, LSU (r-Jr.—6'4", 240 pounds)
The other sack master from LSU, Mingo turned in one less sack than Montgomery but recorded more tackles for loss and was in the face of quarterbacks more than anyone else.
Like Montgomery, there is a ton of upside with Mingo, and his size and pass-rushing skills will be coveted by a number of teams.
19. Philadelphia Eagles: Ricky Wagner, OT, Wisconsin (r-Sr.—6'6", 320 pounds)
We know how much Andy Reid loves to jump for linemen, and Wagner is a proven commodity with great experience.
20. Dallas Cowboys: Sharrif Floyd, DT, Florida (Jr.—6'3", 298 pounds)
Another Florida star, Floyd is super disruptive and has some upside to him as well. With his size, he fits well in a 3-4 scheme, and the Cowboys offer just that.
21. New York Jets: Montee Ball, RB, WIsconsin (Sr.—5'9", 212 pounds)
Ball could put up another season of monster production, but it still doesn't guarantee him a spot in the first round. The Jets are going to be in the mix for another running back next season, though.
22. San Francisco 49ers: Barrett Jones, G/C, Alabama (r-Sr.—6'4", 312 pounds)
Jones' experience and versatility give the 'Niners the boost they're looking for on the interior offensive line.
23. New Orleans Saints: Landry Jones, QB, Oklahoma (r-Sr.—6'4", 230 pounds)
A Heisman candidate, Jones has a ton to prove in 2012. He fell off late last year when his top target went down, and he's always had his critics.
He could easily work his way back into the top 10 with a big year.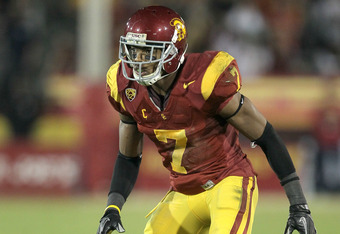 Stephen Dunn/Getty Images
24: San Diego Chargers: T.J. McDonald, S, USC (Sr.—6'2", 205 pounds)
USC has given us no shortage of playmaking safeties, and McDonald is another one with great potential.
He had a down year in 2011, but if he picks it up in 2012, he'll be a target for a number of teams in the late first round, including the Chargers.
25. Atlanta Falcons: Alex Okafor, DE, Texas (Sr.—6'4", 260 pounds)
Okafor recorded seven sacks a year ago and has proven time and again that he's a guy that knows how to get after the quarterback.
At 6'4", 260 pounds, he has great size and has played a lot of football in a tough Big 12 conference.
The Falcons are a team desperate for pass-rush help.
26. Baltimore Ravens: Chris Faulk, OT, LSU (r-Jr.—6'6", 325 pounds)
A huge prospect and another one of the many LSU players on this list, Faulk is solid first-round prospect who could actually play his way higher into this round.
27. Green Bay Packers: Xavier Rhodes, CB, Florida State (r-Jr.—6'1", 215 pounds)
You're going to hear plenty about Xavier Rhodes this season if the Seminoles play up to their potential. His combination of size, speed, athleticism and physicality is everything teams covet in NFL cornerbacks.
He's a talented player with serious upside and is one of a number of Seminole defenders you could potentially make a play for in the first round.
28. Pittsburgh Steelers: Kawann Short, DT, Purdue (r-Sr.—6'3", 310 pounds)
Short is simply a solid player with a great background in the Big Ten. His skill set fits in extremely well with that the Steelers want to do.
29. Detroit Lions: Luke Joeckel, OT, Texas A&M (Jr.—6'6", 310 pounds)
The second Aggies tackle off the board in the first round, Joeckel has good upside and could actually move higher up this draft board.
30. Houston Texans: C.J. Mosley, ILB, Alabama (Jr.—6'2", 235 pounds)
Another Nick Saban linebacker, Mosley is a bit undersized but is a natural playmaker who'll star for the reigning champion Tide.
He's shown the ability to rush the passer as well as the instincts to make plays in both the run and pass game.
Mosley is a great fit in the Texans' 3-4.
31. New England Patriots: Khaled Holmes, G/C, USC (r-Sr.—6'3", 310 pounds)
USC's senior lineman is a solid all-around prospect who can start for the next decade in this league.
32. New York Giants: Robert Lester, S, Alabama (Sr.—6'2", 210 pounds)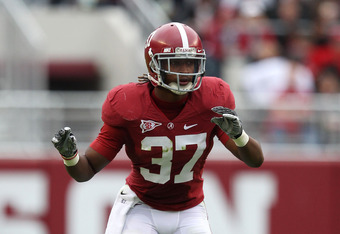 Mike Zarrilli/Getty Images
Lester proved to be a ball hawk two years ago, but he regressed a bit this past year. With Mark Barron, Dre Kirkpatrick and DeQuan Menzie all gone to the NFL, Lester and Milliner (No. 17 in this draft) will have their time to shine.
The senior has a good combination of size and athleticism and has shown natural playmaking skills at times.
He'll be one of the leaders on this defense and should once again find himself in consideration for the first round.