Patrick Ewing Has Earned Chance to Coach Charlotte Bobcats
May 8, 2012

Ronald Martinez/Getty Images
Patrick Ewing is reportedly going to interview for the head coaching position of the Charlotte Bobcats, according to Adrian Wojnarowski of Yahoo! Sports. It will take place after the Orlando Magic are eliminated from the postseason.
The former New York Knicks superstar has earned the right to lead a team and should be highly considered for the vacancy. He's been an assistant for nine seasons, with stops in Washington (2002-03) and Houston (2003-06) before settling in under Stan Van Gundy with the Magic in July of 2007.
Ewing has been instrumental in developing Dwight Howard into a superstar and helped the big man lead his team to the playoffs every season since being hired. Without the assistant's presence and tutelage, who knows if the Magic even make their 2009 NBA Finals run on the shoulders of D12?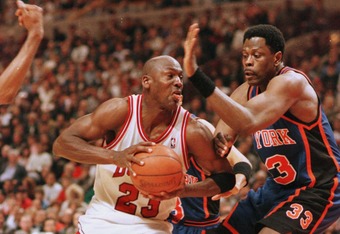 Jonathan Daniel/Getty Images
Another factor that helps Ewing is his close friendship with Bobcats owner Michael Jordan, one of his fiercest rivals during their playing days.
Wojnarowski reported that the Bobcats are interested in Golden State Warriors assistant Mike Malone and recently fired Trail Blazers head coach Nate McMillan, but will likely choose from a number of candidates that aren't going to be in huge demand this offseason—such as Ewing.
The Hall of Fame center interviewed for the Detroit Pistons coaching gig last spring and seriously impressed Joe Dumars, but the GM opted to go with Lawrence Frank instead.
With all of his experience, a solid interview and a healthy relationship with M.J. under his belt, it just makes sense for Ewing to coach the 'Cats—especially if they win the No. 1 pick in the 2012 NBA draft.
Charlotte would—without a doubt—target Kentucky freshman phenom Anthony Davis with that selection and Ewing would be the best man to help his development and transition to the NBA.
After going 7-59 in 2011-12 and setting a record mark for futility, the Bobcats need to roll the dice with a high-risk, high-reward coaching candidate like Ewing.
Just like during his playing days, you can be assured that Ewing will try like hell to win, even if it never results in a title.