32 2012 NFL Undrafted Free Agents Who Have Best Shot to Make Final Cuts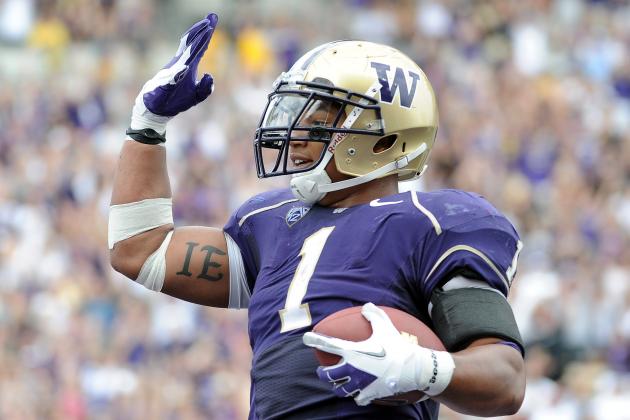 Harry How/Getty Images

Training camp rosters have been increased to 90 players this offseason, which means that more undrafted free agents will get their chance to make NFL rosters than ever before.

According to National Football Post, 61 undrafted free agents who were signed made their team's final cuts last season. Which undrafted players are most likely to make 53-man rosters this September? These are 32 who stand out above the rest.

Note: This list is not a ranking of the best undrafted free agents. This slideshow takes into account the unique team situations that each prospect has been signed into, and how they could fit into the team's depth chart.
Begin Slideshow

»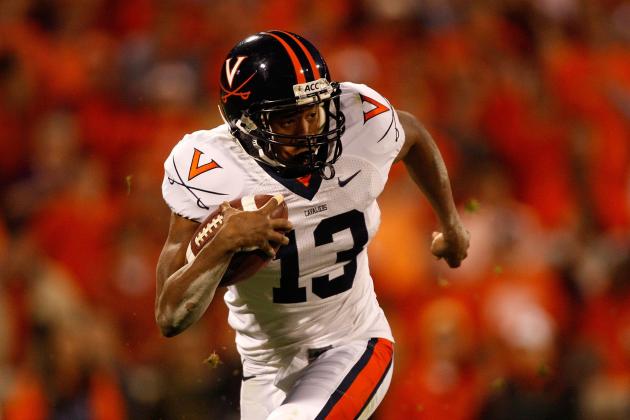 Streeter Lecka/Getty Images

Overall Prospect Rank: No. 44

Had it not been for offseason microfracture knee surgery, Chase Minnifield may have been a second-round draft choice. Unfortunately for Minnifield, injury concerns combined with a disappointing senior season knocked him completely out of the draft.

Coming back from injury, Minnifield could be a good candidate to spend his first year on the Redskins' injured reserve, or possibly on the Physical Unable to Perform list which would allow the Redskins to activate him between Weeks 6 and 10. If Minnifield gets healthy, he has a chance not only to make the roster, but to earn significant playing time.

The Redskins needed to upgrade their secondary in the draft, but they did not do much to do so. Minnifield is the most talented cornerback that they have added from the draft class, and he has the skill set to be a solid No. 2 starting cornerback when he is healthy.

Minnifield should be expected to not only make the Redskins, but become an important part of their secondary assuming he returns to pre-injury form.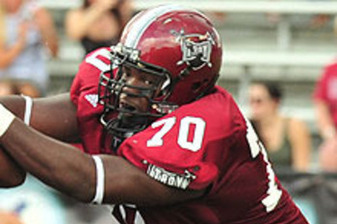 Overall Prospect Rank: No. 95

The Chicago Bears needed to upgrade their offensive line, but did not draft a single offensive lineman. This opens up a big opportunity for James Brown, who was expected to be drafted but should be able to make the Bears' roster.

Brown played left tackle at Troy, but he is best suited to kick inside at the next level. Brown is a well-rounded lineman who has good technique and very good footwork.

For much-needed depth along with his versatility, Brown should earn a spot on the Bears' roster, and could work his way into the starting lineup if he performs well.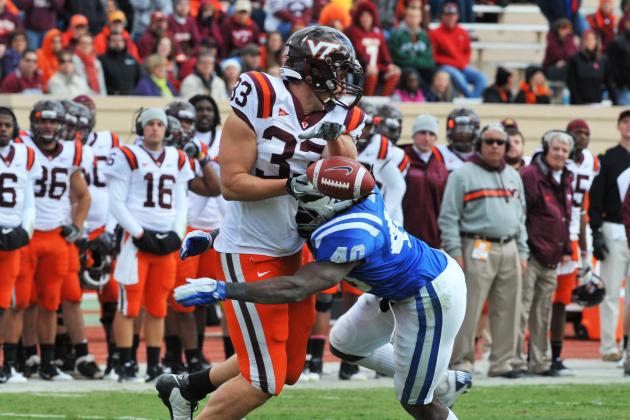 Al Messerschmidt/Getty Images

Overall Prospect Rank: No. 148

The St. Louis Rams are very thin at safety, but picked up a potential undrafted gem in Matt Daniels. With a hole at strong safety, Daniels has a chance to not only make the Rams' roster, but earn significant playing time as a rookie.

Daniels is an impressive physical specimen. He is a big, hard-hitting safety who tackles well, while he is also a very good athlete. He sometimes struggles with pass coverage, but he has big upside and should at least be able to contribute on special teams right away.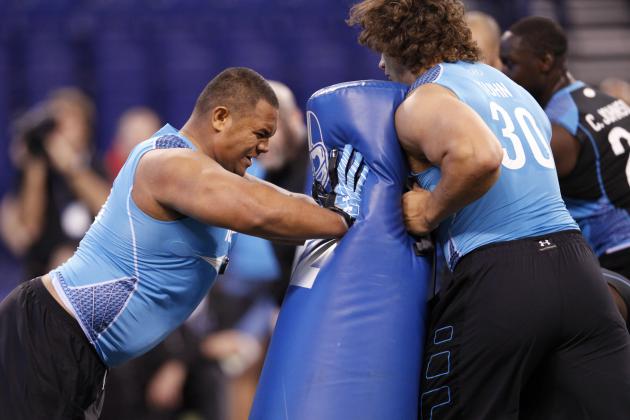 Joe Robbins/Getty Images
Fangupo pushing bag at NFL Scouting Combine
Overall Prospect Rank: No. 100

Fangupo is going to have a great opportunity with the Houston Texans. Fangupo is a good fit to play nose tackle at the 3-4 defense, a position where the Texans need to upgrade.

Fangupo may not end up being a starting nose tackle for the Texans, but he should at least provide solid depth at the position. He is short for the position, but is strong and powerful.

With Earl Mitchell, Shaun Cody and Ra'Shon Harris being the unspectacular group of nose tackles already on the Texans, Fangupo should be in good shape to make the roster with a strong training camp.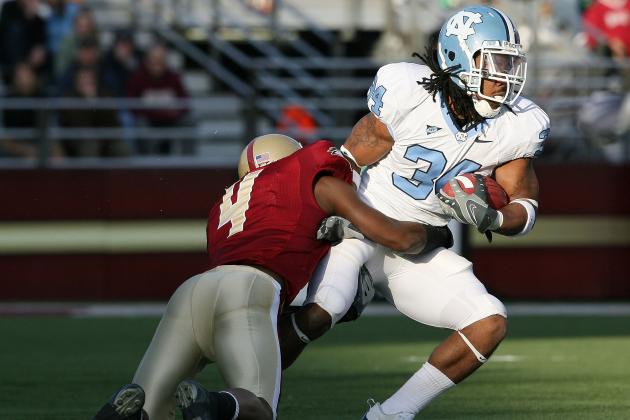 Elsa/Getty Images

Overall Prospect Rank: No. 216

The New York Jets drafted two safeties, but Donnie Fletcher still has a very good chance to make the Jets' roster.

The Jets are thin at safety and could use more depth at cornerback. Fletcher has the versatility to play both positions, and he could be a very valuable asset on special teams.

The Jets also drafted South Carolina strong safety Antonio Allen, Wake Forest free safety Josh Bush and Furman cornerback Ryan Steed, so he will likely have to beat out at least one of them to make the final cut. I like Fletcher's chances of finding a role and becoming a contributor.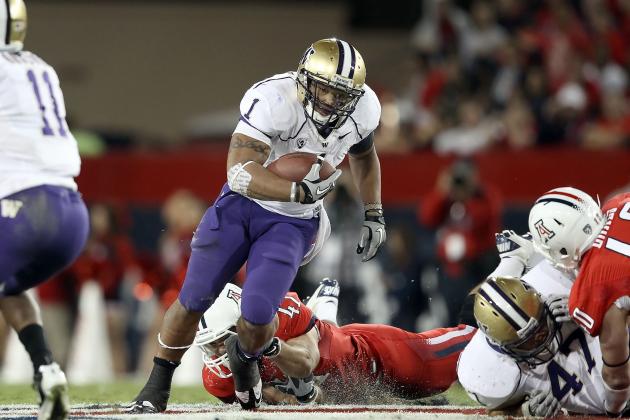 Christian Petersen/Getty Images

Overall Prospect Rank: No. 53

The Eagles currently have a five-deep stable of young running backs, but what the Eagles have lacked is a big, physical power back. After shockingly going undrafted, Chris Polk goes to the Eagles with the skill set to be that runner.

Polk has very good measurables, and he is a physical, between-the-tackles runner. He could be a very good complement behind the team's two shifty backs, LeSean McCoy and Dion Lewis.

Polk will have to beat out Graig Cooper, who was released during the Eagles' final cuts last season, and Bryce Brown, who the team drafted in Round 7 but only had three total carries over the last two seasons prior to quitting the Kansas State football team. I like Polk's chances to win that battle for a roster spot.
Tom Pennington/Getty Images

Overall Prospect Rank: No. 83

Jean-Baptiste was very much overlooked as a draft prospect, but he has upside as a nose tackle in a 3-4 defense. He signed into a very good opportunity with the Baltimore Ravens, who could use depth at nose tackle and could be a terrific developmental grounds for Jean-Baptiste.

Jean-Baptiste is big and powerful, but he is not a great athlete and lacks stamina. Terrence Cody, the Ravens' starting nose tackle, has similar concerns, so Jean-Baptiste should make a good backup for him.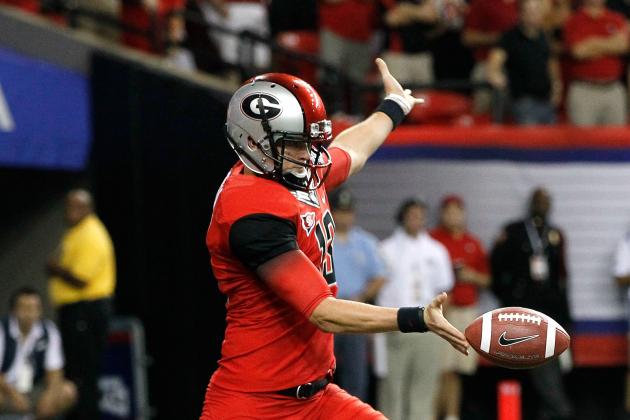 Kevin C. Cox/Getty Images

Overall Prospect Rank: No. 292

The Pittsburgh Steelers have not made an effort to re-sign oft-injured punter Daniel Sepulveda, leaving the door open for Drew Butler to come in and win the starting punting job.

Butler will have to compete with Jeremy Kapinos, who has been a replacement for Sepulveda in each of the past two seasons after Sepulveda ended up on injured reserve.

Kapinos has yet to establish himself anywhere as a long-term punter, so I like Butler's chances. Butler is coming off of a disappointing senior season, but he is a strong-legged punter who won the Ray Guy Award as a sophomore.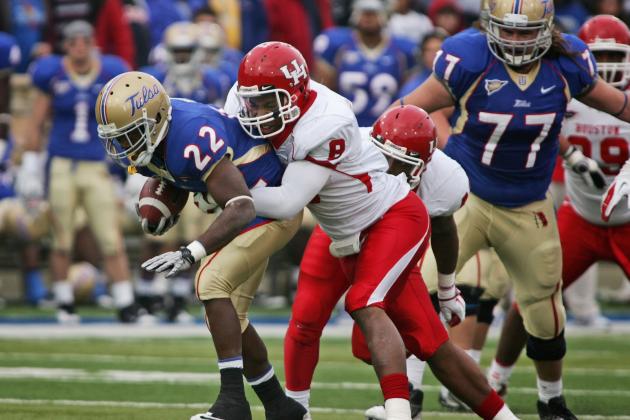 Brett Deering/Getty Images

Overall Prospect Rank: No. 160

The Rams need playmakers at outside linebacker, but only drafted Hawaii's Aaron Brown in Round 7. Aaron Brown is an undersized and unspectacular player, but the door is wide open for Houston's Sammy Brown, who led the NCAA with 30 tackles for loss last season, to come in and establish himself.

Brown is also undersized, but he is athletic and very good at getting into the backfield. Given the Rams' need of players who can make plays in the linebacker corps, Brown should be able to not only earn a roster spot but earn playing time if he carry over the skills that helped him come up with so many tackles in the backfield last year.

Two other undrafted free agent signings who will compete with both Browns and have a chance to contribute for the linebacker-needy Rams are Ohio's Noah Keller and Washington State's Alex Hoffman-Ellis.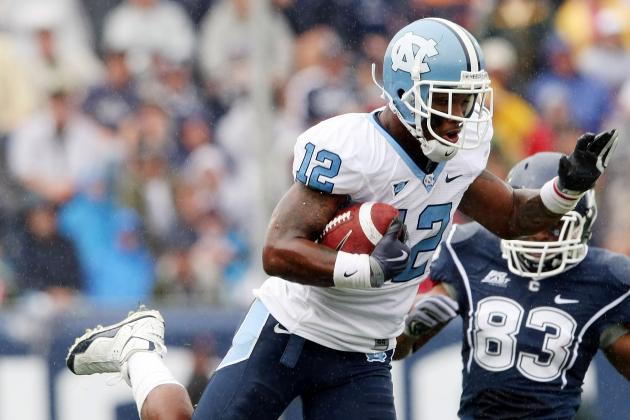 Elsa/Getty Images

Overall Prospect Rank: No. 202

The Ravens lack depth at the cornerback position. They drafted Cal Poly's Asa Jackson in Round 5, but could end up with a better defensive back in Charles Brown.

Brown is a tough, instinctive, physical cornerback who tackles well. Brown has some concerns with speed and inconsistency, but he should be a good fit for the Ravens' defense, and have a good chance to earn a roster spot by contributing on special teams as well as providing secondary depth.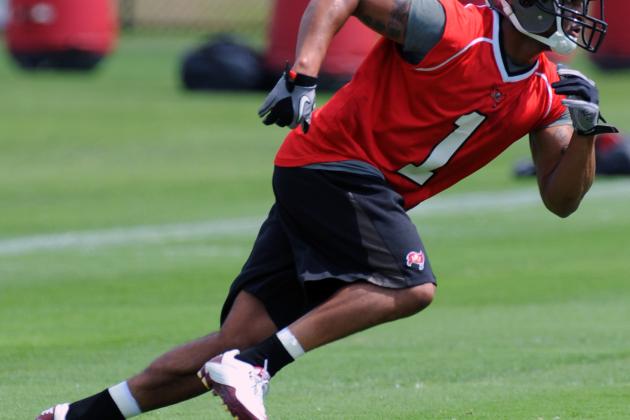 Al Messerschmidt/Getty Images

Overall Prospect Rank: No. 147

The Buccaneers drafted Alabama strong safety Mark Barron with the No. 7 overall pick, but they still have a hole at free safety. Arkansas's Tramain Thomas has a very good chance to not only make the Buccaneers' roster, but earn a significant role in their secondary.

Thomas is an athletic and instinctive playmaker. He is short for a safety, but Cody Grimm and Ahmad Black, the two best returning safeties on the Buccaneers' roster, also have height issues.

Thomas has the chance to emerge as a starter, but should at least be able to provide secondary depth and contribute on special teams.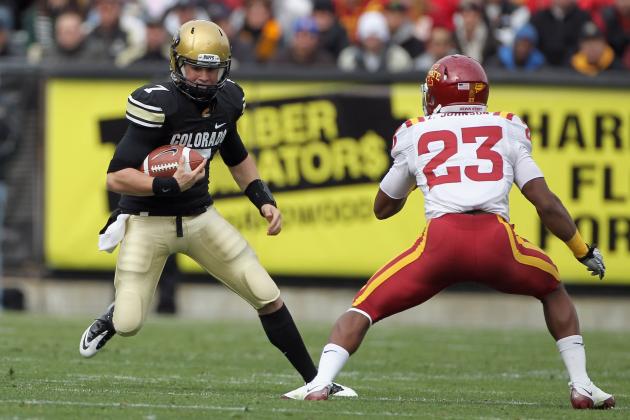 Doug Pensinger/Getty Images

Overall Prospect Rank: No. 184

Following poor performances at the Senior Bowl and NFL Scouting Combine, Leonard Johnson's draft stock really took a nose-dive, all the way to going undrafted. That said, he has a good opportunity to make an NFL roster with the Buccaneers.

Even having drafted Barron and West Virginia cornerback Keith Tandy, along with signing Tramain Thomas, the Buccaneers still have depth concerns in the secondary. Aqib Talib, the Buccaneers' star cornerback, is facing legal issues, which could leave the Buccaneers with little behind Eric Wright and Ronde Barber at cornerback.

That could give Johnson a good opportunity. His lack of athletic ability is a problem, but he is physical and tackles well. At the very least, Johnson should be able to make it as a fourth or fifth cornerback if he plays well on special teams.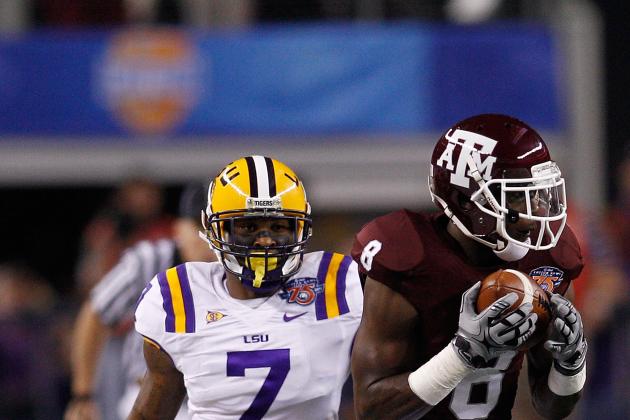 Chris Graythen/Getty Images

Overall Prospect Rank: No. 152

The Miami Dolphins will likely expect rookie quarterback Ryan Tannehill to start this season. Tannehill has one advantage in that he will remain paired with new Dolphins offensive coordinator and former Texas A&M head coach Mike Sherman. The addition of his top college receiver, Jeff Fuller, should also help him feel comfortable.

Fuller could have a tough battle to make the roster, as the Dolphins have many receivers on their team and drafted two ahead of Fuller in Michigan State's B.J. Cunningham and Nevada's Rishard Matthews. That said, Fuller's familiarity with Tannehill should really help his chances of ending up with a roster spot.

Fuller is not a great athlete by NFL standards, and he is coming off of a disappointing senior season. That said, I like his chances to be a Dolphin in September.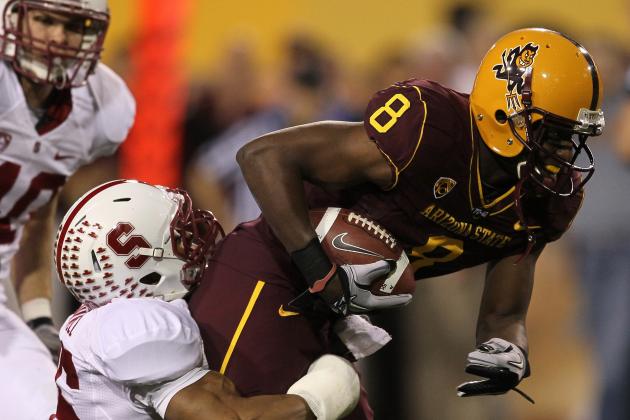 Stephen Dunn/Getty Images

Overall Prospect Rank: No. 187

Even though the Denver Broncos signed one of the NFL's greatest quarterbacks of all-time in Peyton Manning this offseason, they did not draft any wide receivers to be weapons for him in the passing game.

That said, they did draft Arizona State quarterback Brock Osweiler in Round 2 as a developmental prospect to become Manning's backup. As the Broncos could use another sideline receiver as a weapon and help Osweiler develop, it would make sense to keep Gerell Robinson, Osweiler's top target last season for the Sun Devils.

Robinson can be an asset for the Broncos' passing game, and can help make Osweiler more comfortable in Denver. Making the link between him and Osweiler is not as strong as the Fuller-Tannehill connection since Osweiler will not be the starter, but it still helps his chances of making the roster.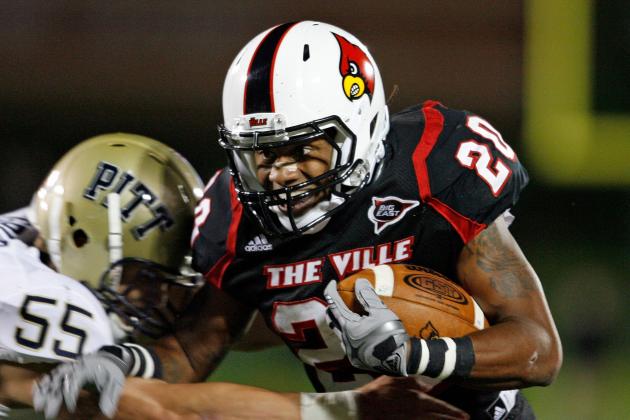 Andy Lyons/Getty Images

Overall Prospect Rank: No. 310

The loss of Curtis Lofton via free agency leaves the Atlanta Falcons thin at middle linebacker. The Falcons signed Lofa Tatupu, but he sat out all of last season and is no longer a three-down linebacker.

The Falcons also have Akeem Dent, but can certainly use another middle linebacker. This makes a good opportunity for Max Gruder. Gruder has nothing special about his game, but he is a solid tackler who can provide good depth and play well on special teams.
Overall Prospect Rank: No. 217

The Texans have a very solid starting duo of inside linebackers in Brian Cushing and Darryl Sharpton, but they need better depth at the position. Merrimack's Shawn Loiseau is a hard-hitting, high-motor player who can be a solid backup and be a very good special teams contributor.

I would like Loiseau's chances to make any roster because I expect him to be a special teams standout for many years to come. The Texans are a good fit for him.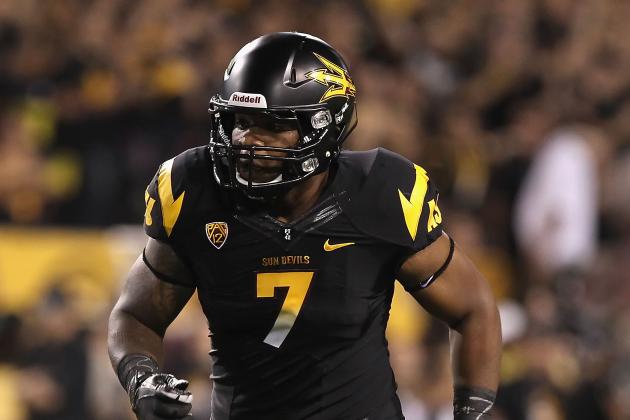 Christian Petersen/Getty Images

Overall Prospect Rank: No. 162

Vontaze Burfict is the complete wild-card of this list. Burfict is a tremendously talented linebacker and defensive game-changer, but serious concerns about his character, work ethic and physical conditioning dropped him completely out of the draft.

If Burfict can overcome his many problems, which include his failure to get along with coaches and teammates at Arizona State, he should make the Bengals' roster and be a very good backup at middle linebacker, or possibly even emerge as a starter at outside linebacker.

However, if Burfict cannot change his ways, he could end up being cut well before September even begins. Marvin Lewis has done a great job with turning around many troubled players, but reforming Burfict will be among his toughest tasks yet, and could be determined to not be worth the trouble.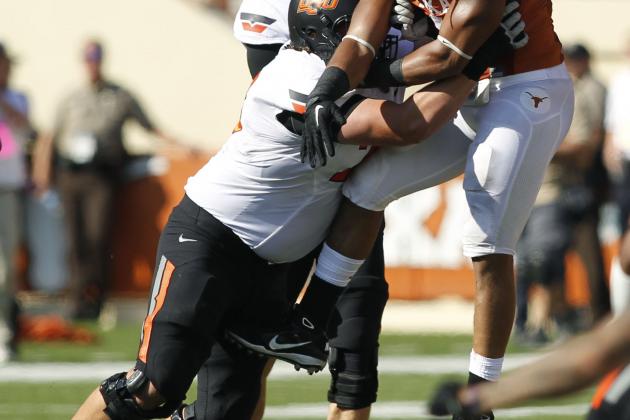 Erich Schlegel/Getty Images

Overall Prospect Rank: No. 109

The Dallas Cowboys have a talented young starting duo of offensive tackles in Tyron Smith and Doug Free, but there is a serious lack of depth behind them. This gives Oklahoma State's Levy Adcock a good chance to establish himself as the Cowboys' third offensive tackle.

Adcock is a talented offensive lineman who has great footwork but needs to become stronger. He is an effective pass-protector who must improve as a run-blocker, but he has good developmental potential.

Adcock will have to battle two other undrafted signees at offensive tackle, Columbia's Jeff Adams and Notre Dame's Taylor Dever. Adcock is the most talented of the group, and should have the upper hand.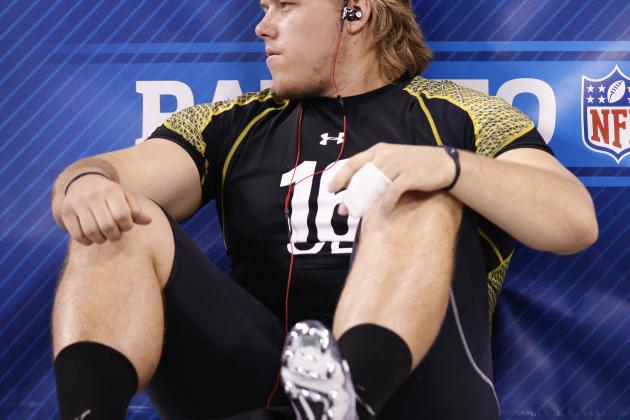 Joe Robbins/Getty Images

Overall Prospect Rank: No. 327

The Cleveland Browns have a great starting center in Alex Mack, but no backup at the position. Additionally, they could use depth at guard. Arizona State's Garth Gerhart can be a three-position backup on the interior line.

Aside from Mack, Gerhart is the only other center on the Browns' roster, so he has a good chance to earn a roster spot.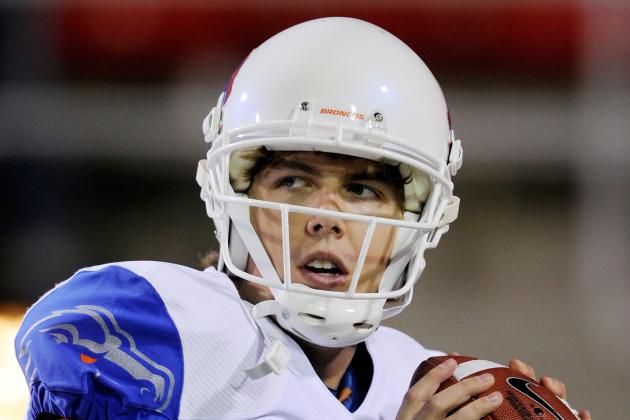 Ethan Miller/Getty Images

Overall Prospect Rank: No. 176

The Detroit Lions have a tremendous starting quarterback in Matt Stafford and a good second-string signal-caller in Shaun Hill, but Kellen Moore is the only other quarterback on the roster. If the Lions plan to keep three quarterbacks on the roster, Moore should be able to win the position.

Moore is perfectly suited to be an NFL third-string quarterback. While he is small and has a weak arm by NFL standards, he is an intelligent and accurate quarterback who will pick up the Lions' system quickly and be prepared if he is called into duty.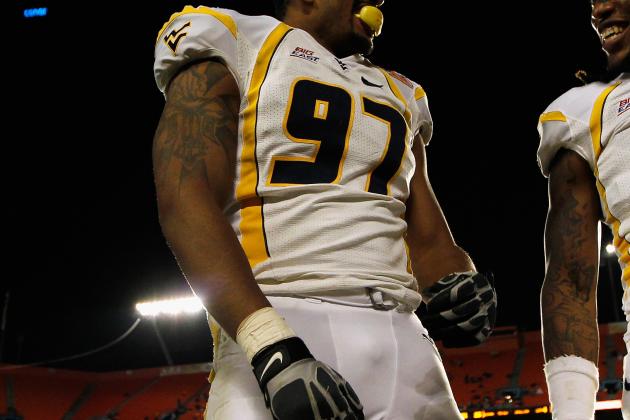 Streeter Lecka/Getty Images

Overall Prospect Rank: No. 132

West Virginia's Julian Miller was the most well-rounded defensive end on his team last season, even though he played across from this year's No. 15 overall selection, Bruce Irvin.

Miller is effective as both a pass-rusher and a run defender, and should be able to provide depth for the Cincinnati Bengals. While the Bengals have a talented group on the defensive line, they could use depth among pass-rushing defensive ends, and Miller should be a good fit.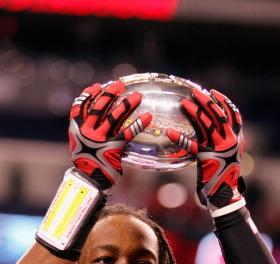 Gregory Shamus/Getty Images

Overall Prospect Rank: No. 76

The Oakland Raiders had many roster needs but few draft picks to work with, leaving a good window open for undrafted free agents to make their team. The best undrafted free agent that they signed is Wisconsin free safety Aaron Henry, who should be able to earn a spot in the secondary.

The Raiders have three very solid safeties in Michael Huff, Tyvon Branch and Matt Giordano, but there is little behind them, which gives Henry an opportunity to take advantage of. He may not have a great chance to earn significant playing time early, but he can be solid depth and make the team by establishing himself on special teams.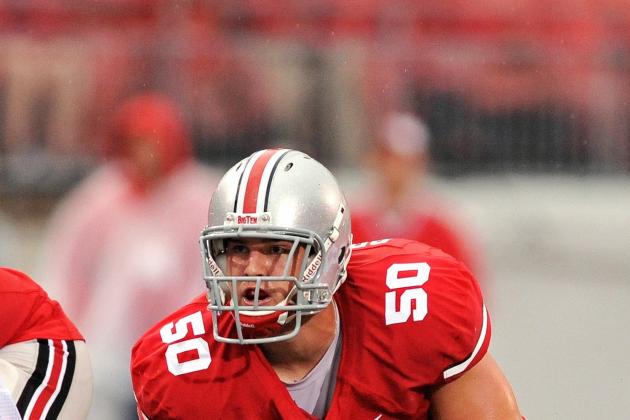 Jamie Sabau/Getty Images

Overall Prospect Rank: No. 153

Brewster struggled in his senior season, but he still deserved to be drafted. Brewster has to improve as a pass blocker and become a better snapper, but he could be a very good backup center to Brad Meester in Jacksonville.

Brewster's consistency, collegiate experience and ability as a run blocker are big assets for him trying to make a 53-man roster. I like his chances of beating out John Estes for the backup center role with the Jaguars.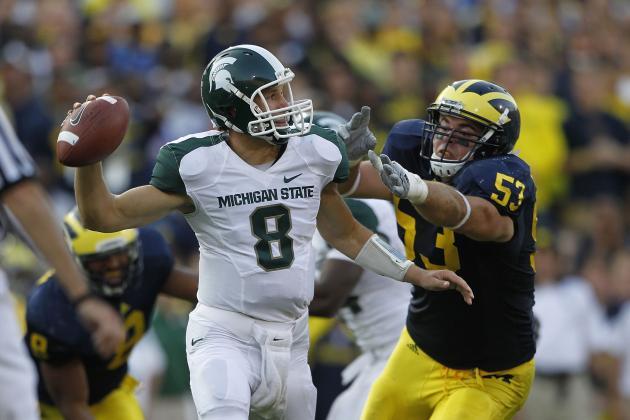 Leon Halip/Getty Images

Overall Prospect Rank: No. 155

The Carolina Panthers came into the draft needing to upgrade their defensive line, but only drafted one in Oklahoma defensive end Frank Alexander. That leaves the door open for undrafted free agent signee Ryan Van Bergen to earn another spot in the Panthers' defensive line depth chart.

Aside from Charles Johnson, the Panthers are weak at defensive end. Van Bergen is a solid, well-rounded defensive end who has the skills to be a good run-defending defensive end and be an asset to an NFL rotation.
Christian Petersen/Getty Images

Overall Prospect Rank: No. 242

Behind starters Richard Seymour and Tommy Kelly, the Raiders are very thin at defensive tackle. The Raiders did draft relative unknown Christo Bilukidi out of Georgia State in Round 6, but Missouri's Dominique Hamilton is also going to have a very good chance to earn a roster spot.

Hamilton is a very big defensive tackle, but he has poor athleticism. This could hold him back, but without much else on the roster for the Raiders at defensive tackle, I like Hamilton's chances to make the roster as depth.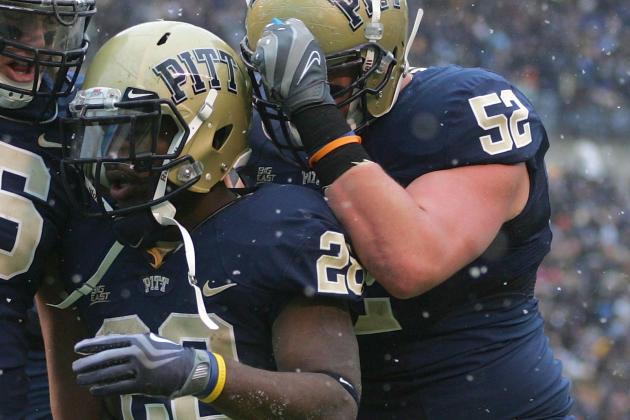 Jared Wickerham/Getty Images
Lucas Nix is No. 52.
Overall Prospect Rank: No. 254

Even with the selection of Utah's Tony Bergstrom in Round 3 of the draft, the Raiders remain very thin on offensive line depth, especially on the interior offensive line. This leaves a big opportunity for Pittsburgh's Lucas Nix to earn a roster spot.

Nix is coming off of an injury-plagued senior season, but he should be able to provide depth at either guard spot. He also has experience playing tackle, and did some work at center in pre-draft workouts. Nix's versatility will be an important asset, and be a big strength in his effort to make a roster which needs more offensive linemen.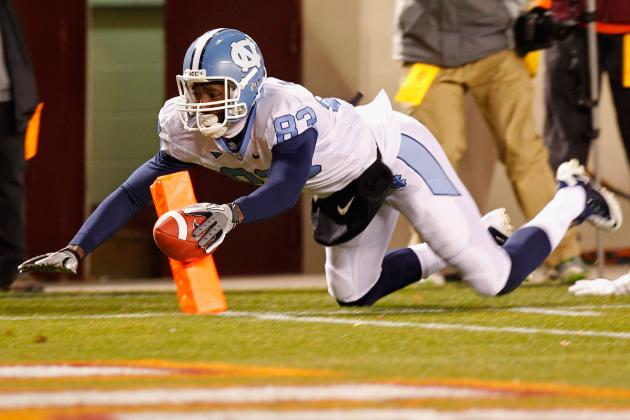 Geoff Burke/Getty Images

Overall Prospect Rank: No. 72

The Texans came into the 2012 draft needing a No. 2 wideout to line up across from Andre Johnson. They drafted Ohio State's DeVier Posey in Round 3, so they expect him to be that player. That said, the most talented rookie wide receiver currently on their roster is North Carolina's Dwight Jones.

Jones has his concerns, including character and drops, but he is a talented receiver. He was much more productive at North Carolina than Posey was at Ohio State, and he has a good combination of size and athleticism.

With the Texans having drafted Posey as well as Michigan State's Keshawn Martin in Round 4, Jones could face an uphill battle to make the roster. However, if he works hard and shows his talent, I think he can earn a place on the Texans' roster, especially following the release of Jacoby Jones.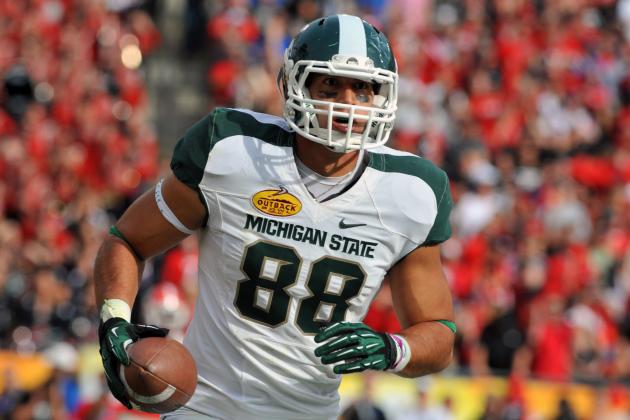 Al Messerschmidt/Getty Images

Overall Prospect Rank: No. 192

The Jets are thin at tight end behind Dustin Keller, and Linthicum could be the right fit for them. Nothing stands out about Linthicum's game, but he is a solid all-around tight end with good size and good hands who blocks well.

The Jets could use an upgrade in a second-string tight end, and Linthicum has the skill set to take on that role.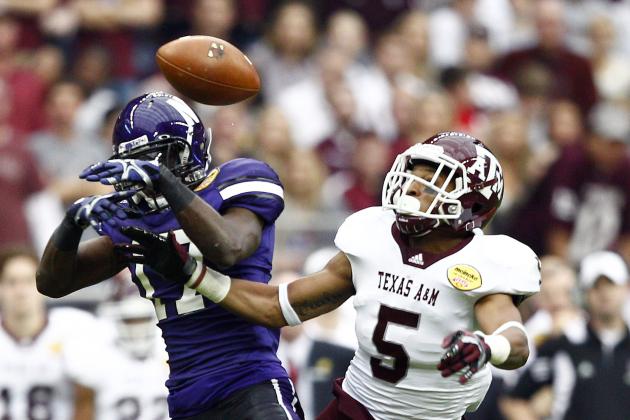 Bob Levey/Getty Images

Overall Prospect Rank: No. 181

The Broncos are deep with cornerbacks, and drafted Arizona State's Omar Bolden in Round 4. That said, Coryell Judie is a difference-making playmaker who could earn a spot with the team's need of a punt returner.

Judie is an inconsistent, overaggressive cornerback who can get beat badly, but he has very good ball skills and is dangerous when the ball is in his hands. He is unlikely to be more than a dime cornerback in the Broncos' secondary, but if he can prove himself as a special teams contributor and punt return specialist, something he was very good at in his time at Texas A&M, he has a good shot to make their roster.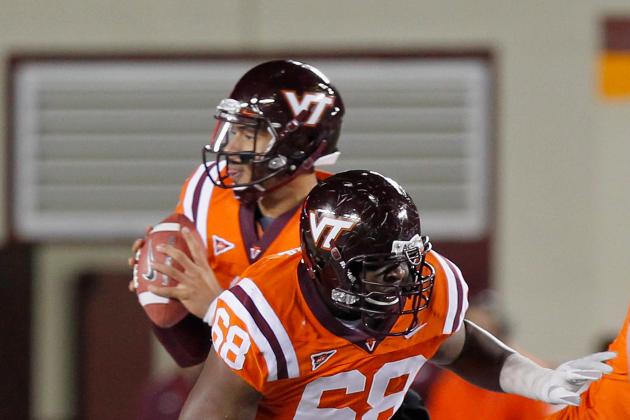 Geoff Burke/Getty Images

Overall Prospect Rank: No. 271

Following the free agent departure of center Scott Wells and the release of longtime left tackle Chad Clifton, the Packers are growing a little thin on the offensive line. With Derek Sherrod expected to move back out to offensive tackle to fill the spot voided by Clifton, the Packers are thin at guard behind starters Josh Sitton and T.J. Lang.

Jaymes Brooks is a skilled, athletic guard who should fit well in the Packers' zone-blocking scheme. Marshall Newhouse could also kick back inside to guard for the Packers and Ray Dominguez is solid depth, but Brooks has a good chance to chance the final 53.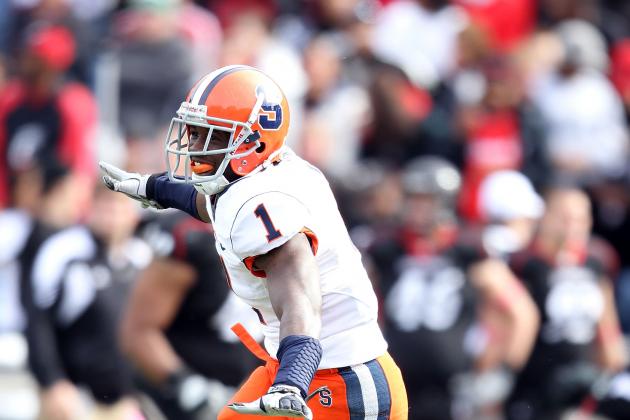 Andy Lyons/Getty Images

Overall Prospect Rank: No. 341

Poor safety play was a well-documented issue for the Philadelphia Eagles last season. While the personnel of Nate Allen, Kurt Coleman and Jaiquawn Jarrett are a talented young trio, the Eagles could definitely use another safety, and Syracuse's Phillip Thomas could be the answer.

The Eagles did not draft any safeties, and Thomas is an instinctive safety who tackles well, exactly what the Eagles need. Thomas would be a fourth safety, but he should have the skill set to contribute on special teams.

I like Thomas's chances of end up on the Eagles' final 53-man roster.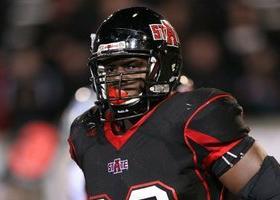 Photo courtesy of Arkansas Democrat-Gazette
Overall Prospect Rank: Not in Top 400

A college defensive end who was only 225 pounds, Brandon Joiner is not a natural fit to transition to the NFL. That said, he was very productive last season, ranking 4th nationally with 13 sacks. The Bengals like to convert defensive ends to outside linebacker, and could do it again with Joiner.

Joiner is a project, but the Bengals are thin at outside linebacker following the trade of Keith Rivers, and Joiner could end up being a good fit for them. He is definitely more of a long-shot than any of the other players in this list, but if he performs well in the preseason, I like his chances.

Thanks for reading!

Follow me on Twitter @Dan_Hope.