Chicago Blackhawks: Is Norm Maciver the Right Guy for the Job?
May 8, 2012

Andy Marlin/Getty Images
On Monday, the Chicago Blackhawks announced that Norm Maciver would be the new assistant general manager. He's replacing Marc Bergevin, who left to become the general manager of the Montreal Canadiens.
The naming of a new assistant general manager seems to becoming a yearly event. Maciver is the fourth person to hold the job in the last five years.
Before Bergevin, Kevin Cheveldayoff held the position. He held the position for two seasons and went on to become the GM of the Winnipeg Jets last summer.
Before Cheveldayoff, current Blackhawks general manager Stan Bowman held the spot. I guess it's safe to say that Maciver has a good chance to be a GM of his own team in a year or two.
But does that mean Maciver is the right man for the job? Maybe, he should be judged on how long it takes him to become a GM?
He has been with the organization for the last five seasons. He was the team's director of player development for four years until becoming the director of player personal last season. Bowman had this to say about Maciver.
Norm has proven to be a valuable asset to our hockey operations over the past five years, so we are excited to be able to elevate him to this role. He has an excellent handle on the players within our organization, from recent draft picks to veterans, and a great eye for talent evaluating. Promoting within our organization is something we take great pride in and we are very confident in what he will contribute on a daily basis as we strive to hire the best possible candidate at every position.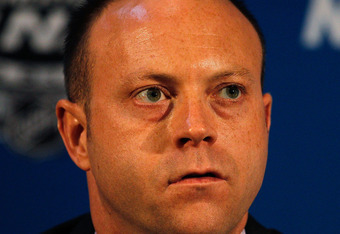 Jonathan Daniel/Getty Images
So clearly, he's a Bowman guy, but after two straight seasons of losing in the first round, is that what the Hawks need?
It's hard to say because not a lot is known about him. He appeared in 500 NHL games over 12 seasons. His career highlights including scoring the last goal for the Jets before they left for Phoenix in 1996 and leading the Senators in points during the '92-'93 season.
Besides working for the Blackhawks, he served as an assistant coach for the Boston Bruins and the Springfield Falcons of the AHL.
Would they have been better off hiring someone from outside the organization?
It's clear that going outside of the organization is not in their thinking. Everyone who has held the assistant position lately has been promoted from within.
Makes you wonder when they will run out of guys to fill the position.
Do you think they hired the right guy or should they have looked elsewhere? Sound off below.
Make sure to follow me on Twitter @dachicagofan and check out my weekly Hawks' podcast every Friday on my site The MG Experience.