After Arizona State's school-record-setting quarterback Brock Osweiler declared for the NFL draft, expectations were lowered for Todd Graham's inaugural season coaching ASU.
Graham speaks of Pac-12 championships and Rose Bowl championships, but truly, those are not realistic expectations for the 2012 season considering the number of seniors ASU lost and the complete overhaul of the previous coaching staff.
Nonetheless, here are some (somewhat) realistic expectations for ASU in the 2012 football season.
Find Continuity at the Quarterback Position
In 2012, ASU is set to open the year with their fifth different starting quarterback in five seasons.
2008 was Rudy Carpenter's final season. Carpenter was a four-year starter with the program and was replaced by Danny Sullivan the next year. In 2010, Steven Threet started for most of the season before concussions ultimately ended his career on the field. That brings us to 2011, Brock Osweiler's first full season.
With Osweiler not returning in 2012, ASU has to find a quarterback capable of leading the program for the next three seasons.
ASU is nowhere close to naming a starter, and the team certainly has a lot of time to make a decision. All three quarterbacks in contention for the job have their strengths and weaknesses.
Michael Eubank's body-build and athleticism reminds some of a Cam Newton or Vince Young, but his accuracy throwing the football is inconsistent. Michael Bercovicci has a strong arm, but won't make anyone miss in the open field. Taylor Kelly is both agile and strong-armed.
Who do you believe will be ASU's starting QB in 2012?
Preferably, ASU would like to stick with one player, but I don't think that will happen. Choosing one guy would relieve the constant pressure of having to throw to keep the job.
This upcoming decision for the starting quarterback job that Todd Graham and Co. needs to make will define Sun Devil football over the next three seasons.
Make a Bowl Game
Considering that all it takes is a 6-6 record to make it to a bowl game in college football, it would be a massive disappointment if ASU did not qualify for one in 2012.
Somehow ASU missed a bowl game for three consecutive seasons from 2008 to 2010, which is unacceptable for even a mediocre program from an automatic qualifying conference.
Even worse: the last time ASU won a bowl game was in 2005, when they won the Insight Bowl. Dennis Erickson did not win a bowl game in his five seasons in command of the Sun Devils and that fact is partly why he won't return in 2012.
ASU should be winning bowl games, but for 2012, just making one will suffice considering the massive turnover of the team and coaching staff.
Build a Larger Presence in Valley Sports Scene
With the Phoenix Coyotes just recently advancing to the Western Conference finals and the Arizona Diamondbacks winning the NL West this past year, Graham has a strenuous job in selling the casual sports fan on ASU football.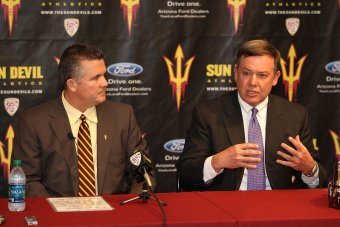 Christian Petersen/Getty Images
Graham's job is even more difficult considering Phoenix is a pro sports town and ASU has little on-the-field expectations for the upcoming season,
But Graham has spent timeless hours already trying to interact with the community and market the ASU football brand.
In truth, winning is the biggest cure for any team's lack of fan support. ASU saw the largest attendance jump in the nation from 2010 to 2011.
The major reason for the jump was because of the positive "animal spirits," to borrow an Economics term, for the football team in 2012. ASU brought in stylish new uniforms and was ranked in the preseason top 25 last year.
The challenge for 2012 is keeping the newer fans on the bandwagon while also recruiting people to become fans.