Boston Red Sox: Is David Ortiz Currently the AL MVP?
May 8, 2012

Winslow Townson/Getty Images
After a start like this, fans have to wonder: what does David Ortiz have to do to get a multi-year contract?
The slugging Red Sox DH is currently putting together the best all-around season of his career, only rivaled perhaps by his efforts in 2005 and 2006. He has become a much more complete hitter than at any other time in his career, stroking the ball to the opposite field and forcing some teams to abandon altogether the shift that has taken many hits away from Big Papi over the years.
After a performance in last night's win in Kansas City that left Ortiz at or near the top of the AL in average, home runs, RBI, doubles, OPS, hits and runs scored, the question has to be asked: right now, is he the AL MVP?
Obviously, it's very early to be having this kind of conversation. After all, the Red Sox have only completed 28 of their 162 games, just over 17 percent of their schedule. However, it has become clear that the 36-year-old Ortiz is once again one of the elite hitters in baseball and will continue be worthy of consideration as the season goes on.
The case against Ortiz is three-fold. The first is that the team may not be nearly good enough right now to justify giving the MVP to Ortiz. After all, even if they lost Ortiz, the Red Sox couldn't sink any lower in the standings.
Another major issue with Ortiz's candidacy is his luck at the plate. His batting average on balls in play (BABIP) is a ridiculous .410; the average BABIP in MLB in 2011 was .295. Obviously, some of the balls that are falling in right now are not going to be for the entire season, so the law of averages dictates that some of his totals will surely dip.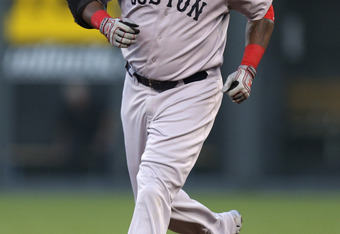 Ed Zurga/Getty Images
The final argument against Ortiz is his competition for the award, chiefly one player: Josh Hamilton.
For all the incredible things Ortiz has done at the plate, Hamilton has been just as good. The players' numbers are essentially the same, with Hamilton having a slight edge in home runs and OPS and Ortiz leading in average and doubles.
However, each of these arguments also contains a similar flaw: you can't punish Ortiz for things that are outside of his control.
The struggles of the Red Sox have been well documented. They just snapped their second five-game losing streak of this young season and currently reside at the bottom of the AL East. These problems, though, have been anything but Ortiz's doing; his wins above replacement (WAR) already stands at 1.1, meaning that if he were replaced with a league average player, the Sox would be have lost 1.1 more games than they already have.
Likewise, Ortiz's abnormally high BABIP has a lot to do with his incredible improvement in hitting the ball to the opposite field. The bulkier Ortiz of previous years used to try to pull every pitch regardless of location, which in turn birthed the infield shift that all teams now use against him.
Starting last year and going into this year, though, Ortiz has adjusted by shortening his swing and has become content with occasionally just slapping the ball into left field. The result has been a huge increase in his ability to make contact (he puts the ball in play in 72 percent of his plate appearances, a career high) as well as a significantly lower strikeout percentage (13.8 percent, second lowest of his career).
It has also forced pitchers to start to work Ortiz a bit more inside, where he has shown that he can still crush the ball. His 17.3 at-bats per home run are right in line with the rest of his career numbers.
Unlike Ortiz, Hamilton has had significant health issues in the past as well as a history of his power numbers tapering off in the second half of the season (a 22.0 AB/HR ratio in the second half versus 16.8 in the first half). He also plays the outfield, which makes him significantly more injury-prone than the Sox's DH.
When you add it all up, it looks like a two-horse race between Ortiz and Hamilton right now. While the season is young and things can change at a moment's notice, it is never too soon to compare two players who are having similarly outstanding seasons.
A point of contention in all sports is how one defines an MVP. Ultimately, it comes down to the question of "where would this player's team be without him?" While Texas has the bats to stay in contention even without Hamilton (as they did last year), the Red Sox would be utterly hopeless without Big Papi.
And that, above all the stats, is what makes David Ortiz the AL MVP.