Francesco Totti's 10 Most Beautiful Goals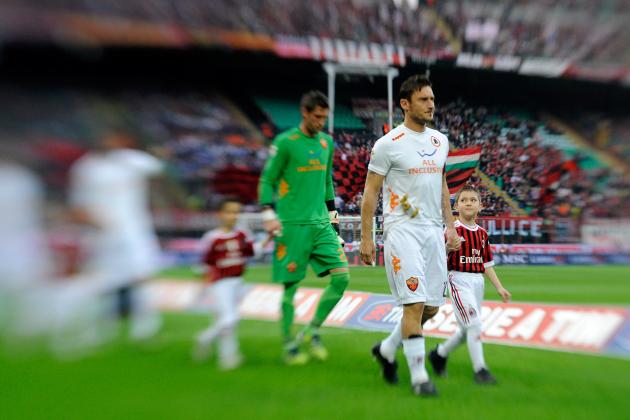 Claudio Villa/Getty Images

Living legend, one of Roma's all-time best players, master, genius. Any of these words describe Serie A Roma's striker and captain Francesco Totti.
At 35, he is still a regular starter but his game is not as good as it used to be. Yet, he has played 26 games this season, scoring eight goals.
He has scored 215 goals since joining the senior AS Roma team in 1992.
The 10 goals featured here are in no particular order. I just could not pick one that I liked the most.
Rate them in the comments section, if you like. And certainly let me know if you think a goal I have not included deserves to be featured.
Begin Slideshow

»
Oct. 26, 2005
Inter 2 - 3 Roma
Francesco Totti makes goals out of nowhere and from any position. Long distance goals like the one in this video were his specialty.
Totti got himself red-carded in the end but scored a brilliant second goal for Roma that game, giving his team a comfortable 0-2 lead.
Dec. 10, 2000
Roma 2 - 1 Udinese
Did you see how Totti did not even let the ball hit the ground?
He just shot it straight in the net while it was still in the air. Another one of his specialties.
March 10, 2002
Lazio 1 - 5 Roma
Even though striker Vincenzo Montella scored four of the goals for Roma that day, it was Totti's wonder goal that is still remembered.
This time he had time to prepare.
March 29, 1998
Roma 2 - 2 Parma
Another beautiful goal by Roma forward Francesco Totti. It's in the first 30 seconds of the video. (The second goal is also magnificent but not Totti's creation.)
Totti chased the ball, outrunning Parma's defenders and scoring the first goal without even setting it first.
Dec. 7, 1997
Roma 3 - 0 Atalanta
Francesco Totti scores in the 27th minutes for 2-0 lead over Atalanta.
An easy game for Roma, with their captain showing once again that long distance is no problem for scoring.
Nov. 26, 2006
Sampdoria 2 - 4 Roma
The description of the video says it better than I can. "A phenomenal goal by the AS Roma Capitano."
Francesco Totti scores the fourth goal for his team in the 74th minute. At 30, he's still got it.
Again, he did not let the ball hit the pitch.
Nov. 8, 2008
Bologna 1 - 1 Roma
Francesco Totti proved in this game that he was still fit to lead the team to victory. Cicinho tries to clear the ball away, but it ends up in his own net. That happens sometimes.
Totti's technique and control of his ball skills were still very much in check, as well as his strength. This was one of the most powerful goals I've seen him score.
Nov. 26, 1995
Roma 2 - 1 Bari
This is Francesco Totti's fourth season as a professional player. He spent his entire career at AS Roma.
At 19, he had the skills and patience to score a goal like this one.
Totti eventually became top scorer with 215 goals and the most capped player for Roma.
April 26, 1998
Udinese 2 - 4 Roma
Francesco Totti scores two goals for AS Roma to beat Udinese at home.
Both goals show Totti is always at the right place at the right time. And while this could have been luck, he had an eye on the ball both times and was able to place himself in a perfect position to shoot. That is skill.
Sept. 20, 2009
Roma 3 - 1 Fiorentina
Francesco Totti scored two of the goals for Roma. The goal in this video is the second one in the 33th minute. Danielle De Rosi scored the third, assisted by Totti.
Totti is a very intelligent player with a great eye for the goal. He may not be as fast anymore, but is still most valuable in the striker's, the attacking mid-fielder's position, or in between.
Wherever he is, he can still score from dead ball positions.