Mayweather vs. Pacquiao: Money May Doesn't Need PacMan Fight to Seal Legacy
May 8, 2012

Al Bello/Getty Images
The legacy of Floyd Mayweather is already signed, sealed and delivered. He doesn't need Manny Pacquiao.
Money May didn't knockout Miguel Cotto, but there was no question who won the fight. His ability to not only move up in weight class (for the second time in his career), but also alter his style to a more aggressive one to ensure the fans "got their money's worth" was incredible.
Money May has been defensive for the majority of his career and being able to step out of his comfort zone and take a pounding from Cotto like that solidifies his status as one of the greatest to ever step in the ring.  
While he didn't register the knockout, there was no question who won the fight. He is a once in a generation talent that's the complete package of athleticism, intelligence and confidence.
The 35-year-old is now 43-0 and is the undisputed champion yet again. There is no other boxer that can touch his record right now. He is the biggest star the sport has seen since the days of "Iron" Mike Tyson.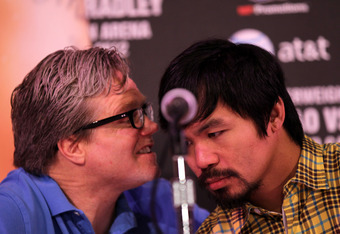 Stephen Dunn/Getty Images
Boxing may not have the mainstream popularity it once did, but there is no question he is the face of the sport in America.
With enough money to fill up a pool and swim in, what else does he have to prove?
Sure, beating PacMan would help his legacy, but the politics are ridiculous. Money May's latest stance, as told to reporters after Saturday's fight, is that it's all on promoter Bob Arum at this point (via Yahoo! Sports):
It's just been a problem trying to make this fight. The fans and the public are being fooled. Bob Arum does not want to make this fight happen. Once he's free from Bob Arum, will the fight happen? Absolutely.
After hearing garbage about blood and urine tests for years, now it's Mayweather's former trainer who's apparently at fault. Mayweather wants more than a 50/50 cut on PPV sales and Arum doesn't quite agree. At this point, it doesn't matter.
Mayweather has done more than enough to cement his status as the best boxer of the last 10 years. While PacMan is busy working as a Congressman in his native Philippines and seemingly puts boxing on the back-burner, Mayweather continues to be at the forefront of everything from MTV shows to HBO documentaries.
PacMan looked incredibly shaky in a controversial win over Juan Manuel Marquez and is only a slight favorite over Tim Bradley. He doesn't look to have the same energy and passion for boxing that Mayweather has anymore. Why does PacMan need to endure the toughest fight of his life if he doesn't really want to?
It doesn't matter if Mayweather-Pacquiao ever happens, Money May doesn't have anything left to prove.
He is the greatest boxer of the past decade and has the endless cash flow to prove it.