Anthony Davis: Highlights, Analysis and Pro Projections
June 6, 2012

Ronald Martinez/Getty Images
Anthony Davis is not the prospect with the highest ceiling in the 2012 NBA Draft, but he is still an exceptional talent. The 6'10" forward out of Kentucky helped lead his team to a national championship this past season.
Davis had a rare growth spurt in high school that vaulted him into prominence. He went from being a 6'3" guard to the agile, shot-blocking machine we all saw last season.
In what was a marvelous freshman campaign, Davis took home the John R. Wooden Award for most outstanding college basketball player. He averaged 14.2 points, 10.4 rebounds and an astounding 4.7 blocks per game.
He made himself eligible for the NBA Draft on April 17, along with the rest of the Wildcats' core of underclassmen.
He seems to be the consensus No. 1 pick by most draft prognosticators (NBADraft.net, DraftExpress and ESPN's Chad Ford all have Davis as the top pick).
That may happen, but teams should consider Davis' potential as it compares to the ceiling for UConn's Andre Drummond.
Though Davis has tremendous skills, I question whether his upside is as high as Drummond's.
Here is a scouting report on Davis, highlighting his strengths and weaknesses. 
(Height, weight and stats per statsheet.com)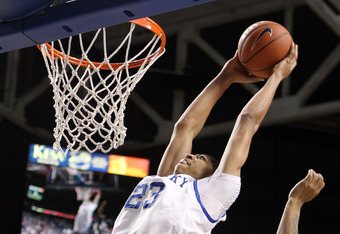 Andy Lyons/Getty Images
Profile:
Height: 6'10" 
Weight: 220 pounds 
School: Kentucky
Date of Birth: March 11, 1993
Best NBA Position: Power Forward
College Stats: (Key Stats Underlined) 14.2 PPG, 32 MPG, 62.3 FG%, 15 3FG%, 70.9 FT%, 1.2 APG, 10.4 RPG, 4.7 BPG, 1.4 SPG
Skill Grades:
Athleticism - A
Size - B
Intangibles - B
Rebounding - A
Ball Handling - B+
Defense - A+
Shooting - C
Passing - B 
Post Game - C
Basketball IQ - A-
Upside - B+
Strengths:
Davis possesses great length and athleticism. The picture below shows off his ridiculous wingspan.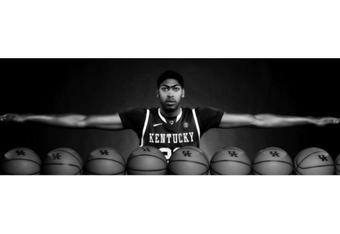 He has great bounce in his legs as well. This makes him a prime target for lob passes and alley-oops. This skill set and body type makes him excellent in transition, and he could really thrive with a pure point guard.
This highlight reel shows off Davis' athletic ability:
But Davis' greatest gifts are on the defensive end of the floor. Along with his length and athleticism, Davis also possesses great timing for shot-blocking. He is such a beast in this area, he could be one of the NBA's five best shot-blockers in his rookie season.
Despite his thin frame, Davis is a very good rebounder. He can clean the glass to start the fast break, as well providing his team second chance opportunities.
Along with his physical gifts, Davis displayed a team first attitude in his one year at Kentucky. He was a highly touted player coming out of high school, but he sacrificed scoring to concentrate on defense and rebounding.
This was done to reach a common team goal, and that unselfish attitude has to excite NBA scouts.
Weaknesses:
Davis is rail thin at this point. He just turned 19, so he still has some growing to do. But one has to wonder, if he'll be as athletic after gaining the 15 pounds of muscle he needs to bang in the NBA.
On the collegiate level he could be bullied by post players with strong lower-bodies; he'll see that nearly every night in the NBA. While he'll always have value as a weak side shot-blocker, I wonder about his ability as a low-post defender.
On offense he has yet to show a dependable jump shot. The majority of his buckets came from lobs and put-backs. Those opportunities won't come as easy in the NBA.
He is a solid free throw shooter, so the chances that he'll develop a shot are good, but he's limited on the perimeter right now.
His post-game isn't advanced and his lack of physical strength makes it hard to drive against contact.
NBA Player Comparison: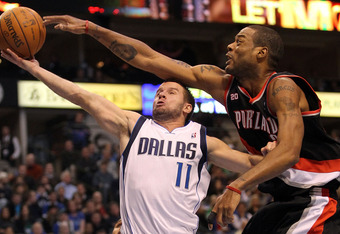 Ronald Martinez/Getty Images
Marcus Camby
Davis' body type, athleticism and skill set is similar to Camby's. If he develops more dribble moves, then his ceiling goes up. But as he is now, the Camby comparison makes the most sense to me.
This is certainly no insult.
Camby has won Defensive Player of the Year (2006-2007), and averaged 9.7 points, 9.9 rebounds and 2.4 blocked shots per game (leading the league four times) in his 16-year NBA career.
Still—the team with the top pick in the draft must ask themselves, if a player with this profile is worthy of the No. 1 pick in the draft.
Draft Projection:
No. 1 overall
Follow Brian Mazique and Franchiseplay.net for reactions, analysis and news from the world of sports and sports Video Games
Brian Mazique
Franchiseplay